Salesforce adds OCR, translation, AI app builder to Einstein platform
Salesforce enables no-code AI app development, as well as optical character recognition, translation and services to extend Einstein predictive modeling tools into external apps.
Salesforce rolled out Einstein platform services that enable developers to code custom AI tools and admins with no code involved. Services include optical character recognition, translation and Einstein Prediction tools that embed AI modeling and analytics inside or outside of the Salesforce environment.
They come ahead of Salesforce's TrailheaDX developer conference next month in San Francisco.
A key aspect of the bundle of Einstein platform services is giving data scientists more control over machine learning models with the Einstein Prediction Builder service, said Boris Evelson, business intelligence analyst at Forrester.
"Before the announcement, many Salesforce apps already had canned or out-of-the-box machine learning models embedded in them. Einstein Analytics allowed citizen data scientists to tune them," Evelson said. "Data scientists can now author machine learning models and deploy them in any [Salesforce] apps."
Extending Einstein to other applications
Salesforce also AI analytics from its Einstein Discovery platform to applications outside Salesforce -- potential examples would be HR systems, ERP and financial applications -- via APIs with Einstein Predictive Services.
Einstein platform services previously included tools such as sentiment analysis, intent measurement and image recognition. Salesforce added optical character recognition to the Lightning Web Components toolbox; it enables developers to create apps that can ingest scanned document content into Salesforce or even turn business cards into contacts.
Salesforce also added language translation services that can convert customer queries into sales or service agents' native language.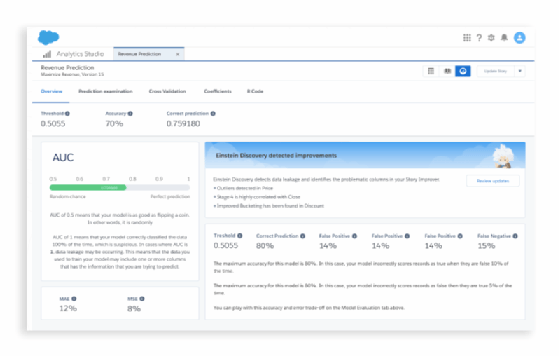 Point and click elements
Einstein features sometimes don't answer all customer needs, driving Salesforce customers to buy third-party AI tools to find deeper insights and uncover more sales opportunities.
Salesforce has, if anything, an unfair advantage when it comes to AI and these new services play to its strengths.

Kjell CarlssonAnalyst, Forrester
Nevertheless, Einstein tools lend themselves to point-and-click, low-code authoring giving Salesforce admins without developer training the ability to deploy Einstein functionality to make predictions on Salesforce pages or build reusable Lightning Web Components.
That's a strength, said another Forrester analyst, Kjell Carlsson, who added that Salesforce deliberately focuses its AI on assisting with tasks that help end users with everyday tasks humans inaccurately perform. The new offerings embed machine learning directly into existing workflows, easily, he said.
"They won't win the respect of data scientists, but that's not the point," Carlsson said. "In these situations, creating a great model isn't the bottleneck; getting something into the hands of end users that they can consume is -- and in that respect, Salesforce has, if anything, an unfair advantage when it comes to AI and these new services play to its strengths."
Evelson said it remains to be seen whether the new features and Einstein platform extensions are enough to elevate Einstein to be considered a direct competitor of machine learning platforms from vendors such as IBM, SAP and Datawatch.
The TrailheaDX conference is May 28 to June 2.