lassedesignen - Fotolia
San Francisco smart city pilots aim to make streets safer
In San Francisco, smart city parking apps are already paying off, reducing greenhouse gas emissions and improving rider satisfaction.
When you think of San Francisco, smart city should come to mind. ... OK, maybe it will come to mind after Rice-a-Roni and trolleys and the Golden Gate Bridge. The city has been part of the international network of smart cities, sharing best practices with its sister cities, including Paris and Barcelona, Spain.
The city by the bay has been using technology to make its building operations more efficient, reduce energy use, streamline waste management system and expand its transportation system to make mobility easier.
The San Francisco Municipal Transportation Agency (SFMTA) is playing a key role in the city's smart city initiatives and is working to improve transit while pursuing environmental goals such as zero carbon.
Last year, the city received $11 million in funding from the U.S. Department of Transportation for six innovative projects aimed at reducing traffic congestion and creating a safer and more efficient transportation system, said Paul Rose, chief spokesman for the SFMTA.
The six programs will create:
New connected high-occupancy vehicle lanes for public transit and carpools
Dedicated curb space for pick-up and drop-off by carpools
Smart traffic signals to reduce congestion and improve safety
Connected Vision Zero safety corridors to improve safety for pedestrians and bicyclists; engineering projects in support of Vision Zero will incorporate effective safety improvements such as protected bike lanes, wider sidewalks and reduced traffic speeds
A connected, electronic toll system for the congestion pricing program at Treasure Island, a manmade island in San Francisco Bay that was built in the late 1930s as a spectacle for the World's Fair
The deployment and testing of electronic, autonomous shuttle buses serving intra-island trips on Treasure Island
"San Francisco has a culture of innovation, early adopters and openness in our geographically small, dense city, which makes it the ideal location to pilot ambitious transportation initiatives like these," Rose said. "While visionary support from our federal partners isn't new to us, it's always needed and tremendously appreciated."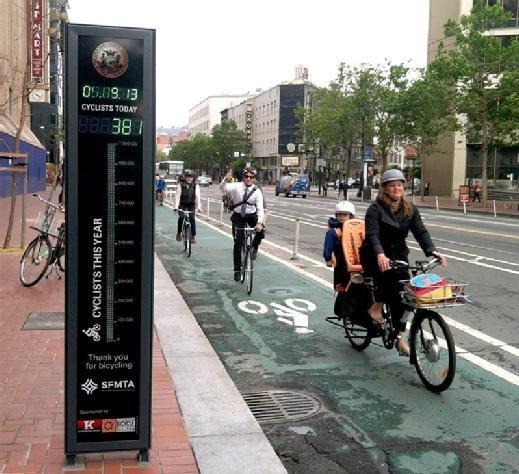 A large part of what guides the SFMTA is making streets safer for all transportation users and ensuring there's a wide range of transportation options starting with the transit system, bicycling and walking, said Darton Ito, director of innovation at the SFMTA.
San Francisco smart city projects, such as SFpark, which creates smarter parking management through demand-responsive pricing, have successfully launched thanks to federal funds.
"The SFpark program was created to reduce the time people spent looking for parking, which could delay transit, block bicyclists and lead to more distracted driving," Ito said. "This was done by pricing parking at a rate to ensure that there would be availability within certain geographic areas and adjusting the rates so that they were never too low that the spaces are taken all the time or too high that there are a lot of empty spaces."
To determine the right price to charge for parking, SFpark uses wireless sensors to detect parking-space occupancy in metered spaces to meet parking-space availability targets. Installed in 8,200 on-street spaces in the pilot areas, the wireless sensors detect parking availability in real time.
Sensors were also placed in three control neighborhoods to provide baseline data for evaluation purposes. The SFMTA said it's now using the results of the evaluation to develop a proposal for expanding the SFpark approach to the SFMTA's other meters, lots and garages in the city.
SFpark has led to a 30% reduction in greenhouse gas emissions and vehicle miles traveled in neighborhoods where the program was implemented, Rose said.
"The next generation and the things that we'd be looking for are probably more camera-based detection where you have a camera on a corner that's evaluating multiple spaces rather than one space," Ito said.
What's next for San Francisco? Smart city projects on deck include a next-generation payment system, similar to the regional Clipper card, a reloadable contactless smart card that's used for electronic transit fare payment in the San Francisco Bay area, according to Ito.
"We're piloting MuniMobile, a mobile ticketing app for smartphones," he said. "It's getting to the evaluation phase, but we don't have any results [yet] about how to grow the app or what other features or functions it should have. But we don't want to have our own mobile ticketing app that's not connected to the regional system, so there are discussions happening at the regional level about how to integrate the fare payment for multiple transit systems with new technologies, other than the chip-embedded card we have today."
San Francisco smart city federal funding was also used to create the SFgo program, which intelligently monitors and manages traffic flow in the city, Rose said.
"And we just broke ground on the Van Ness Improvement Project that will bring San Francisco its first bus rapid transit system," he added. "With this new funding, we and our partners at the [San Francisco County Transportation Authority] will pioneer new projects across the city that will utilize advanced transportation technology to address traffic congestion on our streets and allow for a smarter and more equitable transportation system for all San Franciscans."
Next Steps
Smart cities are changing the way we live
How to unlock inclusive smart cities
Overhaul outdated transportation for a truly smart city
Dig Deeper on Enterprise internet of things