Getty Images
World's 10 best cities for tech workers
Explore the key characteristics that make each city stand out, such as high pay, low cost of living, job opportunities and innovation.
The demand for tech talent continues to grow as the world becomes increasingly digital and technology-driven.
Despite the wave of widespread layoffs that hit the tech industry in 2022 and 2023, the technology sector is still flourishing. Tech companies are projected to grow by 15% by 2031, according to data from the U.S. Bureau of Labor Statistics (BLS).
While the surge in remote employment due to the COVID-19 pandemic offered employees the flexibility to live wherever they want, for many IT workers, finding a city concentrated in tech jobs is still vital to their professional success. This is because most highly paid tech jobs are clustered around certain cities, often close to the best tech-focused universities. These cities may also provide networking and mentoring possibilities with other tech workers and industry leaders in addition to an enjoyable lifestyle.
Here are the top 10 cities in the world for technology professionals.
1. San Francisco Bay Area, Calif.
Silicon Valley is home to many of the top Fortune 500 companies, such as Apple, Google, Intel, Meta and Salesforce. It's also where many business leaders and entrepreneurs, such as Steve Jobs (former Apple CEO) and Brian Chesky (co-founder and CEO of Airbnb), started their ventures.
Despite the growing number of tech workers abandoning Silicon Valley following the trend of remote work, tech layoffs and the Silicon Valley Bank collapse, the area still continues to attract top talent.
What attracts tech workers to the San Francisco Bay Area?
The Bay Area continues to be a top destination for tech professionals due to its reputation as a startup haven, concentration of top talent and one of the best climates year-round.
2. Bangalore, India
Bangalore is often referred to as the Silicon Valley of India and has offices for many major tech companies, including Google, IBM and Infosys.
With a focus on software development and IT services, Bangalore has many economic zones -- also known as IT parks -- with dedicated areas for the aerospace and biotech industries. These zones make it desirable for companies to set up their bases in Bangalore.
What attracts tech workers to Bangalore?
Bangalore offers a thriving startup scene, low cost of living and many opportunities for tech workers looking to work in India.
3. Seattle, Wash.
Seattle is another hotspot for tech talent in the United States. Home to Amazon and Microsoft, as well as many startups, Seattle offers a thriving tech scene and a relatively lower cost of living than the Bay Area.
The city offers ample executive and entry-level tech roles. According to BLS data, 83.46 per 1,000 residents in Seattle work in tech, which is one of the highest concentrations in the Pacific Northwest.
What attracts tech workers to Seattle?
Tech workers are attracted to the higher salary bracket that Seattle offers. With an average salary of $135,590 annually -- also according to BLS -- Seattle boasts some of the highest average wages for IT jobs.
4. Zurich, Switzerland
Zurich has a strong focus on financial technology (fintech) and biotech. It also boasts some of the highest salaries for tech workers in Europe and offers one of the highest average salaries for full-stack developers in the world.
Many tech giants also have a presence in Zurich, including Google, IBM and Microsoft, which contribute to the area's growing tech industry.
What attracts tech workers to Zurich?
Zurich, which ranked third in the Global Liveability Index 2022, offers a high standard of living and a strong economy for tech workers in the heart of the Swiss Alps.
5. Washington, D.C.
Many government and technology firms are headquartered in Washington, D.C., and there are a variety of positions in the technology industry that support the demands of the federal government, such as cleared cybersecurity specialists, system engineers and information system security officers. Tech giants with offices in the D.C. area include Cisco Systems, IBM, Microsoft and Oracle.
The tech industry in D.C. employs around 243,800 people -- or 80.53 per 1,000 -- and the average yearly wage for those working in technology is $125,360, according to BLS.
What attracts tech workers to Washington, D.C.?
Nestled right next to the Dulles Technology Corridor in the Northern Virginia metro area, Washington, D.C., is an option for tech workers wanting to develop their government tech knowledge.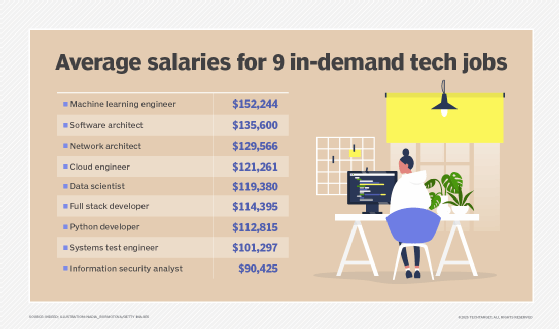 6. London, England
London has an emphasis on fintech, e-commerce and gaming. It's also one of the world's most diverse IT hubs, with workers from all over the world. The city provides a variety of career opportunities in software development, technical support and cloud security for tech employees, with a burgeoning AI sector and many startups. It also has offices for many tech companies, including Amazon, Apple, Google, IBM, Meta and Microsoft.
London has a rich history and vibrant culture, thanks to freely accessible world-class museums, more than 300 languages spoken in the city and more than 2,200 music performances each year in its 300-plus venues.
What attracts tech workers to London?
Several factors attract tech workers to London, including its strong tech industry, startup scene and highly educated workforce.
7. Toronto, Canada
Toronto has a fast-growing tech industry, with many startups and established tech companies operating in the city. Toronto is also home to some of Canada's best universities, including the University of Toronto, which draws and generates a highly trained workforce. Many tech companies have offices here, including Amazon, Google, IBM, Microsoft and Salesforce.
The city has a multicultural and welcoming atmosphere, which draws in foreign tech workers looking to develop or expand their careers in a tech ecosystem.
What attracts tech workers to Toronto?
The combination of a booming tech industry, top colleges and a multicultural environment attracts a lot of international tech talent to the city.
8. Austin, Texas
Austin offers a relatively low cost of living compared to other tech hubs. Ranked by U.S. News & World Report as one of the best American cities to live in, Austin offers a high quality of life. There are many options for tech employees to obtain employment in a variety of roles because Austin has developed into a hub for a variety of tech organizations, including startups and well-established industry giants. Some of those tech giants with Austin offices include Amazon, Apple, Dell Technologies, Google and Intel.
This city has also been ranked number one on CompTIA's Tech Town Index for three consecutive years.
What attracts tech workers to Austin?
For tech employees seeking new opportunities, Austin is an attractive destination due to its strong focus on education, including the University of Texas at Austin, which has a renowned computer science program. The city also offers a reasonable cost of living and good quality of life.
9. Singapore
Fintech, e-commerce and AI are the main areas of concentration for this Southeast Asian city. Tech companies with offices in Singapore include Amazon, Apple, Google, Microsoft, Oracle and Meta.
For Asian tech workers looking for a great place to live and work, Singapore provides a high standard of living due to a strong economy and a stable political environment.
What attracts tech workers to Singapore?
Tech employees are drawn to Singapore's thriving tech sector, high standard of living and flexible visa policies, such as the recent Overseas Networks & Expertise Pass, which enables workers with fixed monthly salaries of 30,000 Singapore dollars to stay for five years and concurrently start, run or work for multiple companies in the country.
10. Berlin, Germany
Berlin is one of the best cities for tech startups in Europe with its fast-growing startup scene and a focus on fintech, e-commerce and software development. Like Silicon Valley, many tech communities in Berlin support the tech startup scene, including Silicon Allee, which acts as a hub for creators, helping to generate ideas and bringing together members of the tech community.
With a relatively low cost of living and a growing number of tech companies, Berlin is becoming an increasingly popular destination, especially for younger tech workers. The city is also known for its creative energy, which grew after the fall of the Berlin Wall in 1989 when a large number of artists, musicians and entrepreneurs flocked to the city, contributing to the development of a diverse and vibrant cultural landscape.
What attracts tech workers to Berlin?
Berlin's affordable living costs are a major attraction for younger tech workers, along with a thriving startup culture and short commute times made possible by the city's public transportation system, including buses, trams, underground and light-rail trains, along with other forms of transportation.