iconimage - Fotolia
IoT device management eases deployment and monitoring
IT pros need a way to simplify the deployment and maintenance of the increasing number of IoT devices organizations use, and IoT device managers can do just that.
With all the devices organizations must juggle, IoT device management platforms provide a way to keep those devices updated and online.
There are an estimated 30 billion IoT devices installed globally right now, according to Statista's report titled "Internet of Things (IoT) connected devices installed base worldwide from 2015 to 2025." Organizations have too many devices to handle each on a manual, individual basis and must scale the way they install, update and monitor IoT devices.
Understand the basics of IoT device management, how to choose the right one for an IoT deployment and what top IoT management platforms are available today.
What is IoT device management?
IoT device management refers to all the tools, capabilities and processes organizations need to support IoT deployments effectively at scale. Device managers onboard devices faster, organize and manage them in a tech stack efficiently and keep them updated with any device-specific and firmware updates as needed.
Many IoT devices come with a management platform; however, given the number of devices most organizations have in their system, they're not always feasible to use. This is why many IoT device managers let you connect and manage a diverse range of devices, no matter their purpose, location, brand name or operating system.
How IoT device management simplifies maintenance
IT teams use device managers during all phases of the IoT lifecycle to save time and effort during IoT deployment, monitoring and maintenance. They help track, monitor and manage the connected device fleet, ensuring that all IoT devices work properly and securely after they've been deployed. A device manager provides secure access to devices to monitor health, detect and remotely troubleshoot problems, and manage any software and firmware updates.
Most IoT device management tools will help register connected devices individually or in bulk, bringing them online efficiently. Many also send software and firmware updates over-the-air (OTA), which can be difficult with a distributed and large device fleet.
Additionally, the most effective IoT device managers are agnostic to the device type and operating system so that IT pros can manage any device with the same platform, from microcontrollers to connected vehicles.
Considerations for choosing an IoT device manager
One of the critical features of any device manager is its ability to handle IoT device updates in any configuration or architecture setting. Organizations may have to update many devices at a time, so IT professionals want to do it in the most efficient way possible. Device managers help with that.
When choosing an IoT device manager, IT professionals should choose one that integrates easily and efficiently with existing hardware and software. It should provide a well-defined path for new IoT device provisioning and deployment. The platform should have an effective lifecycle management process to handle both initial IoT device rollout and ongoing maintenance and updates. Organizations should choose an IoT platform with a secure architecture that efficiently and securely deploys and updates throughout the device lifecycle.
To help with the surge of devices, many major cloud providers include IoT device management as part of their services, and organizations have more options available than ever before. They could go with their current cloud vendor's option or investigate other platforms to manage device updates.
AWS IoT Device Management
The AWS IoT Device Management platform helps industrial, consumer and commercial organizations manage a large and diverse device fleet no matter their location. IT professionals can monitor usage and performance metrics, identify devices for policy change service alerts and push OTA updates and fixes.

Google Cloud IoT Core
Cloud IoT Core is a fully managed service that provides secure connection, management and data transfer services for a large device fleet. It's adept at managing the massive amount of data devices collect and transmit, providing advanced analytics and visualizations that use machine learning to improve performance and operational efficiency. Because of this, the platform is able to push device updates without decreasing bandwidth or affecting network performance.
Azure IoT Hub
Azure IoT Hub is a highly secure, cloud-hosted platform that offers broad connectivity to virtually any device in any location. Organizations can also integrate with Azure IoT Edge to extend their edge computing capabilities and development projects. The platform offers automatic device management for updates, including operating system, software and firmware updates.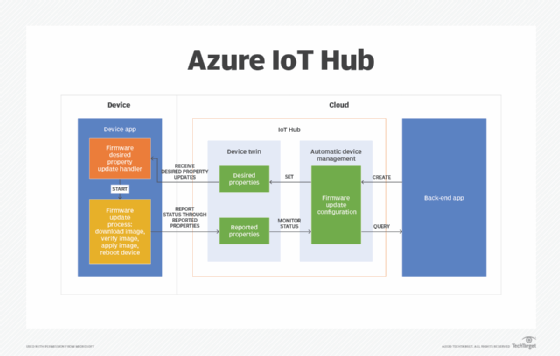 IBM Watson IoT Platform
The Watson IoT Platform manages IT risk and security through usage and performance pattern monitoring, anomaly detection, and data and transaction validation. It uses AI and machine learning to process the data gathered from a device fleet and integrates tightly with other IoT applications.
Bosch IoT Suite
The Bosch IoT Suite is an open source platform that offers lifecycle management at scale for enterprise environments. The flexible platform that can be deployed in multi-cloud environments and can integrate easily with high-availability and high-security architectures, making it useful in industrial or agricultural environments.
PTC ThingWorx 8 IIoT platform
The ThingWorx IIoT platform is designed for industrial IoT environments. It offers capabilities both natively and through integrations with third-party partners. The platform delivers actionable insights across a range of devices and media so that organizations can improve operational performance.
Ericsson IoT Accelerator
Ericsson's IoT device manager, IoT Accelerator, is another platform for cellular device fleets. It helps connect devices around the world with standard processes, zero-touch onboarding and a unified connectivity offering. Organizations use it to deploy IoT devices and projects faster.