COVID-19 drives, informs low-code/no-code movement
Low-code/no-code application development platforms got a boost from the COVID-19 pandemic. Going forward, enterprises must focus on scalability and integration.
Low-code and no-code development got a boost in 2020 from the COVID-19 pandemic and could gain more momentum in the new year. But success will ultimately depend on vendors and IT departments finding better ways to scale apps in the long term and improving user education, whether for professional developers or line-of-business employees.
Tools intended to reduce the amount of actual coding required of a developer for an application -- libraries, computer-aided software engineering, 3GL to 4GL, or even formula and macro capabilities in spreadsheets and word processors -- are nothing new. But they had big limitations.
"There were many products that promised to boost productivity, but the cost of ownership still wasn't coming down," said Rajesh Raheja, senior vice president of engineering at Dell Boomi. "The expectation was that you had the same level of skill set."
That's changed. The terms low-code and no-code describe visual tools that pull away from writing code. They encompass automated business process generators, AI, middleware and far more.
"This has been happening in the history of computing with further levels of abstraction to make things easier to use, to build on top of, to share," said Gartner vice president and analyst Jason Wong.
Low-code platform vendor Appian tracks more than 240 vendors that identify with the term, said CTO Malcolm Ross. "It's become a popular term because it implies ease of use," he said.
The pandemic has accelerated adoption and interest in these tools as companies have scrambled to provide apps, web forms and automated workflows when help is no longer available at a desk a few yards away, Wong said. "We need all new form factors to address this," Wong said. "Low-code allows you to build fit-for-purpose."
IT departments have been disappointing their customers for years. The bottom line is that using an abstraction like a low-code platform can get you acceleration and results.

Mike MasonGlobal head of technology, Thoughtworks
"The overarching thing that we're seeing is there is more demand for software than traditional IT can service," said Mike Mason, global head of technology at software consultancy ThoughtWorks. "IT departments have been disappointing their customers for years. The bottom line is that using an abstraction like a low-code platform can get you acceleration and results."
For a custom software developer like Art+Logic, that translates into providing capabilities within the budget constraints of clients.
"We are looking at it more as a solution for people who don't have big budgets and want something quickly, and also as a prototyping tool," said Chris Penney, senior engineer at the Pasadena, Calif., company. "If we want to get something in front of a customer quickly, it could potentially be a good tool for that." But the company has yet to do so.
A low-code/no-code recovery
Low-code/no-code (LC/NC) will see the trend continue through expanded use in 2021 and beyond. Gartner predicts that low-code will account for 65% of all application development activity by 2024, although 75% of these projects will involve small and medium-scale efforts that target non-mission-critical workloads.
"The pandemic has shown the need for businesses to stay resilient at that lowest cost," Raheja at Boomi said. "I think 2021 will require businesses to reestablish and reprove themselves. They won't want to take a lot of risk."
Part of reducing risk is bringing on tools that deliver capabilities companies want without the time, expense and baggage of developing from scratch.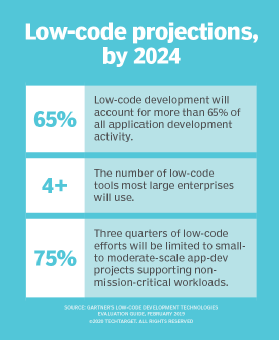 "If we wanted to bring in a video capability, we wouldn't build one," said Shiv Dutt, VP of digital experience and innovation at Pampered Chef, a kitchenware company owned by Berkshire Hathaway. Instead, the company would pull one in and connect it to open source social networking software HumHub and the commercial platform from iterate.ai, which analyzes trends and offers rapid development in AI/ML, IoT, blockchain and data applications.
Management consultancy ICF can deliver value to customers much faster with low-code and no-code platforms, said Kyle Tuberson, CTO for public sector. "We're training our non-engineers on how to become citizen developers to enable us to deliver more value faster at a better price point," he said. "It's a way to offset the cost and the complexities that, quite frankly, some of these full-blown engineering projects bring with them."

CIOs and CTOs in particular will continue to be under pressure to deliver more, according to Mason of ThoughtWorks. "Low-code is something they're going to be looking at as a potential solution to that pressure," he said. "We're going to see a story that is very similar to the classic build-versus-buy question."
However, there are some big hurdles that low-code and no-code platforms will need to start clearing in 2021. One is providing all the capabilities that many modern enterprise applications need, such as AI, IoT, blockchain, middleware connectivity and security.
"That's a gap in the entire market," said Iterate.ai chief digital officer and CTO Brian Sathianathan.
Enterprises also have work to better understand how LC/NC fits into the big picture.
"The hardest part is understanding the relative speed," Dutt said. "I know it's faster. [But] you don't often know that you're going much faster than you would be with the alternatives. All solutions with the low-code/no-code environment are not created equal. The biggest thing for us is not to make assumptions around the solutions."
Scalability will become critical. Companies need the ability to move from a low-code project done in a business unit or as a prototype from IT to a fully scalable production system an enterprise can support. That can be difficult.
For one thing, citizen developers need to understand their platform's limitations. A simple example is that of an undercount of COVID-19 cases in the U.K. when some workers at a government agency pushed Excel past its column limits on a single spreadsheet. Thousands of confirmed cases fell off the tally. With low-code and no-code apps, outcomes can get much trickier because the failures may not be so obvious, especially early on.
Moving low-code and no-code apps into broader use within an enterprise presents other problems.
Let's say a company wanted a tool that could transcribe phone calls and search for key phrases. "You can have a tool today, but you want to apply that to production," said Kfir Yeshayahu, senior vice president of products at AI vendor Veritone. "You now need to integrate with existing systems, scale across."
Tools must start providing such migration capabilities. "That's a trend that needs to happen," Yeshayahu said. "Otherwise, low-code tools will be the enemy of the engineering and IT department and they'll push for the organization not to adopt them, and that's going to be hard to fight against. We had better get it right if we want to succeed."
Dig Deeper on Enterprise architecture management