Mike_Kiev - Fotolia
Deloitte, Unqork team up to bring no-code to the enterprise
Deloitte has partnered with no-code development platform provider Unqork to help enterprise customers that are undergoing digital transformations and app modernizations.
More enterprises are enlisting consultants and low-code/no-code tools as they undergo digital transformation and app modernization efforts, a situation Deloitte and no-code platform vendor Unqork want to tap through a new partnership.
The alliance between Unqork and Deloitte will focus on providing system integration services for Unqork's no-code application platform. Unqork has also worked with Deloitte and other consultancies such as KPMG, EY (also known as Ernst & Young) and Cognizant, said Christian Barrera, vice president of Alliances and Ecosystem at Unqork, which is based in New York.
Such partnerships are natural and responsive to customers' needs in today's environment, according to analysts.
"Service providers are starting to rely more on low-code/no-code platforms for automation projects and app modernization," said John Bratincevic, an analyst at Forrester Research. "Also, COVID has made customers very concerned about the 'adaptability' of their applications, which is an inherent strength of low-code/no-code. I've spent a lot of time with large service providers lately, and many of them cited this demand for 'adaptability' among their customers. Several of these providers have also adopted Unqork."
The companies will deliver Unqork's no-code platform to customers in insurance, banking and capital markets, as well as healthcare and the public sector, Barrera said.
"Deloitte is going to be a systems integrator building applications for our mutual customers," he said. "They will also be helping maintain those applications. In some cases, they will help customers on their own DIY [do-it-yourself] journey building on the platform, but primarily they are implementing applications on behalf of our mutual clients."
In addition to tapping into Deloitte's technical expertise, Unqork also will lean on Deloitte's industry knowledge of verticals such as banking, finance and insurance, Barrera said.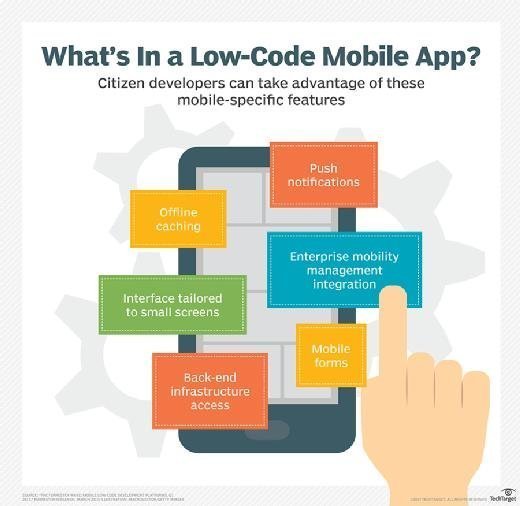 Visual interface, no code required
With its visual interface, Unqork's platform enables nonprogrammers -- primarily business users -- to create apps without writing any code. This means they can build apps faster, and they're cheaper and easier to maintain as well, said Jason Bloomberg, an analyst at Intellyx in Suffolk, Va.
For instance, Unqork worked with London-based Deloitte Touche Tohmatsu Ltd. to build apps for the U.S. government's the Paycheck Protection Program (PPP). Using Unqork, Deloitte was able to deliver their core PPP app in a week, said Rabih Ramadi, head of financial services at Unqork.
"Unqork offers a no-code platform that provides no opportunity for hand-coding," Bloomberg said. "The closest it comes is the ability to import CSS content on the front end and accessing custom code via APIs on the back end."
Unqork offers a no-code platform that provides no opportunity for hand-coding

Jason BloombergAnalyst, Intellyx
In addition, Unqork's platform is strictly SaaS, with no on-premises option.
"Each customer gets its own tenant, but Unqork keeps every customer on the same version of the platform to ensure consistency," Bloomberg said.
Meanwhile, there is another dimension to this partnership: The rise of the citizen developer.
"Service providers are starting to provide citizen developer programs to their customers, with training, governance models and intellectual property," Bratincevic said. "Unqork's 'no code' philosophy makes it a reasonable choice for this kind of work."