Vendors court no-code/low-code partners
No-code/low-code platform providers Mendix and Unqork revealed partnerships with consulting partners as they pursue an array of vertical industries; other IT channel news.
No-code/low-code vendors are bolstering their alliances with consulting partners, aiming to reach enterprise accounts and their digital business initiatives.
This week, no-code application platform provider Unqork partnered with KPMG LLP, and Mendix, a Siemens company and low-code platform provider, teamed up with Deloitte Canada. The activity coincides with customers seeking to speed up their digital transformation projects. No-code/low-code partners can offer an option for clients looking for faster development methods.
Mendix's alliance with Deloitte Canada expands upon the vendor's work with Deloitte member firms in the U.S. and other regions. In Canada, Deloitte's system engineering group has launched centers of excellence, which will certify and deploy 50 Mendix rapid software developers.
Those developers will pursue large-scale application development projects for customers in verticals such as financial services, insurance, logistics, public sector and energy resource. The pandemic has helped generate interest in low-code technology.
"We have seen this uptick in demand, especially after COVID," said Hari Sathyendran, who heads global strategic alliances at Mendix.
Sathyendran said COVID-19 has sparked demand for "solutions that enable collaboration" across distributed environments and new applications in areas ranging from restaurant ordering to workplace booking. The level of urgency calls for enterprises to rapidly deploy systems.
"People see low-code/no-code as a great way to do that," he said.
Unqork, meanwhile, said it offers a no-code platform designed to support enterprise applications in highly regulated industries, while KPMG contributes industry expertise. The companies have already collaborated on a mortgage forbearance and loss mitigation offering for Community Preservation Corp., a nonprofit housing finance company.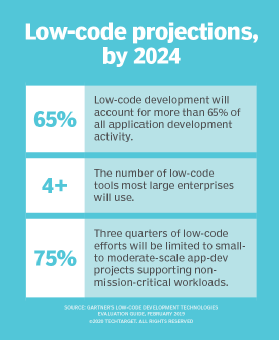 Unqork and KPMG initially focused on the financial services sector, but the newly expanded alliance will also include the healthcare and public sector vertical markets. KPMG has deployed the no-code platform more than two dozen times and employs more than 200 Unqork-trained professionals, providing the "largest footprint" among its alliance partners thus far, according to Unqork.
The company looks to systems integration and technology partners to play roles for its clients, Unqork vice president of alliances and ecosystem Christian Barrera said. The company trains integrators and consulting firms as delivery partners able to "build and maintain enterprise-grade applications for our mutual clients," he said.
Unqork also taps integrators and technology partners for joint solution development and collaborates with partners to jointly pursue key accounts.
Vendors' partner ecosystems are poised to continue growing. Unqork this week obtained $207 million in Series C funding. The company said some of that will be used to expand partnerships with services firms and systems integrators, including Capco, Cognizant, Deloitte, EY, KPMG and Virtusa. Mendix, for its part, plans to double its channel and alliance team during this fiscal year to accommodate its growing roster of global systems integrators, regional integrators and VARs, said Eugene Shim, vice president of sales and business development at Mendix.
Quick Base, a low-code platform company based in Cambridge, Mass., has also experienced a surge in demand from partners using low-code technology with their customers. One of the company's large systems integration partners has nearly tripled its business with Quick Base over the last 18 months, said Jay Jamison, chief product and technology officer at Quick Base.
"Their need to deliver solutions to customers quickly has exploded," Jamison said.
Other news
IBM said it will spin off its Managed Infrastructure Services unit into a new public company in a bid to ramp up its hybrid cloud strategy. The yet-to-be-named entity will be able to draw upon more than 4,600 clients and a $60 billion backlog. The new company will provide hosting and network services, services management and infrastructure modernization, according to the company. The spinoff will also migrate and manage multi-cloud environments. IBM has been expanding its cloud partner ecosystem in recent months, with the aim of supporting its hybrid and multi-cloud efforts. IBM said it expects the Managed Infrastructure Services separation to be completed by the end of 2021.
Private equity firm Stonecourt Capital acquired 365 Data Centers, a Norwalk, Conn., company that operates 12 data centers and offers managed services, colocation and cloud services among other offerings. The original investors in 365 Data Centers -- Lumerity Capital and Longboat Advisors -- have reinvested into the new partnership, according to the data center company. In another data center deal, Equinix Inc. earlier this month completed its purchase of 13 data centers from Canada's BCE Inc.
Accenture rolled out a vaccine management offering for government and healthcare organizations. The system, which includes elements built on Salesforce's platform, provides vaccine management and tracking, supply management, community education and engagement, contact management, analytics and reporting, and organizational support.
In other Accenture news, the professional services company agreed to acquire Myrtle Consulting Group, an industrial operations consultant based in Houston. The deal will expand Accenture Industry X's manufacturing and supply chain capabilities, according to the company.
Comstar Technologies, a telecommunications and managed IT services provider based in West Chester, Pa., acquired Comtel VoIP Inc., which provides hosted telephony offerings. Comtel VoIP is located in Buffalo, N.Y.
InterVision Systems, an MSP and IT solution provider with headquarters in Santa Clara, Calif., and St. Louis, received a majority investment from private equity firm MidOcean Partners. The investment was made alongside InterVision's existing financial sponsor, Huron Capital. The new funds will be used to boost InterVision's organic growth and merger and acquisition activity in areas that include cloud consulting, managed services, AI and cybersecurity services, according to the company.
1901 Group, an IT services and solutions provider based in Reston, Va., has joined cloud security vendor Zscaler's ecosystem as a public sector channel partner. In addition, 1901 Group said it has selected Zscaler Zero Trust Exchange cloud platform for use in public sector teleworking initiatives.
Sungard Availability Services, a Wayne, Pa., company that offers infrastructure, cloud and disaster recovery services, launched a private cloud offering based on hyper-converged technology from Dell Technologies and VMware. Sungard AS Private Cloud is hosted in the company's Connected Infrastructure Hubs.
Confluera, an autonomous detection and response company based in Palo Alto, Calif., launched a reseller program. Tevora, a management consulting firm specializing in cybersecurity, risk and compliance services, is the first partner to join the program.
Adtran Inc., a networking solutions provider based in Huntsville, Ala., said it updated its channel partner program, reducing its previously five-tiered program to two partner levels: Authorized and Premier. Other features of the revised program include discounts on enterprise connectivity offerings, cobranded marketing collateral, and the ability for partners to influence Adtran's product roadmap and services offerings.
Tasktop, a value stream management platform provider based in Vancouver, B.C., unveiled a partner program for VARs, solutions providers, systems integrators and strategy consultants. Timothy Beditz heads the new program as vice president of global services partners.
Smartsheet, a collaboration and work management company based in Bellevue, Wash., said it is hosting two-day Partner Summits that coincide with its regional Engage conferences, which conclude Oct. 13.
Market Share is a news roundup published every Friday.