sakura - Fotolia
IBM Cloud partner ecosystem expands in software push
The consultants and IT services providers joining IBM's expanding public cloud ecosystem cite legacy systems migration and application modernization as growth opportunities.
The IBM Cloud partner ecosystem has expanded in recent months, as Big Blue looks to gain ground in the hybrid cloud.
The scope of IBM's endeavor reaches across the channel, including global IT services firms and technology distributors selling to smaller resellers. Earlier this year, IBM reshaped its channel program to enlist partners in what the organization sees as a battle for the hybrid and multi-cloud market. Alliances with cloud partners have been a regular occurrence in 2020.
Consider the following developments:
IBM disclosed a global alliance with Infosys Ltd. in March, which IBM described as its first public-cloud pact with a global systems integrator. Infosys, a $13 billion company based in Bengaluru, India, will tap the IBM Cloud to support digital transformation projects and offer clients Red Hat's open source portfolio.
Tech Mahindra Ltd. and IBM launched a hybrid cloud collaboration in April. Tech Mahindra, a $5.3 billion consulting company based in Pune, India, will migrate customers' business applications to IBM's public cloud using IBM Cloud Paks, the containerized cloud offerings that include IBM middleware and open source components.
In June, Wipro Ltd. said it will work with IBM to help customers deploy hybrid clouds. Wipro, a $9 billion IT and consulting firm based in Bengaluru, will also develop industry-specific offerings, combining IBM Cloud technologies and its own services.
In September, Tech Data Corp., a distributor based in Clearwater, Fla., said it offers IBM Cloud Pak for Security to its partners, which include more than 125,000 IT resellers.
Backing hybrid clouds, software
Expanding relationships with services players was a big theme at Think 2020, IBM's conference for customers and business partners, said Catie Merrill, an analyst who covers IBM's cloud business for Technology Business Research Inc. (TBR).
"[IBM] said that the priority of the partner ecosystem was to win in hybrid cloud," she said. "It's all about the services guys pushing out OpenShift and Cloud Paks to more customers and, essentially, helping IBM sell more software."
The growing web of cloud ecosystem alliances also helps IBM keep up with other cloud providers. AWS and Microsoft, which lead IBM, Google and Oracle in cloud market share, have expanded their channel partner rosters to further solidify their advantage.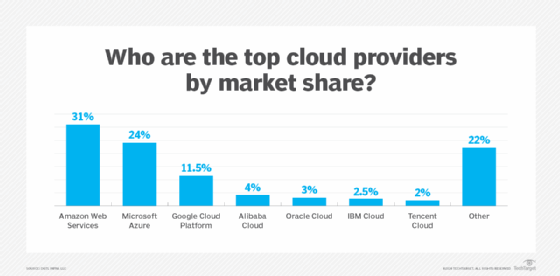 "For IBM to successfully execute on its cloud strategy, the company must carefully balance its internal sales and [go-to-market] efforts with its partner strategy," said Boz Hristov, professional services senior analyst at TBR.
IBM cloud rivals, such as Google, also are following suit when it comes to cultivating partners. Hristov said Google is perceived in the partner market as providing "strong incentives" to sell Google Cloud Platform subscriptions.
Opening IBM Cloud partner opportunities
IBM's growing interest in cloud partners could open opportunities for its allies. Many partners offer customers multiple cloud options and partnering with IBM "provides another tool in the consultants' toolbox," Hristov said.
Red Hat OpenShift capability and tools help in infrastructure and application modernization.

Vivek GuptaVice president and global head of cloud services, Tech Mahindra
Specific growth opportunities for IBM cloud partners include legacy systems migration.
Vivek Gupta, vice president and global head of cloud services, at Tech Mahindra, cited containerizing applications and mainframe migration as some services with the highest growth potential. He said deploying OpenShift and IBM Cloud Paks on IBM Z and LinuxOne mainframes "allows large, monolithic applications to be containerized."
Tech Mahindra views modernization, in general, as a growth opportunity under the IBM cloud alliance.
"Red Hat OpenShift capability and tools help in infrastructure and application modernization," Gupta said. Those tools also provide an opening for Tech Mahindra to revisit previously awarded large deals in which customers' infrastructure licenses are soon to expire.
Network modernization, meanwhile, creates opportunities for software-defined networks, hybrid-cloud or multi-cloud deployments and 5G cloud-native applications, Gupta said. He also pointed to the containerization of telecom service providers' operational support systems and business support systems as areas ripe for expansion.
Techwave Consulting, a multi-cloud service provider based in Houston, listed legacy systems migration and Unix migration as areas of high-growth potential in the IBM Cloud. Techwave clients who typically move to IBM fall into three categories of legacy systems: workloads running on bare-metal Wintel and Lintel systems; non-Intel platforms such as IBM pSeries, Oracle Solaris and HP-UX; and IBM iSeries and Z systems, said Sriram Ranganathachari, Techwave senior director. SAP workload migration, platform consolidation and infrastructure/application modernization initiatives also offer more IBM Cloud opportunities.
Tech Data, meanwhile, is investing in education, marketing and dedicated resources to help its partners take advantage of the hybrid-cloud opportunity, said Trisha Cooke, vice president of vendor solutions at Tech Data. For example, the IBM Cloud Accelerator Program focuses on the distributor's public cloud workloads such as IBM Power Systems virtual servers, ERP modernization and VMware as well as IaaS and PaaS offerings. The cloud accelerator effort offers partners demand-generation campaigns, a Cloud University platform for skills development, increased margins and rebates among other features.
Achieving differentiation
IBM also offers partners differentiation vis-à-vis other cloud platforms. Ranganathachari said IBM Cloud stands out at the IaaS layer, providing a mature offering for bare-metal requirements spanning Wintel and Lintel servers as well as legacy IBM p System, iSeries and zSeries machines. Another difference: IBM's cloud-based FileNet offering, which strengthens content delivery and distribution.
In addition, Ranganathachari cited IBM's "stronger services offering" in the middleware layer, which improves enterprise integration. Middleware services, coupled with IBM MaaS360 with Watson enterprise mobility management, help IBM provide a distinctive cloud offering, he added.