Nmedia - Fotolia
Navigating the evolving BPA tools market
The BPA market tool landscape is still maturing, but organizations should prepare themselves to adopt it. Review the basics of BPA and learn how to start building your automation strategy.
Enterprise leaders believe automation is critical for future success. As such, more and more CIOs and their C-suite colleagues are looking to automate not just tasks but entire processes using the discipline of business process automation and the range of technologies that enable it.
Consider, for example, that 92% of business leaders say their companies must enable process automation as well as solve digital challenges in the workplace in order to survive and thrive, according to the June 2020 report "Accelerating Automation: How Businesses are Adapting to a Post COVID-19 World" from software maker K2.
"BPA is the next step to business process re-engineering, which was about streamlining things and seeing where automaton and business process management tools could bring improvements," said Scott Buchholz, a managing director with Deloitte Consulting LLP and the firm's Government and Public Services CTO.
What is BPA and what does it do?
Business process automation (BPA) involves automating the complex processes that drive the business itself. It relies on advanced technologies and intelligent solutions that augment human activities from the beginning of a process to its conclusion.
However, proper BPA requires a combination of technologies and tools as well as standards and frameworks, said Gartner senior research director Saikat Ray. It's a heavy lift for most organizations, however; the K2 report found that 86% of respondents face one or more barriers to process automation, with the complexity of process automation listed as the top challenge to success.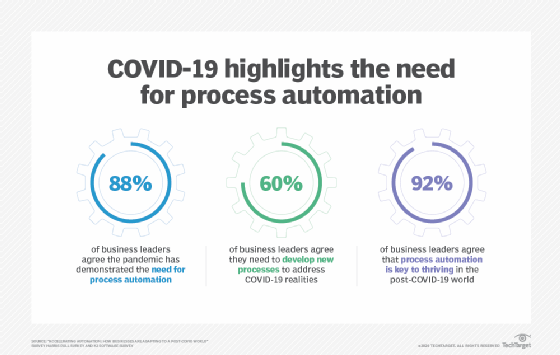 BPA can be applied to many, if not most, of the myriad processes that exist within a typical organization, experts said. Chris McElroy, CIO of management consulting company Swingtide, said technologies could smooth and speed complex business activities that are often delayed due to manual approval and data collection processes. However, according to experts, BPA is in its early stages of maturity, and most organizations are only beginning to implement technologies to move processes toward hyperautomation.
BPA tools and platforms
Multiple technologies enable BPA, such as robotic process automation, business rules engines, artificial intelligence, natural language processing and optical character recognition. For example, a customer service process will likely use AI to help route customer requests to the right departments and use chatbots to engage with customers who call in for service. Orchestration capabilities and integration solutions are also typically required for BPA.
BPA is the next step to business process re-engineering, which was about streamlining things and seeing where automaton and business process management tools could bring improvements.

Scott BuchholzManaging director, Deloitte Consulting LLP
A number of vendors offer BPA tools and platforms, sometimes referred to as intelligent automation or hyperautomation technologies. Organizations can also create their own ecosystem of composable systems, Ray said, by selecting best-of-breed tooling that can handle specific business tasks. This approach typically requires the enterprise to select or build solutions such as chatbots and workflow engines. It also means that CIOs should determine whether they want to create citizen developers who are capable of using low-code development platforms to create their own automated software processes.
Each organization must determine which approach is better for the particular process targeted for hyperautomation, Ray said. Specifically, software team leaders should review their existing technology stack. For example, an organization that's already a Microsoft shop might want to stay with a Microsoft platform, while an organization more experienced in integrating technologies from multiple vendors may be better served to build its own BPA tools and software system.
Despite its nascence, the list of vendors who offer BPA tools and platforms in this space is extensive, and includes veteran tech companies such as IBM, Microsoft, Oracle and Software AG. The market is also populated by smaller, specialized players including:
AgilePoint
Appian
Automation Anywhere
Kofax
K2
Pegasystems
ServiceNow
UniPath
Form a BPA strategy
As is the case with other initiatives, CIOs must pair their organization's requirements with the right tools from the right vendors, experts said. As they go to market, Buchholz advised that CIOs start by examining the technologies they already have in place, as they may find that their existing capabilities can handle at least some of the automation and intelligence requirements.
"You may already have the tools you want or pieces and parts," Buchholz said. "So then the questions are: How many new tools do you need, and how much more automation is necessary to automate the parts that are next on your list?"
Once CIOs identify the capabilities they need, they should evaluate which vendor can deliver what they need, Buchholz said. This includes deciding whether the organization possesses the specialized skills and knowledge to manage multiple sets of complex BPA tooling from various vendors. If not, they may be better served by a single vendor platform that advertises less sophisticated capabilities, but simplified management.
CIOs should also consider whether a vendor's tool has a successful track record in enabling the BPA being targeted, Buchholz said, as many of the solutions out there are designed to excel in specific business areas and verticals.
"Does the vendor have a proof case in your space? If you're trying to automate a financial process, and the vendor is more experienced automating customer processes, do you want to be the first to prove out that the vendor can automate in your space?" he asked.
Dig Deeper on Application development and design