AWS AI tools focus on developers
AWS sells many AI products, tools and services aimed at developers, including several for AI newcomers, such as DeepRacer, DeepLens and DeepComposer.
AWS is the undisputed leader in the cloud market. As for AI, the cloud division of tech giant Amazon is also in a dominant position.
"Machine learning is at a place now where it is accessible enough that you don't need Ph.Ds," said Joel Minnick, head of product marketing for AI, machine learning and deep learning at AWS.
Partly, that's due to a natural evolution of the technology, but vendors such as Google, AWS, IBM, DataRobot and others have made strides in making the process of creating and deploying machine learning and deep learning easier.
AWS AI
Over the last few years, AWS has invested heavily in making it easier for developers and engineers to create and deploy AI models, Minnick said, speaking with TechTarget at the AWS re:Invent 2019 user conference in Las Vegas in December 2019.
AWS' efforts to simplify the machine leaning lifecycle were on full display at re:Invent. During the opening keynote, led by AWS CEO Andy Jassy, AWS revealed new products and updates for Amazon SageMaker, AWS' full-service suite of machine learning development, deployment and governance products.
Those products and updates included new and enhanced tools for creating and managing notebooks, automatically making machine learning models, debugging models and monitoring models.
SageMaker Autopilot, a new AutoML product, in particular, presents an accessible way for users who are new to machine learning to create and deploy models, according to Minnick.
In general, SageMaker is one of AWS' most important products, according to a blog-post-styled report on re:Invent from Nick McQuire, vice president of enterprise research at CCS Insight. The report noted that AWS, due largely to SageMaker, its machine learning-focused cloud services, and a range of edge and robotics products, is a clear leader in the AI space.
"Few companies (if any) are outpacing AWS in machine learning in 2019," McQuire wrote, noting that SageMaker alone received 150 updates since the start of 2018.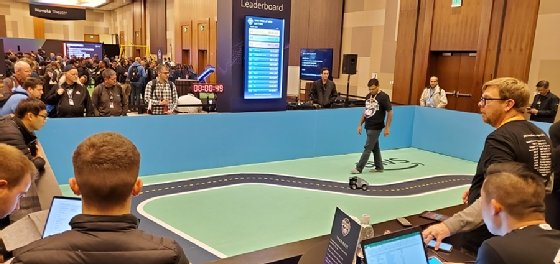 Developers for AWS AI
In addition to the SageMaker updates, AWS in December unveiled another new product in its Deep series: DeepComposer.
The product series, which also includes DeepLens and DeepRacer, is aimed at giving machine learning and deep learning newcomers a simplified and visual means to create specialized models.
Introduced in late 2017, DeepLens is a camera that enables users to run deep learning models on it locally. The camera, which is fully programmable with AWS Lambda, comes with tutorials and sample projects to help new users. It integrates with a range of AWS products and services, including SageMaker and its Amazon Rekognition image analysis service.
"[DeepLens] was a big hit," said Mike Miller, director of AWS AI Devices at AWS.
DeepRacer, revealed the following year, enables users to apply machine learning models to radio controlled (RC) model cars and make them autonomously race along tracks. Users can build models in SageMaker and bring them into a simulated racetrack, where they can train the models before bringing them into a 1/18th scale race car.
An AWS racing league makes DeepRacer competitive, with AWS holding yearlong tournaments comprised of multiple races. DeepRacer, Miller declared, has been exceedingly successful.
"Tons of customers around the world have been using DeepRacer to engage and upskill their employees," Miller said.
Dave Anderson, director of technology at Liberty Information Technology, the IT arm of Liberty Mutual, said many people on his team take part in the DeepRacer tournaments.
"It's a really fun way to learn machine learning," Anderson said in an interview. "It's good fun."
Composing with AI
Meanwhile, DeepComposer as the name suggests, helps train users on machine learning and deep learning through music. The product comes with a small keyboard that can plug into a PC along with a set of pretrained music genre models. The keyboard itself isn't unusual, but by using the models and accompanying software, users automatically create and tweak fairly basic pieces of music within a few genres.
With DeepComposer, along with DeepLens and Deep Racer, "developers of any skill level can find a perch," Miller said.
The products fit into Amazon's overall AI strategy well, he said.
"For the last 20 years, Amazon has been investing in machine learning," Miller said. "Our goal is to bring those same AI and machine learning techniques to developers of all types."
The Deep products are just "the tip of the spear for aspiring machine learning developers," Miller said. Amazon's other products, such as SageMaker, extend that machine learning technology development strategy.
"We're super excited to get more machine learning into the hands of more developers," Miller said.