Government Amazon antitrust inquiries scrutinize market dominance
The federal government and states are examining whether Amazon stifles competition and violates antitrust laws. The inquiries could result in action such as breakup of the tech giant.
If federal and state investigators listened to AWS CEO Andy Jassy's keynote statements during the company's sprawling 2019 user conference earlier this month, they likely found further justification for the government's Amazon antitrust inquiries.
AWS not only dominates the market for cloud services, but also those for computing power, storage, database technology, machine learning, robotics, messaging and content distribution, Jassy boasted from the stage.
"Nobody has the capabilities that AWS has. Nobody has close to the number of services," Jassy said at the conference in Las Vegas.
FTC steps in
Indeed, an Amazon antitrust investigation by the Federal Trade Commission (FTC) is focused on just how pervasive, dominant and perhaps monopolistic Amazon, AWS and other Amazon-owned businesses have become. Antitrust inquiries into Amazon and other big tech vendors by Congress, the Department of Justice and 50 state attorneys general also are underway.
Meanwhile, in early fall, the FTC began interviewing disgruntled retailers who do business on Amazon.com. A key concern that the FTC could be exploring is whether Amazon uses its marketplace platform to gain an unfair advantage against the third-party sellers that are its customers -- the European Commission is already looking into these allegations. The theory is that Amazon gathers a lot of data about other sellers and uses it to design, make and sell its own products.
In early December, the regulatory agency also turned its attention to AWS and whether the cloud division of Amazon -- which accounts for 60% of Amazon revenues -- punishes software companies that sell to AWS customers but don't use AWS cloud services.
It's unclear how intensive the FTC Amazon antitrust inquiry is or how fast it is proceeding, since the agency does not confirm the existence of investigations, according to a spokeswoman. However, FTC Chairman Joseph Simons has publicly declared that he is ready to break up the big tech vendors, and the FTC over the summer fined Facebook $5 billion for privacy breaches.
The FTC has made a strong point publicly indicating its commitment to look quite carefully at Amazon and other big tech companies that are major information system platforms.

William KovacicLaw professor, The George Washington University Law School
William Kovacic, a former chairman general counsel of the FTC, said the inquiry is quite real and likely to result in some kind of action, whether a breakup of the retail and tech giant, or substantive regulation.
"I think it's very serious. The FTC has made a strong point publicly indicating its commitment to look quite carefully at Amazon and other big tech companies that are major information system platforms," said Kovacic, an antitrust expert and professor of law at The George Washington University Law School.
"The way in which the commission has spoken about its commitment to look at the company strongly increases the likelihood that they will bring a case of some kind against Amazon over the coming year or so," he continued.
Amazon exec says vendor can withstand scrutiny
Amazon and AWS did not respond to requests for comment for this story. But Amazon Worldwide Consumer CEO Jeff Wilke said at a media briefing during the Amazon re:MARS 2019 conference in June: "We believe that the most substantial entities in the economy deserve scrutiny and our job is to build the kind of company that passes that scrutiny with flying colors."
Meanwhile, bipartisan momentum was building for an Amazon antitrust inquiry, as well as government antitrust scrutiny of Apple, Facebook and Google.
In an apparent response to accusations that Amazon copies products from merchants that sell on its marketplace and retails them for lower prices and essentially free advertising, Wilkes asserted that other retailers have also traditionally created their own brands. He also said Amazon does not study private data it has collected to sell its own brands.
What is known about the Amazon antitrust probe and other federal inquiries into the four big tech companies is the number and breadth of documents, data and communications the House Judiciary Committee's antitrust subcommittee has requested.
Congress goes after big tech
In a Sept. 13 letter addressed to Amazon CEO Jeff Bezos, the subcommittee requested descriptions, market shares, lists of competitors, top customers and financial statements for 12 Amazon products and services.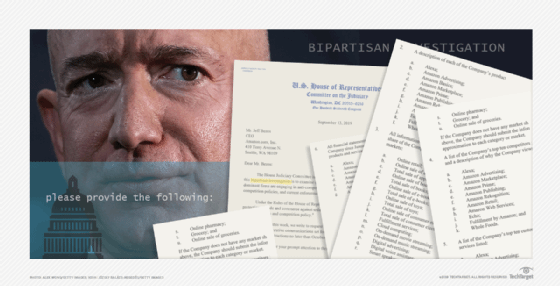 The products included in the request are Alexa, Amazon Advertising, Amazon Basics, Amazon Marketplace, Amazon Prime, Amazon Publishing, , Amazon Retail, AWS, Echo, Fulfillment by Amazon and Whole Foods.
Congress also requested emails among Bezos, Jassy, Wilkes and six other top Amazon executives.
However, tech industry analyst Ray Wang, an opponent of breaking up the big tech vendors, noted that the way the congressmen broke down Amazon's activities is not how the company -- which maintains a huge but traditional hierarchical corporate structure -- has organized itself.
Amazon is composed of various divisions, mostly broad operations such as AWS, consumer sales, international retail, and devices, among others -- rather than specific products such as Amazon Rekognition. Ten or so CEOs, vice presidents and other top executives report directly to Bezos.
"It's a request to define their markets as Congress thinks it sees them, but not an understanding of both how the business models work and how they monetize the business models," Wang said. "Amazon's business model is delivering digital and physical goods and services at scale."
Congress views Amazon its own way
If Amazon antitrust actions lead to a breakup of Amazon and AWS, fast-growing Chinese tech giants Alibaba, Baidu and Tencent that don't face similar regulatory threats could benefit, Wang argued.
Amazon and AWS also compete directly with U.S. competitors such as Microsoft, Google and IBM on AI and cloud services, where AWS owns about half the worldwide market.
"Microsoft, Google and Amazon allow us this advantage and while these are mega firms, they have mostly not abused their positions in the market, and have created opportunities for the consumer and society," Wang said.
Breakup: minimal effect on enterprises
Meanwhile, Alan Pelz-Sharpe, founder of consulting firm Deep Analysis, said he thinks "there would be very little disruption" to enterprises, if, indeed, Amazon were to spin off AWS.
"There are two very different Amazons, essentially. There's the one that consumers and merchants know, and there's AWS, the cloud services, which includes storage, compute power, all the models, the artificial intelligence, blockchain and everything else," he said.
"That is quite different in the sense that people are building their own products and platforms with AWS," Pelz-Sharpe said. "I'm not saying you can easily swap out, but you can move your storage from Amazon to [Microsoft] Azure, to Rackspace, to Google. You're not terribly locked in. It's a monthly subscription."