alex_aldo - Fotolia
Embedded BI and analytics apps speed workflows, insight access
Embedded BI is fast becoming a focal point for analytics uses as data analysts, developers and business users enjoy faster processing, reduced workloads and better outcomes.
Applications embedded with business intelligence allow data analysts, developers and business users to drill down, access and analyze data without opening a separate tool, resulting in a more seamless analytics workflow.
"embedded analytics reduces the amount of time users spend switching between business applications and analytics tools, which creates more time for value-added activities and improves user adoption of analytics applications," said Travis James Fell, product manager at virtual infrastructure provider Hypori by Intelligent Waves and former U.S. Navy Reserve intelligence officer.
Fell also discovered that embedded BI helped reduce the workload on his analytics teams, which, upon developing a popular application, would typically get an uptick in ad hoc requests from business users. "Embedded self-service analytics," Fell explained, "gives end users a faster way to obtain the insights they need while allowing analytics teams to focus on new products that help grow and differentiate the business."
Embedded BI and analytics are also improving and speeding the workflow for analysts and engineers tasked with setting up new analytics capabilities, said Ramesh Hariharan, co-founder and CTO at consultancy LatentView Analytics. Analysts and engineers don't need to use custom software or concern themselves with scalability and security issues when delivering insights to end users. Dashboards and other visualizations can be integrated into applications without codes or libraries.
Democratizing access to insights
Integrating dashboards as widgets into web portals or custom applications has opened up access to analytics outcomes to a wider range of users and decision-makers. According to Hariharan, LatentView created an application for a large technology company's marketing team to help them analyze the effectiveness of multichannel campaigns. Embedded BI and analytics helped create a story by bringing multiple dashboards together and allowed users to drill down into individual segments and view other information relevant to the segment. "The insights from data is easily embedded into the daily workflows for business users," Hariharan noted.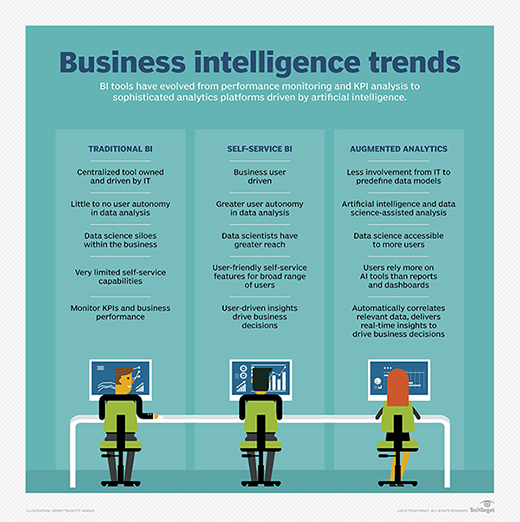 But improved analytics workflows don't necessarily lead to better business outcomes. "Embedded BI simply helps in integrating the insights into different delivery channels," Hariharan said. Outcomes depend on data quality and preparation, the ability to glean stories from the analytics and the resulting insights and actions taken -- all of which can make or break business decisions.
"Embedded BI simplifies the delivery of analytics throughout a company," concurred Elena Goryainova, senior data and analytics consultant at SPR. The overall data analytics lifecycle shrinks as well, she added, because once the application release process is established for internal corporate use, it can be extended to customer-facing embedded analytics.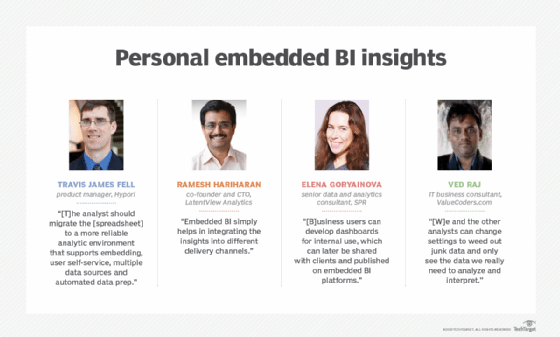 That's a core principle of DataOps, whereby DevOps principles governing the developer world are applied to the analytics lifecycle. As a result, new analytics initiatives are more automated and rolled out faster. "Quite often," Goryainova said, "business users can develop dashboards for internal use, which can later be shared with clients and published on embedded BI platforms."
Personalizing intelligence
The most notable developments in embedded BI and analytics have been the use of AI and personalization, said Ved Raj, IT business consultant at ValueCoders.com. "The fact that we and the other analysts can change settings to weed out junk data and only see the data we really need to analyze and interpret is great," he reasoned.
Some of the latest embedded BI and analytics tools also use AI to deliver insights that would otherwise take time to pore through all the data. But it doesn't always work that way. "Sometimes there's stuff I find suspicious about the entire algorithm thingy that makes me want to crunch numbers and do some tasks by myself," Raj noted.
Before developing an app, Raj weighs the likelihood of solving a particular problem, the development costs incurred and embedded BI's capabilities. "BI tools are never meant to solve redundant problems created just to find an excuse for leveraging data," he said. "Personalization in embedded BI tools is what makes the entire analytics process incredibly efficient for me."
Embedded BI is spreading
The electronic spreadsheet has long been a mainstay for numbers crunching and analysis and remains the chief competitor to embedded analytics.
"Analysts and business users continue using spreadsheets because spreadsheets still have valid uses," Hypori's Fell said. "They are good for ad hoc analysis with small data sets and fewer data sources. In fact, analyses in spreadsheets often serve as prototypes for more robust analytics products."
But they have significant drawbacks, including data that's static; inadequate methods to validate data; high risk of data corruption; multiple sources of truth created, especially when copies of a spreadsheet are emailed to team members; and actionable macros that tend to fail at the worst times and for untraceable reasons.
"When a spreadsheet analysis proves its business value," Fell advised, "the analyst should migrate the product to a more reliable analytic environment that supports embedding, user self-service, multiple data sources and automated data prep."
Enter embedded BI.