Getty Images/iStockphoto
Oracle Analytics helps Northwell Health meet staffing needs
In need of an efficient way to determine staffing needs when the pandemic struck, Northwell Health got help with an Oracle Fusion Cloud Human Capital Management dashboard.
When COVID-19 struck in March 2020 and hospital intensive care units were suddenly overwhelmed with patients, Northwell Health used Oracle Analytics to manage the situation.
Northwell Health, based in Great Neck, N.Y., is the largest healthcare provider and private healthcare employer in New York State, with more than 74,000 employees as of 2020.
The organization, formerly known as North Shore-Long Island Jewish Health System, operates 23 hospitals, including North Shore University Hospital and Long Island Jewish Medical Center near New York City.
New York City was one of the areas hit hardest by COVID-19 in the early days of the pandemic.
Northwell needed to react quickly, adding staff to hospitals in areas most affected by the coronavirus to handle the surge in patients needing critical care.
Upgrading with Oracle
Before the pandemic, the organization's human resources department used Excel spreadsheets to manage staff, converted the spreadsheets to PDFs and emailed the PDFs to HR personnel. In addition, once the pandemic struck, Northwell's HR employees held daily meetings to go over staffing needs and best mete out personnel.
The system, however, was inefficient.
So Northwell, which had begun using Oracle Cloud as the foundation for its HR needs before the pandemic, selected an Oracle Analytics dashboard that it now uses for all its staffing needs.
Using a dashboard from Oracle Fusion Cloud Human Capital Management, Northwell Health is now able to monitor patient flow, staffing numbers and other resources in a single location.
"When the pandemic hit, Northwell had the largest number of COVID-19 patients that were hospitalized in the U.S., so HR played a significant role in supporting Northwell during this extraordinary time," Elina Petrillo, vice president of product and solution delivery at Northwell, said recently during the initial episode of the Oracle Analytics Forum, a virtual series hosted by the tech giant.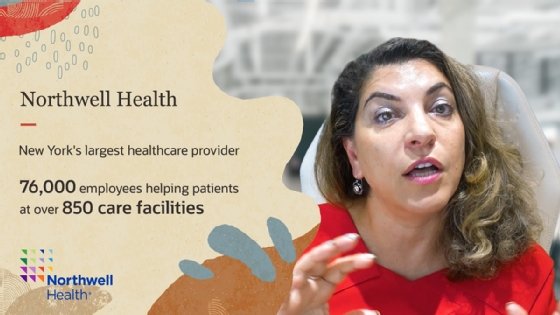 Manually inputting data to Excel spreadsheets, converting the spreadsheets to PDFs, emailing the PDFs to key personnel and then holding virtual meetings to go over staffing needs took too long when patient numbers and hospital needs were constantly changing.
Northwell needed a more efficient process to determine staffing needs and implement them, and Oracle Analytics provided a way to do it.
"We were moving nurses from one hospital to another to help the critical areas, and also brought in over 700 temporary nurses, so we needed to have one global view on the staffing," Petrillo said.
We were moving nurses from one hospital to another to help the critical areas, and also brought in over 700 temporary nurses, so we needed to have one global view on the staffing.

Elina PetrilloVice president of product and solution delivery, Northwell Health
Using Oracle Analytics, Northwell was able to automate all data input. Old spreadsheets were converted into a format that can be ingested by Oracle Analytics Cloud. Meanwhile, Northwell is creating no new spreadsheets, with all pertinent information now automatically combined with the existing data used to populate the dashboard.
But beyond eliminating the need to manually input data into spreadsheets, the efficient, single view of the data ended the need for daily meetings.
"Because of the analytics, we could do many things differently," Petrillo said. "We stopped creating huge spreadsheets and turning them into PDF documents, and then we got a phone call from our chief nursing officer that said that we no longer need to meet daily. The … tools that we put in place were enough to look at the data instead of having daily critical meetings."
A better platform
Had the pandemic struck just a few years before 2020, Oracle Analytics might not have been able help Northwell.
Oracle overhauled its analytics capabilities in 2019, paring nearly 20 different products down to three. And that came just after a significant investment in modernizing the platform's capabilities to include more augmented intelligence and machine learning.
Other vendors -- ThoughtSpot, for example, invested heavily in AI from its inception in 2012 -- were already prioritizing such capabilities and Oracle could have let itself be left behind. But rather than fade from relevance, the tech giant modernized its analytics capabilities and is now rated highly by consulting firms like Gartner and Forrester Research.
"I like to talk about the 50-yard dash versus the marathon, and maybe Oracle was a little late in the 50-yard dash with its technology, but now we're running a marathon and Oracle is right there and has clearly closed the gap with their technologies around analytics," said Richard Solari, managing director for Oracle Analytics at Deloitte Consulting LLP.
Brad Genson, managing director of analytics at Accenture, noted that as Oracle has invested in its analytics capabilities, demand has increased among Accenture's customers.
"If you look at February through September of this year, Accenture will take approximately 30,000 users live on Oracle Analytics Cloud," he said. "We think that's a compelling number that shows how Oracle Analytics Cloud, and the analytics capabilities of Oracle, is gaining traction."
Northwell's analytics needs will only increase in the future.
COVID-19 cases are again surging, requiring speed and agility from the healthcare provider. But even once the pandemic eventually ends, data and analytics will enable Northwell to meet staffing needs more efficiently than it could before the pandemic. And should there be another major, widespread health care crisis, the organization will be better prepared than it was in March 2020, it says.
"The need for reporting, the need for insight continues to grow every day," Petrillo said. "This really important data we're now able to collect in our HCM and bring into analytics plays a major role in helping Northwell leaders to understand where we are right now and help them plan for the future."
Dig Deeper on Business intelligence technology