ra2 studio - Fotolia
HR use case shows value of Oracle Analytics Cloud
A use case presented during Oracle Analytics' virtual user conference shows how the vendor's platform can bring value to an organization thanks to its usability.
By detailing the business challenges of a waste management company, Myles Gilsenan demonstrated the value Oracle Analytics Cloud can give organizations.
Gilsenan, director of Oracle business analytics at Perficient, a consulting firm based in St. Louis that works on digital projects with enterprises, spoke about Oracle Analytics Cloud (OAC) at a breakout session of Oracle Analytics' annual user conference May 19. The conference, which began on May 12 and has sessions scheduled through August 18, was held online due to the COVID-19 pandemic.
Unifying platforms
Oracle's analytics platform had been a patchwork of nearly 20 business intelligence products until June 2019, when the software giant streamlined its BI platform into three products -- Oracle Analytics Cloud, Oracle Analytics Server and Oracle Analytics for Applications. Oracle Analytics Cloud is its SaaS offering aimed at business users and featuring natural language generation and other augmented intelligence capabilities to foster ease of use.
It's a transformation that's been well received.
"The Oracle Analytics Cloud has enabled Oracle to rapidly play catch-up to some of the incumbents in the analytics space," said Mike Leone, an analyst at Enterprise Strategy Group. "It provides data-centric organizations with a cloud service anchored in simplicity. While OAC focuses on data visualization and augmented analytics, there's a lot more under the covers -- intelligent automation, recommendations, natural language querying and numerous third-party integrations."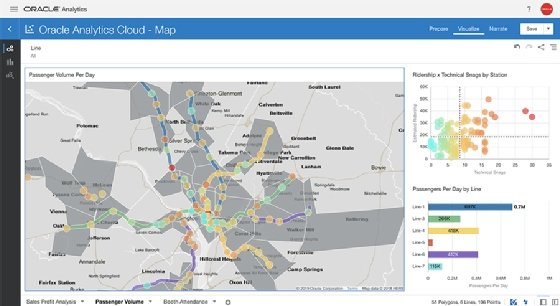 Similarly, Doug Henschen, an analyst at Constellation Research, said the Oracle analytics reorganization was significant.
"Oracle has done a nice job of unifying its strategy and technology across cloud, on-premises and application-integrated deployments with Oracle Analytics Cloud, Oracle Analytics Server and Oracle Analytics for Applications, respectively," he said. "It's all one code base."
The Oracle Analytics Cloud has enabled Oracle to rapidly play catch-up to some of the incumbents in the analytics space.

Mike LeoneSenior analyst, Enterprise Strategy Group
In addition, he added, the way the platform is packaged gives users flexibility.
"The packaging gives them a data model, data integration capabilities, dashboards and reports that are prebuilt for Oracle's cloud ERP and [human capital management] apps, yet all of these prebuilt features can be extended to customer-specific data and analysis requirements," Henschen said. "It's a way to get started quickly but without being limited to prebuilt content."
While Oracle Analytics Cloud is designed to be accessible to both technical and non-technical users alike, ironically it's through one organization's difficulty getting started that Gilsenan demonstrated what he said are its actual ease of use and capability to quickly deliver value.
Perficient's client, which he did not name, was a provider of waste management services including waste removal, recycling and renewable energy. One of the company's main goals when it began using Oracle Analytics Cloud was to join human resources data from Taleo and PeopleSoft, human resources software platforms owned by Oracle.
Specifically, according to Gilsenan, the client wanted greater visibility into such HR metrics as the cost of vacant positions, the time it took to fill vacant positions, quality of hires, employee career progression and talent optimization.
"What they really wanted was to track employees from the recruiting channel all the way through career progression at the company," he said. "And over time, they wanted to build up a data set to be able to say that people who come through a certain channel turn out to be successful employees, and they would then of course emphasize those channels."
The company's data, however, came from disparate systems, including one that was on premises. And when the company started trying to unify its data in Oracle Analytics Cloud, it ran into trouble.
"They had a sense that OAC is an agile, cloud-based environment, and you should be able to get value very quickly," Gilsenan said. "There were a lot of expectations, and people were expecting to see a dashboard very, very quickly. But there were organizational things that caused issues."
One of the biggest was that the company's expert in the subject matter was also working on many other things and didn't have enough time to devote to the project. Other members of the team working on the project also had competing responsibilities.
As a result, according to Gilsenan, when it started taking longer to complete the project than originally planned, company management concluded that Oracle Analytics Cloud was too complicated.
"When it came to integrating data sources, there was some technical expertise that was needed, but by and large it was the idea that they couldn't focus," Gilsenan said. "It was a classic organizational issue."
Rather than a different analytics platform, what the company really needed was some outside help, according to Glisenan. It brought in Perficient, and within four weeks delivered an HR analytics system in Oracle Analytics Cloud.
Perficient's first step was to restore the waste management company's confidence in Oracle Analytics Cloud by showing executives success stories. It then helped the company define success criteria, develop a plan and move into the execution phase.
Perficient helped the waste management company develop a dashboard and six reports that covered critical HR metrics such the quality of hires and the cost of open positions.
"They became very competent in the platform, and right then and there made plans to roll out Oracle Analytics Cloud to the rest of the company [beyond HR]," Gilsenan said.
Focus on HR
While the waste management company is now using Oracle Analytics Cloud throughout its organization, HR has been a particular focus of the platform. Oracle even unveiled a specialized HR version of Oracle Analytics for Cloud HCM at the start of its virtual user conference, though that's not the tool Perficient's client is now using.
"Oracle is looking to deliver a more holistic approach to HR analytics," Leone said. "They've spent a ton of time researching various aspects of HR to deliver a comprehensive launching pad for organizations looking to modernize HR with advanced analytics. It's about using more data from several entities together to help accurately measure success, failure and the likelihood of each. This is where Oracle is making significant strides in helping to modernize analytical approaches."