Oracle Analytics Cloud update unifies BI products, pricing
Oracle Analytics Cloud now offers a consistent UI and all-in-one pricing for Oracle's analytics tools. But an on-premises BI update is also on the way for cloud holdouts.
Oracle is combining nearly 20 BI and analytics products into an updated version of its Oracle Analytics Cloud platform with a unified UI and a single price for all of the software. But it also plans a new release of its legacy on-premises BI tools with added functionality available only in the cloud platform now -- a move Oracle hopes will stop users who don't want to go to the cloud from defecting to rival vendors.
Oracle executives, who detailed the new offerings at an event streamed live via a webcast, said Oracle Analytics Cloud will be the flagship product in the company's BI and analytics portfolio, now coalesced under the Oracle Analytics brand. The updated cloud platform is designed to simplify the licensing and use of Oracle's BI tools, according to T.K. Anand, its senior vice president of AI, data analytics and cloud.
The revamped Oracle Analytics Cloud pulls together Oracle's traditional BI reporting software and its newer self-service BI and data visualization tools, plus a set of augmented analytics features designed to help end users find, prepare and analyze relevant data. "Instead of having purpose-built analytics tools, this is one integrated product that offers all of them," Anand said in an interview before the webcast.
Available now, the update provides a common user experience across its various components, but Anand said end users will see only the particular tools they need. Oracle has also boiled "a plethora of editions and product SKUs" down into two all-in-one pricing options, he said. A Professional edition aimed at workgroups and departments costs $20 per user monthly, while an Enterprise edition covers an unlimited number of users for a monthly fee of $2,000 per Oracle compute unit, or OCPU, the metric that the company uses to track consumption of processing resources by cloud customers.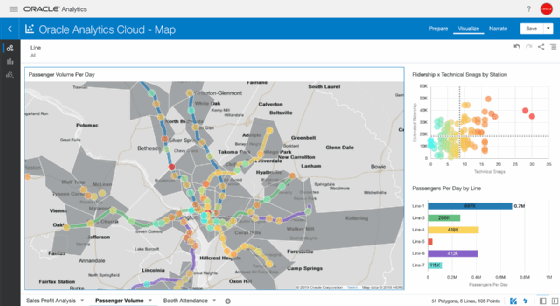 Cloud not the only Oracle Analytics option
However, Oracle is hedging its cloud-first bets by also building much of the functionality from Oracle Analytics Cloud into its on-premises BI platform to bring that more up to par with the cloud one. Anand acknowledged that development of the on-premises software -- which is being renamed from Oracle Business Intelligence Enterprise Edition (OBIEE) to Oracle Analytics Server -- had languished after the company shifted its focus to the cloud side.
Previously, there was a justified perception that the only way forward with Oracle was in the cloud.

Doug HenschenAnalyst, Constellation Research
"Not all of our customers are ready to move to the cloud as aggressively as we would like," Anand said. But in recent years, he added, "we weren't delivering much in the way of new value to OBIEE users and were potentially alienating some of our on-premises customers and causing them to go to our competition. We wanted to put a stop to that."
Existing OBIEE users will automatically be licensed to install and use the new Oracle Analytics Server release, which is due out in this year's fourth quarter. After that, Oracle will continue to update the on-premises platform annually, Anand said.
Time to give Oracle another look on BI?
The planned Oracle Analytics Server rollout "is a statement to the many companies still running on-premises [Oracle BI systems] that there is a product for them," said Doug Henschen, an analyst at Constellation Research. "Previously, there was a justified perception that the only way forward with Oracle was in the cloud."
For cloud users and organizations considering cloud migrations, the new pricing for Oracle Analytics Cloud is "really aggressive," particularly for the Enterprise edition, Henschen said. "It's going to ensure that Oracle customers will give Oracle Analytics a first or second look before choosing competitive options."
Outfront Media Inc., a billboard and digital display advertising company based in New York, upgraded to Oracle Analytics Cloud in January after using a predecessor product called the Business Intelligence Cloud Service (BICS) for four years. BICS was a good "foundational tool" for building dashboards that provide information on advertising operations to about 700 internal business users and customers, said Derek Hayden, Outfront's vice president of data strategy and analytics. But for data virtualization, BICS required the use of desktop software from Oracle -- a step that Hayden ruled out.
"I took a hardline cloud-only approach," he said in an interview. "I saw tools like Tableau and Power BI [in other companies], where people did their own localized installs and data governance was really tough. I wasn't comfortable we could control that, and we really wanted the dashboards to be embraced as a source of truth."
Oracle Analytics Cloud, on the other hand, includes built-in data visualization tools as part of its integrated product set. "It's much more compelling on visualization," said Hayden, who also took part in Oracle's webcast. For example, his team now can more easily create maps that visually highlight information and issues about advertising locations for transit systems.
Oracle gets more transparent on analytics
Until now, Oracle Analytics Cloud and OBIEE "were two very different worlds," Forrester Research analyst Boris Evelson said. Oracle also hasn't been as transparent about its product plans as other BI and analytics vendors, making it harder for the company to reach a broader audience of potential users, according to Evelson. But the new developments are "definitely a step in the right direction," he stated.
The augmented analytics features that Oracle is building into Oracle Analytics Cloud include natural language processing, intelligent search, augmented data preparation and auto-suggest capabilities for data discovery and visualization, Anand said. Some are in a group of features from the cloud platform that won't be incorporated into Oracle Analytics Server because they're inherently tied to the cloud. For example, Anand pointed to a data prep function that uses a cloud service to suggest ways to enrich data.
In addition to the Oracle Analytics Cloud and Oracle Analytics Server updates, Oracle plans to add a set of turnkey analytics packages for use in its cloud-based business applications. That offering is being built on top of Oracle Analytics Cloud and Oracle Autonomous Data Warehouse, a cloud service that automatically configures and manages data warehouses.
The Oracle Analytics for Oracle Cloud Applications packages will create a data warehouse and a curated semantic data model with prebuilt reports and dashboards for application users, Anand said. The first one, for Oracle's ERP Cloud software, is due for release in the fourth quarter; a package for HCM Cloud -- the company's suite of HR applications -- is scheduled to follow in the first quarter of 2020.