Oracle applications development EVP on Fusion, SaaS and what's ahead
Steve Miranda discusses lessons learned from Oracle Fusion Applications, SaaS, best-of-breed apps vs. suites and Oracle's application acquisition strategy.
SAN FRANCISCO -- Oracle executive vice president Steve Miranda has worked at the company since 1992 and leads all application development at the vendor. He was there well before Oracle made its acquisition-driven push against application rival SAP in the mid-2000s, with the purchases of PeopleSoft and Siebel.
In 2007, Oracle put Miranda in charge of Fusion Applications, the next-generation software suite that took a superset of earlier application functionality, added a modern user experience and embedded analytics, and offered both on-premises and cloud deployments. Fusion Applications became generally available in 2011, and since then the Oracle has continued to flesh out its portfolio with acquisitions and in-house development.
Of the three main flavors of cloud computing, SaaS has been by far the most successful for Oracle applications, as it draws in previously on-premises workloads and attracts new customers. The competition remains fierce, with Oracle jockeying not only with longtime rival SAP but also the likes of Salesforce and Workday.
Miranda spoke to TechTarget at Oracle's OpenWorld conference in a conversation that covered Fusion's legacy, the success of SaaS deployments compared with on-premises ones, Oracle's app acquisitions of late and the road ahead.
Software project cost overruns and outright failures have been an unfortunate staple of the on-premises world. The same hasn't happened in SaaS. Part of this is because SaaS is vendor-managed from the start, but issues like change management and training are still risk factors in the cloud. Explain what's happening from your perspective.
We have a reasonably good track record, even in the on-premises days. The noticeable difference I've seen [with cloud] is as follows:
In on-premise, because you had a set version, and because you knew you're going to move for years, you started the implementation, but you had to have everything, because there wasn't another version coming [soon].
Now, inevitably, that meant it took a while. And then what that meant is your business sometimes changed. New requirements came in. That meant you had to change configuration, or buy a third-party [product] or customize. That meant the implementation pushed out. But [initially], you had this sort of one-time cliff, where you had to go or no-go. Because you weren't going to touch the system, forever more, because that was sort of the way it was. Or maybe you look at years later. It put a tremendous amount of pressure [on customers].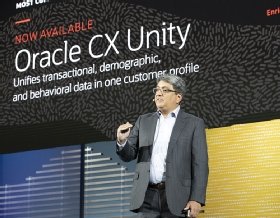 So what happened was, while companies tried to control scope, because there wasn't a second phase, or the second phase was way out, it was really hard to control scope.
In SaaS, the biggest shift that I've seen from customers is that mentality is all different, given that they know, by the nature of the product we've built, they're going to get regular updates. Their mindset is "OK, we're going to take advantage of new features. We're going to continue more continually change our development process or our business process."
Do last-minute things pop up? Sure. Do project difficulties pop up? Sure. But [you need] the willingness to say, "You know what? We're going to keep phase one, the date's not moving, which means your cost doesn't move."
In SaaS, projects aren't perfect, sometimes there's [a scope issue], but you have something live. You get some payback, and there's some kind of finish line for that. That's the biggest difference that I've seen.
The Fusion Applications portfolio and brand persists today and was a big focus at OpenWorld. But Fusion was announced in 2005, and became GA in 2011. That's eight years ago. So in total, Fusion's application architectural pattern is about 15 years old. How old is too old?
Are they old compared to on-premise products? Definitely not. Are they old compared to our largest SaaS competitor [Editor's note: Salesforce]? No, that's actually an older product.
Okay, now, just in a standalone way, is Fusion old? Well, I would say a lot of the technology is not old. We are updating to OCI, the latest infrastructure, we've moved our customers there. We are updating to the latest version of the Oracle database to an Autonomous Database. We've refreshed our UI once already, and in this conference, we announced the upcoming UI.
Now. If you go through every layer of the stack, and how it's architected and how it's built, you know, there's some technical debt. It depends on what you mean by old.
We're moving to more of a microservices architecture; we build that part a piece at a time. Once we get done with that, there's going to be something else behind it. [Oracle CTO and chairman Larry Ellison] talked about serverless and elasticity of the cloud. We're modifying the apps architecture to more fully leverage that.
So if the question is in hindsight, did we make mistakes? The biggest mistake for me personally is, look: We had a very large customer installed base across PeopleSoft Siebel, E-Business Suite, JD Edwards and the expectation from our customers, is when Oracle says we've got something, that they can move to it, and they can move to the cloud.
And so what we tried to do with Fusion V1, and one of the reasons it took us longer than anticipated is that we had this scope.
Any company now, it's sort of cliche, they have this concept of minimum viable product. You introduce a product, and does it service all of the Oracle customer base? No. Will it serve a certain customer base? Sure, yeah. And then you get those customers and you add to it, you get more customers, you add to it, you improve it.
We had this vision of, let's get a bigger and bigger scope. Had I done it over again? We've got a minimum viable product, we would announce it to a subset our customer and then some of this noise that you hear of like, oh, Oracle took too long, or Oracle's late to markets or areas wouldn't have been there.
I would argue in a lot of the areas, while it may have taken us longer to come to market, we came out with a lot more capabilities than our competitors right out the box, because we had a different mindset.
Oracle initially stressed how Fusion Applications could be run both on-premises and as SaaS, in part to ease customer concerns over the longer-term direction for Oracle applications. But most initial Fusion customers went with SaaS because running it on-premises was too complicated. Why did things play out that way?
While it may have taken us longer to come to market, we came out with a lot more capabilities than our competitors right out the box, because we had a different mindset.

Steve MirandaExecutive vice president of applications development, Oracle
I would take issue with the following: Let's say we had the on-prem install, like, perfect. One button press, everything's there. Do I think that we would have had a lot of uptake of Fusion on-premises as opposed SaaS? No. I think the SaaS model is better.
Did we optimize the on-premises install? No. We didn't intentionally make it complicated. But, you know, we were focused on the SaaS market. We were [handling] the complexity. Was it perfect? No. Did that affect some customers? Yes. Did it affect the overall market? No, because I think SaaS was going to [win] anyway.
The classic debate for application customers and vendors is best-of-breed versus suites. Each approach has its own advantages and tradeoffs. Is this the status quo today, in SaaS? Has a third way emerged?
I don't know if it's a third way. We believe we have best-of-breed in many, many areas. Secondly, we believe in an integrated solution. Now let's take that again. I view the customer as having three constituents they care about. They care about their own customers, they care about their employees and they care about their stakeholders, because public company, that's shareholders, if it's a private company, it's different.
If you told me for any given company, there are two or five best-of-breed applications out for some niche feature that benefits one of those three audiences? OK. You go with it, no problem.
If you told me there were 20 or 50 best-of-breed options for a niche feature? It's almost impossible for there to be that many niche features that matter to those three important people, particularly in areas where really we specialize in: ERP, supply chain, finance, HR, a lesser extent in CRM, slightly lesser in some parts of HR.
So this notion of "Oh, let's best-of-breed everything." Good luck. I mean, you could do it. But I don't think you're going to be happy because of the number of integrations. I don't believe in that at all.
Let's move forward to today. Apart from NetSuite in 2016, there haven't been any mega-acquisitions in Oracle applications lately. Rather, it's been around companies that play in the CX space, particularly ones focused on data collection and curation. What's the thinking here?
Without data, you can automate a map, right? You can find out how to go from here to Palo Alto. No problem. You have in your phone, you can do directions, etc. But when you add data, and you turn on Waze, it gives you a different route, because you have real-time data, traffic alerts and road closures, it's a lot more powerful.
And so we think real-time data matters, especially in CRM but also, frankly, in ERP. You might have a supplier and you have the other status, they go through an M&A, or other things. You want to have an ERP and CRM system that doesn't ignore the outside world. You actually have data much more freely available today. You want to have a system that assumes that. So that's our investment.
Oracle has recently drawn closer to Microsoft, forming a partnership around interoperability between Azure and Oracle Cloud Infrastructure. Microsoft is placing a big bet on Graph data connect, which pulls together information from its productivity software and customers' internal business data. It seems like a place where your partnership could expand for mutual benefit.
I'm not going to answer that. I can't comment on that. It's a great question.