Oracle strengthens autonomous cloud positioning
Oracle announced a host of new features for EPM, ERP and HCM clouds, including machine learning OCR and new jobs for the Oracle bot, and a new UX.
SAN FRANCISCO -- Oracle bolsters its push for a fully "autonomous cloud" and unveiled the Redwood UX, an attempt to play catch-up in the user design space.
Many of the announcements here at Oracle OpenWorld 2019 had the common theme of propagating "autonomous" program code throughout the Oracle cloud apps. The company reinforced its perennial claim that it has the most complete cloud technology stack -- from the server hardware, database and operating system on up through development platforms and business applications. There was also a slew of upgrades -- many related to its push for an autonomous cloud that takes people out of the equation -- and new, often AI-based functions for Oracle cloud apps.
"It is tech enablement time for the Oracle SaaS portfolio right now," said Holger Mueller, vice president and principal analyst at Constellation Research, in an email. "Oracle has made many advances in its technology stack that matter for SaaS, starting with AI, but also web-responsive mobile, which the HCM Cloud product has, and analytics."
The vendor said it has integrated its Enterprise Performance Management (EPM) Cloud and Supply Chain Management (SCM) Cloud to create a new product called Integrated Performance Management and Execution. The result is a single hub and unified data model for the financial and operational planning that companies typically handle with separate processes, such as sales and operations planning, marketing and new product introduction. Oracle customers who are already using both EPM and SCM Cloud can take advantage of the new, unified features.
In the past year, the vendor has augmented its cloud ERP suite with Oracle Digital Assistant, a voice-controlled chatbot that Oracle claims can converse with users, monitor activity and attempt to solve problems on its own. New at the conference is Oracle Digital Assistant for Supply Chain Management, intended to speed up root-cause analysis in the supply chain. It will initially be applied to logistics use cases, such as status checking and incident reporting, but eventually move to other supply chain processes, Oracle said.
Cloud automation in action
Machine learning also turns up in the Intelligent Document Recognition announced this week. The software uses optical character recognition (OCR) and machine learning to identify financial information and characters in popular financial-document formats, such as Adobe PDF.
"It learns, so next time you see a similar invoice, it will automatically recognize it and process it for you," said Rondy Ng, senior vice president of Oracle applications development.
The tool minimizes mistakes and the time and money spent on data entry, Ng said.
"We transparently rolled out a machine learning-based capability embedded in the product without our customers having to even learn about it," he said.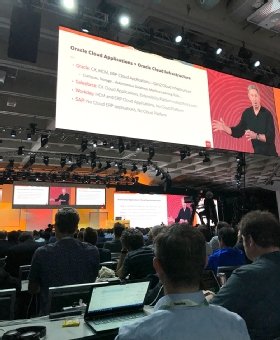 One early user of the invoice OCR is the city of Atlanta, which was high-profile at OpenWorld 2019 for its move this year from legacy Oracle E-Business Suite and PeopleSoft applications to the Oracle cloud apps for ERP, EPM and human capital management (HCM).
"The cloud enables vendors to either email or directly send a PDF or an electronic transmission to the [accounts payable] department, and that invoice data enters the system without having to be re-keyed," said Alfonso Pinan, Atlanta's director of financial systems services. "Even for vendors that are still sending us a paper invoice, there's a capability now to scan the invoice and the system will recognize the data."
"About 70% of the company's invoices are automatically coming into the system, with the goal of reaching 90% to 95% by the end of the year," Pinan said.
The system exhibits some features of AI in how it scans invoices to find key information such as invoice numbers and totals.
"As we do more, it becomes more intelligent, just like [Amazon] Alexa," Pinan said.
However, Atlanta isn't likely to use the Oracle Digital Assistant anytime soon but will do so eventually.
"It's too new," Pinan said. "We are still trying to adjust. We have done so much. We probably have to stabilize for a year."
Redwood UX and other Oracle announcements
Cloud automation is a widespread strategic move for Oracle, but other announcements are drawing attention.
The most notable and immediate change that users will notice is a new UX design called Redwood, Mueller said.
At the conference, Oracle said the design scheme, which relies heavily on earth tones and drawings, would be added across its software portfolio. It previewed the style in software demonstrations as well as signage and other marketing materials at the conference. It's a major shift for Oracle, long known for splashing its bright-red banners and logos.
Oracle is late to the UX design game. Archrival SAP made a similar move with its Fiori design language in 2013, a year after Infor established an in-house design agency and started overhauling its cloud UX.
Also announced at Oracle OpenWorld were the following:
A predictive-planning feature for Oracle EPM Cloud that helps users spot trends in financial and operational data;
Event-based processing for Oracle HCM Cloud that can, for example, automatically change a person's name, address and tax forms after they get married; and
New HCM roles for Oracle Digital Assistant for manager self-service, onboarding, goals and performance evaluations.