putilov_denis - stock.adobe.com
Oracle NetSuite follows generative AI trend in ERP
A generative AI assistant, financial close modules, new user based licensing and customer benchmarking top the list of new features in NetSuite cloud ERP at SuiteWorld 2023.
NetSuite cloud ERP is getting several new features designed to improve user experience and help customers run processes more efficiently.
These include a generative AI assistant named Text Enhance, AI capabilities across NetSuite modules and new financial functionality in NetSuite Enterprise Performance Management (EPM). NetSuite also is acquiring Next Technik, a field service management firm. NetSuite unveiled the new capabilities and the acquisition at SuiteWorld 2023 this week.
The new features and addition of AI technology throughout applications should provide value for customers and could position NetSuite as one of the most appealing ERPs for mid-market organizations, according to analysts.
Generative AI comes to NetSuite ERP
NetSuite Text Enhance, which will be available in the next few months, is the latest in a parade of generative AI assistants that are being integrated into ERP systems. It is built on the Oracle Cloud Infrastructure (OCI) generative AI service and uses large language models from AI vendor Cohere. Text Enhance will use starter words that describe the NetSuite customer's intentions to help with, for example, financial reports or customer correspondences, according to the company. In addition to finance and customer support, Text Enhance will be embedded into accounting, HR, supply chain and operations, and sales and marketing applications.
"This allows you to do more with text in NetSuite with less effort," said Evan Goldberg, founder and executive vice president at Oracle NetSuite, during the opening SuiteWorld keynote.
More commonplace AI is also being embedded into NetSuite Planning and Budgeting, NetSuite Bill Capture and NetSuite Analytics Warehouse applications to provide users with intelligence based on historical data and to automate processes to reduce manual work.
In one example for planning and budgeting, embedded AI will monitor plans, forecast trends, and look for anomalies and correlations in financial data, Goldberg said.
NetSuite EPM, a centralized financial management suite built on Oracle Fusion Cloud Enterprise Performance Management, is intended to help customers plan and close finances, Goldberg said. In addition to existing modules, such as planning and budgeting and account reconciliation, EPM now includes narrative reporting, profitability and cost management, financial close management, and corporate tax reporting.
NetSuite ERP will also have field service management (FSM) capabilities integrated with the acquisition of Next Technik.
Flexible licensing and comparative benchmarking
NetSuite also introduced a flexible licensing model and an application called Benchmark 360 that lets customers compare their performance to other NetSuite ERP users.
The new licensing model lets customers pay based on the capabilities they need, Goldberg said.
"The first rollout is for NetSuite Warehouse Management System [WMS], where staff need to perform functions only in WMS -- everyday tasks like receiving, put-away, picking, shipping," he said. "You pay for what they need; you don't pay for what they don't need." Other modules will follow.
Benchmark 360 provides customers with a view of how their metrics compare to peers in their industry and geographic regions, according to NetSuite. The first release will focus on finance modules, and other modules will be added later.
"[Benchmark 360] shows where you may be lagging but can also show where to improve those metrics," Goldberg said. "It will soon use AI to learn how other NetSuite customers are using NetSuite to improve their benchmarks."
Customers can opt into Benchmark 360, and data will be aggregated and anonymized to ensure security and privacy, he said.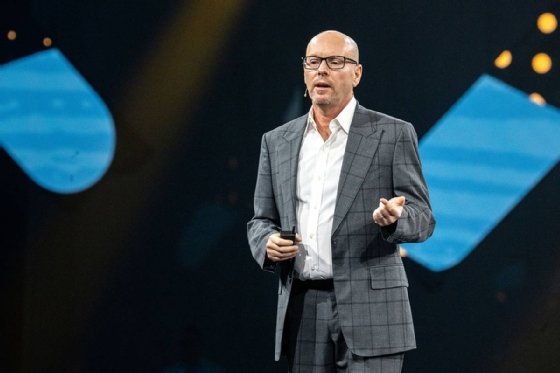 Platform approach is right for generative AI in ERP
Generative AI is coming to ERP, and NetSuite is doing it right by using its own services and enabling it on the platform side through OCI, said Holger Mueller, an analyst at Constellation Research.
"The focus on Text Enhance is good because users spend a lot of time generating text across an ERP suite, and generative AI really works there," Mueller said.
Moreover, Oracle announced the same generative AI service across its Fusion ERP suite, which should improve the service given more customers will be using it in varied situations.
[NetSuite is] getting on par, if not even better, than Microsoft Dynamics 365. For the global finances, they are really the player to beat in the mid-market now.

Predrag JakovljevicAnalyst, Technology Evaluation Centers
Oracle NetSuite has a good growth story to tell, that is being fueled by acquisitions, said Predrag Jakovljevic, an analyst at Technology Evaluation Centers.
Last year, it added CPQ capabilities with the acquisition of Verenia, and this year it has added FSM with Next Technik.
"[NetSuite is] getting on par, if not even better, than Microsoft Dynamics 365," Jakovljevic said. "For the global finances, they are really the player to beat in the mid-market now."
The new generative AI functionality will be a plus, he added.
"Text Enhance, based on Cohere, is all about a generative AI that can be tweaked by each customer to learn from their context, vernacular and so on," Jakovljevic said. "Also the generative AI will learn and adjust as it gets more data and prompts."
Finally, NetSuite's flexible licensing should appeal to customers who only need a slice of capabilities, he said.
"They're starting in WMS first -- for example, the mobile pick-and-put-away user doesn't need all the NetSuite functionality, so why pay for a full license?" Jakovljevic said.
Jim O'Donnell is a TechTarget senior news writer who covers ERP and other enterprise applications for TechTarget Editorial.