Rawpixel - Fotolia
SAS Viya cloud software at center of SAS analytics strategy
The spotlight at SAS Global Forum 2019 was on the vendor's Viya analytics tools, which are getting new functionality and licensing options meant to spur deployments.
DALLAS -- SAS Viya, the cloud-based suite of analytics tools that SAS launched in 2016, is increasingly the center of attention for the vendor and SAS users. But user adoption of Viya still is in the early stages, and SAS continues to build up the software's functionality, while also taking steps to address concerns about its cost.
At the SAS Global Forum 2019 user conference, the company said a new release of its underlying SAS Platform this month will add more AI and advanced analytics features to Viya, including computer vision and automated machine learning capabilities. SAS also outlined new licensing options meant to give users more flexibility in how they pay for the SAS Viya cloud software, potentially resulting in lower bills.
SAS is still updating its traditional SAS 9 software, which was released in 2004, and the licensing changes will apply to that product line, too. But SAS Viya -- which lets data analysts write programs in R and Python as alternatives to the proprietary SAS language -- is the technology that the 43-year-old company is banking on to keep it competitive in the analytics and data management markets.
"We see on the horizon a convergence into a cloud-native and cloud-forward architecture, and Viya clearly is what gets us there," SAS COO and CTO Oliver Schabenberger said in a Q&A session with the media at the user conference. "Our approach is to very aggressively move our features into Viya."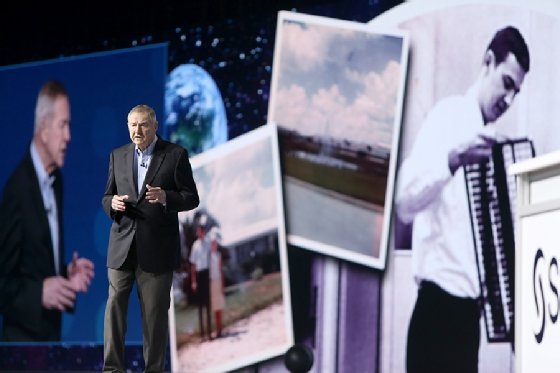 Not all there yet in Viya
SAS Viya now includes "a very high percentage" of the analytics functionality from SAS 9 or offers similar capabilities in a rewritten form, according to Saurabh Gupta, director of advanced analytics and AI product management at SAS. "Is all of what's in SAS 9 in Viya? No. Is our goal to get there? Yes," Gupta said in an interview at the conference.
Meanwhile, SAS is funneling AI tools and other new analytics features into Viya instead of SAS 9. "There's no point in trying to replicate the same capabilities in SAS 9 because customers can already access them in Viya," Gupta said, adding that built-in integration provides bridges between the two products for users.
Is all of what's in SAS 9 in Viya? No. Is our goal to get there? Yes.

Saurabh GuptaDirector of advanced analytics and AI product management, SAS
While SAS Viya can also be deployed on premises, it's primarily built to be used in the cloud. But the AI, machine learning and analytics services that cloud platform market leaders AWS, Microsoft and Google offer pose formidable competition for Viya, said Doug Henschen, an analyst at Constellation Research.
"When you get to the public cloud with deployments at scale, that's just a different game," Henschen said. "I don't think a general-purpose approach is going to work [for SAS] there." Focusing on vertical markets where the company has a large presence and emphasizing its broad set of analytics and data management tools may give SAS Viya a better chance, he added in an interview at SAS Global Forum.
That's the , according to SAS. "We have to focus a little more on the overall value that SAS brings," CEO Jim Goodnight said in a group interview at the conference. "It's an enterprise solution, and it's really designed for an entire organization to use."
A more flexible approach to licensing
Henschen also pointed to cost concerns among users as a potential barrier to deployments of the SAS Viya cloud suite. It was in response to a question he asked during a media briefing that SAS executives disclosed the software licensing options, which are due to be available as part of the SAS Platform release.
SAS licenses currently are based on the number of processor cores in systems, or usage metrics in some cases -- for example, the number of data streaming events run by the SAS Event Stream Processing software. SAS now is adding usage metrics for all of its analytics tools, Gupta said.
Customers also will be able to license the software based on number of users; in addition, a metering and bursting mechanism will let them set a baseline level for users or CPU cores and add more capacity when needed without locking in the higher level, he said. Another option will provide unlimited-use licenses based on company size, with pricing tiers pegged to an organization's revenue or assets.
"What we hope is that by offering more flexibility in licensing, a customer can find what works best for them," Gupta said.
Getting started with SAS Viya
Experian Information Solutions Inc., one of the three big consumer credit bureaus in the U.S., is starting to deploy SAS Viya as part of a Hadoop-based big data platform it set up in the AWS cloud in 2017 to run analytics applications for financial services firms and other businesses.
Experian initially installed SAS 9.4 in an earlier version of the Hadoop cluster, but external users ran into performance problems on large queries, said Moied Wahid, vice president of platform engineering at the company, a subsidiary of Experian PLC that's based in Costa Mesa, Calif. "Some of the queries were failing completely," Wahid said after speaking about the big data project during a conference session.
SAS Viya's in- analytics engine breaks up the processing jobs into separate chunks that get distributed across the cluster. Doing so has boosted performance significantly, Wahid said. For example, Viya completed one query on 280 GB of data in seven minutes -- the largest job possible in SAS 9.4 was a 20 GB query.
But only a few of Experian's clients are using Viya at this point. "We're still in the process of converting to Viya," Wahid said, adding that Experian may continue to support SAS 9.4 for some uses it can handle. The SAS software is also just one of many analytics options for users of the big data platform -- other supported tools and languages include R, Python, H2O, TensorFlow, DataRobot and Tableau.
Ulbrich Stainless Steels & Special Metals Inc. is another SAS Viya cloud user. The maker of coil and foil alloys, wires and other products began deploying the Viya-based SAS Analytics for IoT software bundle in the AWS cloud in January to capture operational data from sensors on manufacturing equipment for real-time monitoring and analysis. Data currently is being streamed into the Viya system from one manufacturing machine, said David Giapponi, vice president of product management at Ulbrich, which is based in North Haven, Conn.
The company plans to hook up six more machines this month and is building a set of role-based dashboards for different end users, Giapponi said in a conference interview. He added that Ulbrich eventually hopes to pull data into Viya from all 40 of the machines at its eight plants, potentially involving the use of up to 10,000 sensors to collect various metrics. "We're still crawling, but we're excited by what we see," he said.