SAS Platform update expands AI in Viya cloud analytics tools
A new version of the SAS analytics platform adds a variety of AI features to SAS Viya, the cloud-based software that SAS hopes will secure its place in the AI future.
DALLAS -- SAS said it will release a new version of its SAS Platform software designed to make it easier to use machine learning, computer vision and other AI tools in analytics applications -- and to boost the 43-year-old vendor's standing as an AI developer that can compete with cloud and open source rivals.
Due out in May, the update adds a variety of new AI features, including natural language generation capabilities to explain analytics results to business users, automated segmentation of image elements by computer vision algorithms, and single-click launching of an API to automatically build machine learning models. The added features will primarily be available in SAS Viya, the cloud-based analytics suite introduced in 2016 as a more modern alternative to the company's traditional SAS 9 tool set.
This round of development on the SAS Platform, which underpins both Viya and SAS 9, is part of a $1 billion AI investment that SAS plans to make over the next three years. The goal, SAS COO and CTO Oliver Schabenberger said, is to help users expand AI-driven analytics "from a science project to operations" -- not just to raise its own AI profile to avoid being left behind by other advanced analytics vendors.
"We do not want to add to the hype [about AI], and we do not want to add to the confusion," Schabenberger said in a keynote session at the SAS Global Forum 2019 user conference here. "Yes, AI is overhyped, but it's real and it's powerful."
Work to do in the AI market for SAS
SAS, which had $3 billion in revenue last year, does "more business in analytics than a lot of startups put together," said Doug Henschen, an analyst at Constellation Research. But he added that competing against AI-driven open source analytics tools and the machine learning services AWS, Microsoft and Google offer on their clouds is "a tough battle" for SAS, especially beyond its existing user base.
They haven't been part of the buzz on AI and machine learning. They've got to get themselves into the conversation.

Doug HenschenAnalyst, Constellation Research
"They talked about this $1 billion investment because they haven't been part of the buzz on AI and machine learning," Henschen said in an interview at the conference. "They've got to get themselves into the conversation."
Henschen said the comprehensive nature of the SAS Platform, which includes built-in data preparation, data governance and model management capabilities, is a potential selling point for SAS, as is the vendor's experience working with users in financial services, healthcare, retail and other industries.
"They can't just compete on algorithms," he said. "They have to compete on the whole platform and the industry-specific knowledge."
An AI view of cancer tumors
One organization that invested in the SAS Platform's new AI functionality is the Amsterdam UMC hospital group in the Netherlands. It's using the enhanced computer vision features and a machine learning model based on a convolutional neural network in a SAS Viya system to automatically measure the size of tumors in the livers of colorectal cancer patients so doctors can set treatment plans.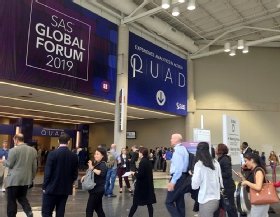 Previously, measuring the diameter and volume of a tumor was a manual process that typically took a radiologist 20 minutes or more, said Geert Kazemier, a surgery professor and director of surgical oncology at Amsterdam UMC. The automated 3D image scans are "more objective" and free up the radiologists to focus on other tasks, Kazemier said during a presentation in the keynote session.
Amsterdam UMC also is looking to apply the SAS computer vision and machine learning tools to other types of cancer tumors in the future. "This is just an initial use case we came up with," Kazemier said.
SAS tools tapped for trade compliance checks
Banking giant Citigroup Inc. is another user with a new SAS AI application. Citi's treasury and trade solutions unit has deployed natural language processing software and machine learning models running in SAS 9's Enterprise Miner data mining tool to analyze millions of documents on global supply chain transactions for possible compliance problems related to trade rules and restrictions.
Citi, which is working with SAS and consulting firm EY on the project, has 4,000 back-office employees who have been manually checking digitized versions of the 25 million trade-related pages it collects annually. That meant the New York-based bank could only analyze individual transactions, hampering its ability to track the activities of trading partners and networks over time and identify suspicious changes in behavior, said Valeria Sica, global trade services head at Citi.
Initially, Citi plans to use the SAS analytics tools to flag potential compliance issues, which would then be vetted by workers to determine if they're valid issues. "Down the road, we think we'll be able to pass the decision-making to the engine, but we're not there yet," Sica said in a conference session, adding that Citi eventually plans to migrate to Viya to take advantage of features available only in the cloud suite.
Other added features in the new SAS Platform release include Viya support for SAS Intelligent Decisioning, a real-time analytics tool for managing customer interactions; and SAS Mobile Investigator, which lets business users connect to Viya on their mobile devices to access analytics results and input new data to update analytical models.
Saurabh Gupta, director of advanced analytics and AI product management at SAS, said in an interview at the conference that computer vision and other AI technologies "are part of the cornerstones of Viya." While most of the new features aren't being added to SAS 9, Gupta said users of the traditional software can access them via built-in integration hooks with Viya. "But you do have to deploy Viya," he added.