SAS analytics platform aided by $1 billion AI investment
The SAS suite of business intelligence products is quickly seeing results from the vendor's $1 billion commitment to AI seven months after the investment was made public.
Seven months after SAS unveiled a $1 billion investment in AI over the course of the next three years, the SAS analytics platform is already seeing the benefits.
The SAS analytics platform, Viya, had augmented intelligence and machine learning capabilities before March of 2019 when the longtime business intelligence vendor revealed its ambitious AI plans.
SAS, which traces its origins to 1966 when it was part of North Carolina State University and is now based in Cary, N.C., had not, however, previously said publicly that third-generation BI capabilities would be the central focus of the SAS analytics platform's future.
"When you want to grow something, you put an emphasis on it," said Gavin Day, senior vice president of technology at SAS. "We're putting a stake in the ground saying we're not content just being a part of the market, but want to lead it. We want to lead the charge, and not just with SAS's technology but all the technology that's part of the AI ecosystem."
The early return on SAS's emphasis on AI is that the vendor already released four updates to Viya in 2019, with a fifth, Viya 3.5, slated to debut before the end of 2019 and Viya 4 scheduled for the first half of 2020.
Included in the recent updates, according to Day, are enhanced natural language processing (NLP), natural language generation (NLG) and computer vision capabilities.
We're putting a stake in the ground saying we're not content just being a part of the market, but want to lead it. We want to lead the charge, and not just with SAS's technology but all the technology that's part of the AI ecosystem.

Gavin DaySenior vice president of technology, SAS
He added that beyond the updates to the technology itself, the $1 billion investment has so far helped SAS shorten the time it takes to deliver improvements to its customers.
Analysts have taken notice of SAS's progress since March.
"SAS [is] implementing, and delivering technology with NLP and computer vision," said Mike Leone, senior analyst at Enterprise Strategy Group in Milford, Mass. "One example was how SAS could enable customers to leverage conversational AI and text analytics. They may still be the only vendor that can combine unstructured text with linguistic rules to ask questions based on text analytics."
Even before SAS revealed its $1 billion investment in AI, the company was not only infusing the SAS analytics platform with the same AI and machine learning capabilities as other BI vendors but also was seen as a relatively advanced practitioner of those technologies.
"While many vendors are working on simply building AI into their platforms, SAS can not only enable customers to effectively utilize AI, but they take it a step further and offer natural language explanations of AI-derived insights," Leone said. "That's highly differentiable and something you'll start seeing more organizations have to do going forward, especially if they're hoping to build trust in AI decision-making."
Looking at how AI and machine learning can help users, Day said that a goal of the enhanced capabilities of the SAS analytics platform is to provide freedom.
Data management -- the mining, cleansing and preparing of data -- can take an enormous amount of time and effort and use up an enormous amount of an organization's human capital.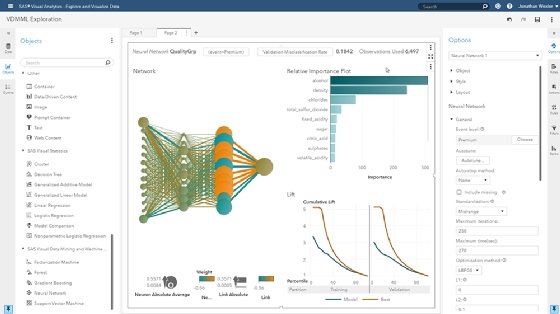 "The best use of AI is to do the routine and mundane tasks -- that's not the best way for us humans to spend our time," Day said. "It frees up time to be creative and solve problems -- that's the benefit. It can free intellectual workers to do something else."
Education, meanwhile, is another aspect of SAS's $1 billion investment in AI, as it is in much of what SAS does. According to Day, as exciting as AI is to users, they first have to know how to use it and what to do with it.
SAS, which used to be known as the SAS Institute, is working toward that end.
"We're looking at educating the market and our customers on what AI is, knowing how to use it, the benefits and how to get it started," Day said. "Customers are trying to solve their biggest and baddest problems, which AI can do, but they first need to start slow and get some wins."
While the $1 billion investment in AI is evidence of SAS's goal of being among the most innovative analytics vendors as BI moves into a new phase, it's also evidence of how SAS has remained successful through the years.
SAS at one time was part of a generation of leading BI vendors that included IBM, Oracle and Information Builders.
But while some of those legacy BI vendors struggled to keep up with companies like Qlik and Tableau as analytics moved away from highly formatted reports that took weeks to prepare, and more toward data visualizations -- the second generation of analytics -- SAS had no such issue. While some of those legacy vendors have only recently revitalized their BI tools, the SAS analytics platform did not lag.
Now, as BI enters a new era of proactivity rather than reactivity, as analytics platforms learn the patterns of their users and become smarter as a result, SAS appears to fixed on the goal of keeping the SAS analytics platform among the most comprehensive on the market.
"There's a reason SAS has been a leader in the industry for years," said Leone. "I view SAS a not-so-hidden gem in the BI space. And they're working to stay on the bleeding edge with the incorporation of advanced analytics and AI technology to ensure customers can embrace AI to get the continued value they expect."