ronstik - stock.adobe.com
SAS, Microsoft unveil new technology, go-to-market partnership
SAS revealed an enhanced product and marketing partnership agreement with Microsoft the day before the analytics vendor's user conference. Microsoft will be SAS' preferred cloud provider.
SAS and Microsoft on Monday unveiled a new partnership agreement under which Microsoft will become the preferred cloud provider for SAS' analytics products and the vendors will migrate SAS' analytics tools onto Microsoft Azure.
The agreement, revealed the day before the start of SAS Global Forum, the vendor's virtual user conference, on June 16 involves not only SAS and Microsoft technology but also an aligned go-to-market strategy.
The new partnership with Microsoft is not exclusive, however, and does not prevent SAS customers from running on other clouds such as AWS and Google Cloud.
SAS, founded in 1976 when it was part of North Carolina State University and now based in Cary, N.C., remains a multi-cloud provider, said Jay Upchurch, executive vice president and CIO of SAS.
"We want to enable our customers with choice," Upchurch said in an interview. "We want to meet our customers where they want to go. We also recognize that in today's world data has gravity, and we have to follow that data with our platforms, and so if that customer makes a choice to place it wherever it resides, we'll be there to follow them and help them along the journey."
Dave Menninger, research director of data and analytics research at Ventana Research, meanwhile, said it's important that SAS make sure its customers have a choice about where they deploy their analytics stack.
"You'll notice this is not an exclusive partnership," he said. "We see demand for all three major cloud providers -- AWS, Azure and Google Cloud Platform. I expect SAS will support the platforms that its customers require. This is what it has done in the past and there's no reason to expect anything different in the cloud."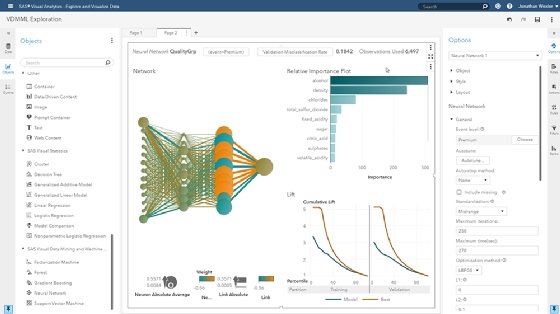 Previously, SAS and Microsoft already worked closely together and SAS had existing integrations with Azure, Dynamics 365, Microsoft 365 and Power Platform. One example is SAS Office Analytics, which enables customers to use SAS' analytics tools while accessing data from Microsoft products such as Excel, Word, Outlook and PowerPoint.
The new partnership comes just over a year after SAS unveiled a $1 billion investment in augmented intelligence by 2022. And, according to Upchurch, the combined power of SAS and Microsoft will help SAS further the AI capabilities of its platform with the vendors working together to jointly increase their pace of innovation.
"The new strategic partnership is one we believe will shape the future of analytics and artificial intelligence," Upchurch said.
The partnership between SAS and Microsoft was in the works for about a year. The companies, through their already close ties, began to see significant overlap in their customer bases and demand for SAS' products to become available on Azure.
Senior-level discussions between SAS and Microsoft followed, and the two discovered similar corporate values, said Ulrich Homann, Microsoft's corporate vice president of cloud and AI practice.
The new strategic partnership is one we believe will shape the future of analytics and artificial intelligence.

Jay UpchurchCIO, SAS
"This is just expanding what we've been doing to a new level," Homann said. "It's bringing together leaders in cloud on one side and analytics ... to achieve common goals. The term 'democratization of AI' is well known, but Microsoft and SAS are going to pursue this through these various elements of the [partnership]."
One of the main benefits of the partnership between SAS and Microsoft -- at least for SAS' BI customers that run on Microsoft's cloud -- will be the optimization of SAS Viya, the vendor's cloud-based intelligence platform, for Azure.
Viya was launched in 2016 and is a native cloud-based BI platform. SAS still supports SAS 9.4, which gives customers an on-premises BI option and was SAS' main analytics platform before Viya. Viya, however, is the platform on which SAS is focusing its efforts and continually adding new features and upgrades, while SAS 9.4, introduced in 2015, was last updated in 2018.
Since revealing that it plans to invest $1 billion in AI through 2022, SAS has also continued to develop Viya.
Additions to the platform since last year's conference include new automated data management and automated machine learning tools, and, before that, new natural language processing and computer vision features.
This new partnership will add to SAS' cloud analytics capabilities, according to Menninger, who noted that his firm's research shows nearly half of organizations are doing analytics in the cloud and nearly all plan to do so in the future.
"SAS' commitment to optimizing SAS Viya as a cloud-native offering on Azure will help customers take full advantage of the benefits of a cloud offering," Menninger said.
The benefits of deploying on the cloud-native platforms, he continued, include greater scalability and manageability.
On-premises users, however, still stand to benefit from SAS' new partnership with Microsoft, according to Menninger.
"As SAS learns more from the various cloud leaders, they will be able to incorporate those learnings into their on-premises offerings too," he said.
While the advantages of a close alignment with Microsoft are clear for SAS customers, Microsoft has its own analytics products -- Power BI and Azure Analytics -- so the motivation for the partnership with SAS is less obviously beneficial from Microsoft's perspective.
Homann, however, explained that SAS' capabilities also improve outcomes for customers of Microsoft's platform.
"SAS assets really complement Microsoft analytics and AI more often than not, and together we believe we are much stronger at solving our customers' scenarios and challenges than if we would go alone," he said. "We believe the integrations we're working on will enable a customer to start in a SAS environment and seamlessly go into an Azure environment for the best of capabilities over there, and vice versa."