Getty Images/iStockphoto
SAS to invest second $1B in advanced analytics and AI
After investing $1 billion to overhaul its Viya analytics platform and develop industry-specific systems, the vendor is advancing its commitment to AI.
Four years after committing to invest $1 billion in augmented intelligence capabilities over a three-year period, SAS on Tuesday unveiled plans to invest another $1 billion in advanced analytics and AI capabilities.
SAS used part of the initial $1 billion to overhaul Viya, an analytics platform that the vendor first launched in 2016.
In addition to re-architecting Viya in 2020 to make it fully cloud-native and add AI capabilities such as natural language processing (NLP), computer vision and predictive analytics, SAS built industry-specific versions of its platform. The specialized versions are designed to better enable customers in those industries to discover insights than a general-purpose BI platform.
SAS plans to use much of the new $1 billion to develop more industry-specific versions of its platform and upgrade those that have already been developed, according to the company.
The longtime vendor unveiled its latest pledge during SAS Innovate, its user conference being held in Orlando, Fla., this week.
Investing in industry
With its initial $1 billion investment in advanced analytics and AI capabilities, SAS developed versions of its platform for industries including agriculture, banking, education, healthcare, insurance, retail and telecommunications. It even built one for sports.
Like SAS, data management vendors Databricks and Snowflake have been developing industry-specific versions of their platforms, with both most recently releasing versions for manufacturing.
The industry-focused versions come with pre-built models and data sets, among other features, and are designed to enable customers to simplify onboarding and decrease the time it takes to derive value from their analytics operations.
The company gets the lion's share of its revenue from vertical industry solutions. Customers value capabilities that are specific to their industry needs and use cases because it means they will see faster time to value and greater value overall.

Doug HenschenAnalyst, Constellation Research
Beyond developing specialized versions of its platform, SAS also invested heavily in improving the performance of Viya, which has resulted in minimizing processing time and improving memory usage, the vendor said.
Now, with another $1 billion committed to advanced analytics and AI, SAS plans to develop industry-specific versions of its platform for emerging sectors such as sustainable energy and digital health. In addition, it plans to advance existing versions dedicated to industries such as life sciences.
That plan to continue investing in tools for various industries -- both developing new ones and upgrading existing ones -- is wise, according to Doug Henschen, analyst at Constellation Research.
"The company gets the lion's share of its revenue from vertical industry solutions," he said. "Customers value capabilities that are specific to their industry needs and use cases because it means they will see faster time to value and greater value overall. What's more, it's often the case that capabilities and improvements developed for one industry can be leveraged for other industries."
Jay Upchurch, executive vice president and CIO of SAS, noted that the vendor's move to focus on specific industries has enabled the company to grow.
And because the COVID-19 pandemic struck about one year after SAS made its initial $1 billion commitment to AI, the vendor wound up providing capabilities that proved vital during uncertain times, Upchurch said.
The vendor's initial focus was on some of the more established data-heavy industries. Now, SAS hopes to do the same for other industries beyond just its general-purpose platform.
"We want to help customers create a resilient business," Upchurch said. "With all the uncertainty in the world around us, how can companies ensure that they are resilient? Analytics, AI and the cloud help create the foundation for resiliency. Now, we're trying to figure out how to do that for industries at large."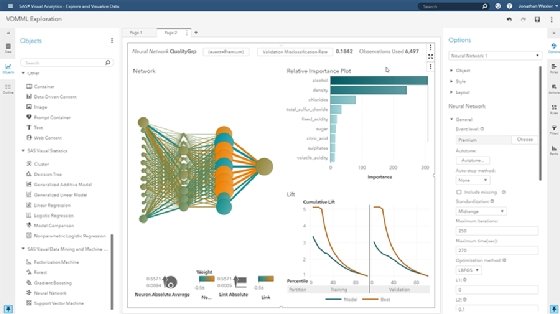 Wait and see on GPT
The formula for resiliency does not include generative AI. At least not yet, according to Upchurch. Instead, SAS will continue to focus on AI such as its own NLP capabilities and machine learning.
While numerous other data management and analytics vendors and other tech companies have launched integrations with ChatGPT -- the large language model (LLM) released by OpenAI in November 2022 -- and have begun the process of combining their tools with generative AI, SAS has not.
Sisense, Salesforce, ThoughtSpot and Pyramid Analytics have all unveiled integrations with OpenAI. And, also on Tuesday, Tableau, a subsidiary of Salesforce, revealed an integration with Salesforce's CRM capabilities based on its integration with OpenAI.
None of the tools combining analytics and generative AI are yet generally available, but they have been revealed to the public and are in development.
Databricks, meanwhile, built its own LLM.
SAS, however, is taking a cautious approach to generative AI. The vendor is committed to responsible AI. And Reggie Townsend, vice president of data ethics at SAS, is part of the U.S. Commerce Department's National Artificial Intelligence Advisory Committee that works with President Joe Biden's administration.
"The power of this technology is super fascinating, but everybody is still trying to figure out how to use it in a responsible way," Upchurch said.
One of the primary concerns is the security of LLMs. ChatGPT recently suffered a data breach, and some countries have banned its use as a result of a potential lack of security. Meanwhile, the accuracy of the responses generated by LLMs -- or lack thereof -- is another concern.
That said, SAS is intrigued by generative AI just as are its peers, according to Upchurch.
The vendor has a close partnership with Microsoft, which invested $10 billion in OpenAI, and is balancing the risks of integrating generative AI technology with its rewards.
"The generative side is powerful," Upchurch said. "Large language models are here to stay. We love the idea of how they can help with productivity. But we have to be really careful. Its use has to be done in a responsible way. We believe we will get it right over time, but we don't want to rush into it without understanding what guardrails are needed."
Beyond the $1 billion
In addition to revealing its commitment to investing another $1 billion in advanced analytics, SAS enhanced Customer Intelligence 360, its platform for marketers.
The enhancement includes a new UI that eliminates the need to write SQL to define audiences and other customer attributes and is designed to better enable marketers to personalize their outreach to potential customers, according to SAS.
Meanwhile, the tool now employs a data fabric approach that automatically connects an organization's customer data to Customer Intelligence 360 and eliminates the need to move and copy data.
"That promises a savings in time and money," Henschen said.
Looking ahead, SAS plans to continue to enhance Viya.
The vendor still offers SAS 9 for its on-premises customers, and one enhancement the vendor plans is to improve the migration path from SAS 9 to Viya. Another is to simplify the model deployment process.
Finally, SAS plans to add more connectors and integrations so that Viya can more easily be part of an analytics ecosystem rather than an environment unto itself.
"SAS is no longer a walled garden where you can use only our language and only our stuff," Upchurch said. "We've already said, 'Bring your own language,' and we also want to enable SAS to be used in your own development area. We want to continue to open up the ecosystem to integrate more and more."
Henschen, meanwhile, said he'd like SAS to offer a SaaS version of its platform. The vendor is already making Viya available on multiple clouds, but it does not yet have a SaaS version of its platform.
"The push to make Viya available on more clouds is the right direction," he said. "The next step would be making it available as a service. That will help to lower costs and lead to easier cross-cloud deployment where you can shift workloads among clouds if necessary."
Eric Avidon is a senior news writer for TechTarget Editorial and a journalist with more than 25 years of experience. He covers analytics and data management.