WavebreakMediaMicro - Fotolia
SAS Viya gets architectural overhaul in latest update
SAS Viya 4, which SAS unveiled Tuesday during its virtual user conference, represents a total redesign of the platform to make it fully cloud-native.
A completely new architecture is at the heart of SAS Viya 4, which SAS unveiled on Tuesday during its virtual user conference.
Though introduced at SAS Global Forum, SAS Viya 4 is not yet generally available and won't be released until September. Once released, it will be first available on Microsoft Azure per a new partnership between SAS and Microsoft that was revealed on June 15.
The latest version of Viya, a business intelligence platform SAS first introduced in 2016, is fully cloud-native and therefore designed to take advantage of the latest cloud technologies. As a result, unlike previous versions of Viya that were updated periodically, upgrades and new features will be delivered to Viya 4 continuously in the same manner as other cloud-based analytics platforms.
The redesign of the platform to make it cloud-native, meanwhile, took over 50,000 changes, according to Bryan Harris, senior vice president of engineering at SAS.
"We know that customers are trying to get to the cloud," he said during the Executive Welcome of SAS Global Forum. "It's not just about lifting and shifting software. Software has to be reengineered to be cloud native. And what is so remarkable about the cloud is that once you get there, the horizontal scale-out … is incredibly fast and efficient. So we need to build software to understand this new architecture."
Harris added that while SAS Viya 4 is cloud-native, it can also run on premises with containerization.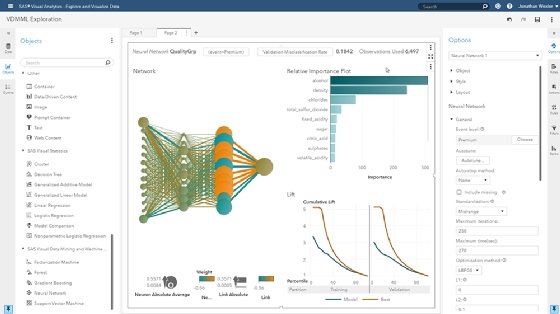 Analysts, meanwhile, said the revamped architecture is a move in the right direction for SAS, which was founded in 1976 as part of North Carolina State University and is now based in Cary, N.C.
"Re-architecting SAS Viya to be cloud-native is critical to SAS' success," said Mike Leone, senior analyst at Enterprise Strategy Group. "In doing this, they can provide organizations with peace of mind knowing they're on an intelligent, future-proof platform built for speed, scale and simplicity. And I'm not saying 'future-proof' loosely."
Re-architecting SAS Viya to be cloud-native is critical to SAS' success. In doing this, they can provide organizations with peace of mind knowing they're on an intelligent, future-proof platform built for speed, scale and simplicity.

Mike LeoneSenior analyst, Enterprise Strategy Group
Specifically, Leone continued, SAS implemented a continuous integration and continuous delivery process to make sure that the platform stays up to date by allowing SAS to deliver features as they're ready.
Similarly, Curt Monash, president of Monash Research, said that the new architecture will help SAS Viya remain relevant as new innovations are introduced into the marketplace.
"The big themes are modernization and more open deployment," he said. "In a major shift, they got serious about those virtues in their core statistics business about a decade ago, and this seems like a continuation of that strategy."
Beyond just revamping SAS Viya's architecture to make it cloud-native, the new architecture will speed up SAS' ability to deliver augmented intelligence and machine learning features.
At its user conference in 2019, SAS revealed that it plans to invest $1 billion in AI by 2022. And just as recent SAS Viya updates included AI capabilities such as natural language processing and automated data management, the latest update further eliminates the need for users to write code and reduces their reliance on the too few data scientists needed to meet the demand for their skills.
Among its new features are automated data preparation, enhanced automated machine learning, automated model deployment and a feature that helps explain the results of a query in easy-to-understand terms.
In addition, SAS Viya 4 features application programming interfaces (APIs) that make it simple for application developers and data science teams to collaborate and respond to each other's needs.
Despite the addition of tools to automate certain processes, Monash said that SAS Viya 4 is more about a reboot of the overall platform than the introduction of significant tools.
"It's normal when updating architectures, introducing APIs and so on to initially not have much in the way of features," he said. "Those come in follow-on releases."
Leone, however, pointed to the data storytelling tool as significant.
"SAS' approach to explainability is powerful," he said. "They recognize that in order for businesses to trust AI outcomes, explaining how an insight was derived is critical to acceptance, whether from a generalist or an expert. Marrying that capability to an agile platform will work wonders for developers and analysts alike."
In addition, Leone said that APIs stand to benefit developers.
"SAS Viya 4 will arm them with so much more," he said. "A focus on programming flexibility and API integration will better enable development of and iteration on modern applications through enhanced collaboration with data science teams, all while fueling embedded AI and ML [machine learning] into those applications."
Though SAS Viya 4 has been developed, SAS said it is delaying the general availability until September while it ensures the platform is fully prepared to help customers migrate their analytics operations to the cloud.
"It is about making sure every aspect of SAS understands what's being delivered on every release," Harris said. "That means we have to practice, so we're going through education, enablement, professional services, R&D, quality testing -- all of these are happening simultaneously. So we're going through an iterative model over the next few months to make sure we get this process right."