Nabugu - stock.adobe.com
SAS analytics platform benefiting from AI investment
Fueled by SAS' investment in AI and augmented intelligence features, the long-established vendor strengthened its BI platform with a host of new features and capabilities over the past year.
Starting on March 31, longtime BI vendor SAS was planning to reveal additions and upgrades to the SAS analytics platform.
Now, however, the new and updated features for Viya won't be unveiled until a later, to be determined, date.
SAS, founded in 1966 when it was part of North Carolina State University and now based in Cary, N.C., was scheduled to host SAS Global Forum, its annual user conference, in Washington, D.C., from March 31 to April 1. On March 5, however, SAS joined the big group of vendors altering and canceling conferences in response to the new coronavirus pandemic and announced that the conference would be held virtually rather than in-person.
Later, however, SAS decided to delay SAS Global Forum indefinitely.
"If ever there was a time for data and analytics, it's now," said David Tareen, director of marketing, AI and analytics at SAS, noting that he was not part of the decision-making process about the conference. "How to forecast [economically] now is such an uncertainty, so this is a unique time not to sell products but to work internally with our customers. We're consumed with requests by customers."
Despite not holding its annual conference next week, it's been an active year for SAS, one in which the vendor made substantial strides in its augmented intelligence and machine learning capabilities and rolled out five updates for Viya.
SAS revealed in April 2019 that it planned to invest $1 billion in AI over a three-year period, and while not all of that is earmarked for Viya, new additions to the SAS analytics platform since then include automated data management and automated machine learning tools near the end of 2019, and before that natural language processing and computer vision capabilities.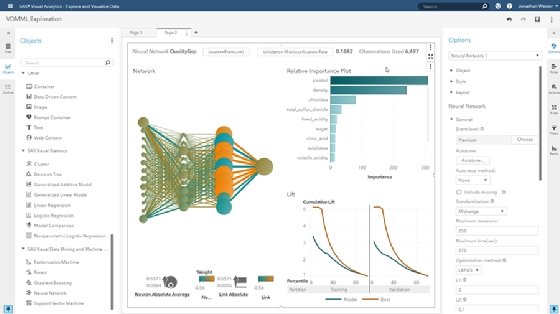 The new tools weren't SAS' first foray into AI and machine learning, but they represent an acceleration of the SAS analytics platform's capabilities.
"SAS has offered machine learning algorithms and capabilities aimed at data scientists for years, and of late it's been doing a lot of leading-edge work on applying deep learning in the healthcare industry, for example, as was featured at last year's SAS Global Forum," said Doug Henschen, principal analyst at Constellation Research.
He added that one of the vendor's greatest strengths is its knowledge of specific industries and the analytical applications it delivers for those industries.
"In each context it applies a range of analytical capabilities, including machine learning, more conventional statistical methods and the basics of BI reporting and dashboarding," Henschen said. "It's really unrivaled in its depth and breadth of industry expertise and analytical capabilities."
According to Tareen, SAS' $1 billion investment in AI came from a need to address a new kind of customer.
With an expertise in data science, SAS has a lengthy history serving the business intelligence needs of large organizations with data science teams. Many new analytics converts, however, don't have that same expertise and need their BI platforms to perform some of the work normally done by data scientists.
"We saw that our traditional customers wanted AI, but we also saw interest from nontraditional customers," Tareen said. "They brought us a different set of requirements. They didn't know where the problems were that we needed to solve, and didn't know what questions to ask. We felt a need to address that different part of the market."
The response, meanwhile, to SAS' aggressive investment in AI and machine learning over the past year, has been positive, according to Mike Leone, senior analyst at Enterprise Strategy Group.
They continue to add and enhance machine learning, computer vision, natural language processing and natural language query, and explainable AI features and functionality.

Mike LeoneSenior analyst, Enterprise Strategy Group
"Since that announcement, SAS Viya sales have jumped," he said. "I believe the Viya business has grown by close to 50%. And they continue to add and enhance machine learning, computer vision, natural language processing and natural language query, and explainable AI features and functionality."
Moving forward, while SAS hasn't yet revealed exactly what new capabilities it plans to add to the SAS analytics platform in the coming months, Leone said that becoming more focused on the cloud is a significant part of the vendor's roadmap.
Specifically, he said he believes SAS will convert to a cloud-centric business model.
"That means shifting to subscription-based licensing and converting its software stack to be cloud-native with Kubernetes," Leone said. "Additionally, they're deeply focused on industry solutions, expecting a large portion of revenue -- upward of 50% -- to come from industry solutions, specifically financial services, retail, manufacturing and government."
Tareen, meanwhile, confirmed that the cloud is a significant part of SAS' future plans.
"What we have in the hopper will attack the problem of getting analytics used by everyone in a different dimension," he said. "It's about making it easier to consume analytics and improve the experience."
That will involve making it easier to consume products and do advanced analytics at scale in the cloud, using containers for storage to improve workflows, and increasing customer agility through the architecture of its platform.
"They continue to evolve along with their customers," Leone said. "To some extent, their customer base held them back from embracing cloud, but now, it's full steam ahead."