SAS unveils plans to add generative AI to analytics suite
After holding off on integrating with LLMs until it could ensure data security and accurate outcomes, the vendor is making industry-specific tools the focus of its AI strategy.
Four months after committing to invest $1 billion in advanced analytics and AI, longtime BI vendor SAS institute Inc. unveiled how it plans to make generative AI part of that investment.
SAS's May commitment to spend $1 billion on developing advanced analytics and AI capabilities marked the second time the vendor revealed such plans. The first was in 2019, and over the next few years, the vendor used the allocated funds to overhaul its Viya platform.
SAS re-architected Viya in 2020 to make it fully cloud native and added augmented intelligence capabilities such as natural language processing, computer vision and predictive analytics.
In addition, the vendor built industry-specific versions of its platform.
Those vertical editions are now the focal point of SAS' second $1 billion investment in advanced analytics and AI. They are the vehicles through which the vendor plans to incorporate generative AI.
SAS, based in Cary, N.C., unveiled its generative AI strategy on Sept. 12 during Explore, a user conference held in Las Vegas. Its generative AI capabilities are now in private preview.
A 'specific' strategy
While Viya is available to customers as a general-purpose analytics platform they can tailor to suit their needs, SAS also offers a variety of industry-specific versions of its tools.
Industries served by editions of SAS's platform range from agriculture to manufacturing and, among others, include banking, education, healthcare, retail and consumer goods, sports, and utilities.
In addition, there are versions of Viya tailored for topics such as fraud and security, marketing and risk management.
In May, SAS said its plan for advanced analytics and AI is to develop additional tailored versions of its tools and upgrade those that have already been built.
At the time, however, although many of its competitors had already unveiled their plans for generative AI, the vendor did not reveal an intent to incorporate generative AI as part of its new $1 billion allocation.
Instead, SAS executive vice president and CIO Jay Upchurch said the vendor was taking a cautious approach to generative AI given concerns about the accuracy and security of large language models (LLMs) trained on public data.
Now, SAS has revealed that the core of its initial approach to generative AI will be to integrate third-party LLM technology with its existing industry-specific tools.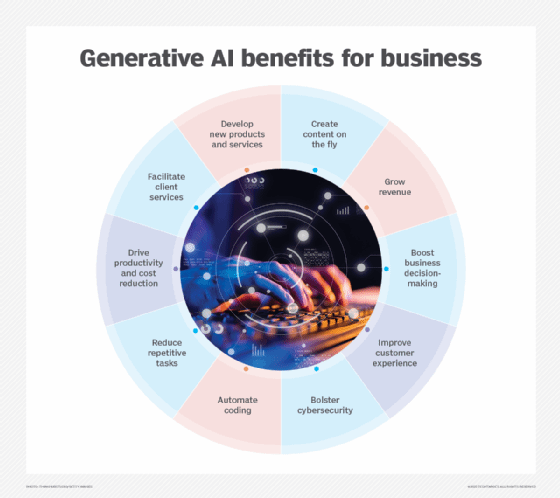 Also part of its generative AI strategy is the use of generative adversarial networks (GANs) to create synthetic data and the application of natural language processing capabilities to digital twins.
GANs can be used to reflect real-world environments and train generative AI models while simultaneously protecting the privacy and security of an organization's real data. Natural language interactions with digital twins, meanwhile, enable more efficient scenario planning to understand what actions to take under various circumstances.
Not surprisingly given its hesitation in May to unveil plans for generative AI, SAS's initial approach to generative AI is a cautious one, according to Doug Henschen, an analyst at Constellation Research.
Rather than unveil an entire new environment for generative AI development as Domo and Qlik have or acquire generative AI specialists as Databricks and Snowflake have, SAS's initial plans are instead center on combining generative AI with existing capabilities.
"SAS is being characteristically conservative on generative AI developments, highlighting existing investments in synthetic data generation and digital twin simulations, and pointing to integrations and private-preview experimentation with third-party large language models," Henschen said.
That measured approach, however, is not unusual for SAS and may be something the vendor's customers appreciate, he continued.
"SAS has long been conservative and that seems to appeal to many of its risk-averse customers in banking, insurance, healthcare, manufacturing and other industries," Henschen said. "I've seen a lot of general-purpose generative AI capabilities introduced. ... SAS hasn't jumped on that bandwagon."
Some of the key benefits of generative AI result from its improvement of natural language processing, enabling true freeform natural interaction with data rather than requiring users to phrase queries in specific ways and otherwise not understanding the queries.
Because LLMs have vast vocabularies and can understand natural language, they have the potential to make trained data workers more efficient by reducing the amount of code they need to write and open analytics to more business users by lessening the amount of training needed to use BI platforms.
SAS's generative AI plans include improved NLP so that users can be more efficient by asking questions of their data and receiving responses in natural language, according to Bryan Harris, the vendor's chief technology officer.
But SAS also wants to apply that improved NLP and other generative AI capabilities to address distinct circumstances, which is why the vendor is taking an industry-specific approach to training language models.
"We're looking at generative AI from an industry perspective because there are more concrete use cases to apply it to," Harris said. "Customers are asking us how they can apply generative AI to their environment, and that comes to a targeted industry use case. We think it's better … to focus this way because it leads to measurable output."
SAS has a longstanding partnership with Microsoft. As the vendor develops its generative AI capabilities, it is using models from Microsoft Azure OpenAI as building blocks from which it can then add domain-specific data to train the models.
In May, however, SAS wasn't yet ready to start building generative AI capabilities due to security and accuracy concerns.
Harris noted that SAS serves customers in banking, healthcare, life sciences and other highly regulated industries in which data security and accuracy are critical. Before SAS was willing to add generative AI and language model capabilities, it wanted to figure out how to ensure the security of customers' data and reduce the risk of AI models delivering incorrect query responses.
Microsoft's Azure OpenAI provides an environment where SAS can protect customers' data, according to Harris. SAS' data lineage capabilities, meanwhile, enable users to understand whether an AI response can be trusted.
"We needed to see the cloud architecture and the maturity in that to emerge such that we could have a confident conversation with a customer saying that they don't have to worry about data leakage," Harris said. "We have assurances for all that through our partnership with Microsoft and its infrastructure. Second, we needed to see accuracy. We don't have the luxury of being right only sometimes."
Viya
SAS is being characteristically conservative on generative AI developments, highlighting existing investments in synthetic data generation and digital twin simulations, and pointing to integrations and coming private-preview experimentation with third-party large language models.

Doug HenschenAnalyst, Constellation Research
Beyond generative AI plans, SAS unveiled Viya Workbench and the SAS App Factory, new software-as-a-service development environments in Viya now in preview with general availability planned for early 2024.
Viya Workbench is designed to help developers quickly get started building AI and machine learning models using code. Developers can use one of three coding languages -- Python, R or SAS's own language -- to build and train their analytics models while Workbench provides a cloud-native, efficient and secure environment.
Because it's a SaaS tool, it provides developers with an environment that takes minutes to start using rather than requiring hours or days to install and deploy, according to Harris.
The SAS App Factory, meanwhile, provides prebuilt analytics and AI applications that automate the setup and integration of a cloud-native ecosystem built with the React architecture, open source programming language TypeScript and PostgreSQL database.
Using the prebuilt tools -- the first two of which are the SAS Energy Forecasting Cloud and an application developed by Cambridge University Hospitals to improve health care outcomes -- customers can customize and deploy AI-driven applications designed to address specific needs.
The significance of both new services is the potential for increased efficiency, according to Henschen.
"The coming SAS Viya Workbench and SAS App Factory SaaS services promise to accelerate the development of AI- and ML-based applications," he said.
Eric Avidon is a senior news writer for TechTarget Editorial and a journalist with more than 25 years of experience. He covers analytics and data management.