Getty Images/iStockphoto
Snowflake acquisition of Neeva to add generative AI
The pending purchase will let the data cloud vendor infuse generative AI throughout its data management suite and potentially open the technology's use to a broader audience.
Snowflake has reached an agreement to acquire Neeva, a search engine vendor whose platform is fueled by generative AI and large language model technology.
Snowflake's recent focus has been on developing versions of its data cloud platform that include prebuilt capabilities tailored to meet the needs of enterprises in vertical industries. Among them are data clouds for manufacturing and retail, and Snowflake now has six industry-specific versions of its platform.
But unlike many of its peers in data management and analytics, Snowflake did not directly address generative AI and LLMs after the launch of ChatGPT from OpenAI -- which was a leap in generative AI and LLM technology over previous tools -- in November 2022. Its pending acquisition of Neeva changes that.
Financial terms of the transaction were not disclosed nor was a date given for when the deal is expected to close.
Additive capabilities
Neeva was founded in 2019 by ex-Google employees who aimed to create an alternative to Google. The vendor's search engine is subscription based, so it can afford to befree of ads, and uses generative AI to deliver personalized search results.
In two funding rounds, the company raised $77.5 million in venture capital. But despite the lofty goal of challenging Google, its search engine hasn't gained popularity.
As a result, on May 23, Neeva revealed plans to shut down its search project over the next few weeks and instead focus on delivering generative AI and large language models for enterprises.
A day later Snowflake unveiled its plan to acquire Neeva to add generative AI and large language model technology and infuse the capabilities throughout its suite.
Snowflake experienced rapid growth following its launch in 2014.
The vendor emerged from stealth with a platform that challenged the status quo of cloud data storage platforms from tech giants such as AWS, Google and Microsoft by offering speed and flexibility. Six years later, Snowflake executed the most lucrative initial public stock offering ever by a software company, raising $3.4 billion.
But Snowflake has not developed significant higher-level AI capabilities, according to Donald Farmer, founder and principal of TreeHive Strategy.
"Snowflake has good support for machine learning but very little AI," he said.
In the six months following OpenAI's release of ChatGPT, Snowflake -- unlike many of its competitors -- did not unveil integrations that would infuse its platform with generative AI and LLMs or develop its own generative AI technology.
Conversely, Databricks, perhaps Snowflake's most direct competitor, unveiled its own LLM called Dolly in March. In January, Microsoft furthered its investment in OpenAI, a capital commitment that dates to 2019. And a slew of smaller data management and analytics vendors unveiled both internally developed AI capabilities as well as integrations with generative AI tools and their built-in LLMs.
Snowflake's acquisition of Neeva will add those missing AI and LLM capabilities.
The vendor unveiled the acquisition during its earnings call on May 24 and subsequently published a blog authored by co-founder and president of products Benoit Dageville outlining Snowflake's plans to add Neeva's technology throughout Snowflake's data cloud platform.
During the earnings call, Snowflake CEO Frank Slootman detailed how the data cloud vendor plans to incorporate Neeva.
"Engaging with data through natural language is becoming popular with advancements in AI," he said. "This [acquisition] will enable Snowflake users and application developers to build rich search-enabled and conversational experiences. We believe Neeva will increase our opportunity to allow non-technical users to extract value from their data."
In addition, Slootman noted that data management and analytics vendors are uniquely positioned to take advantage of generative AI and LLMs because of their access to vast amounts of data that can make generative AI and LLMs smarter.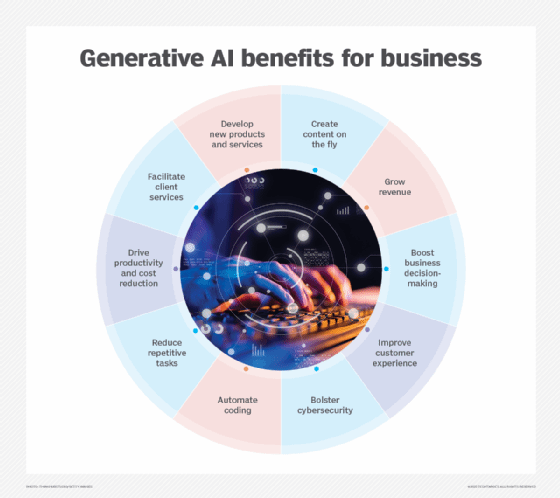 Big data and generative AI
"Generative AI is powered by data," he said.
"That's how models train and become progressively more interesting and relevant. Models have primarily been trained with internet and public data," he continued. "And we believe enterprises will benefit from customizing this technology with their own data. Snowflake manages a vast and growing universe of public and proprietary data."
Snowflake has good support for machine learning but very little AI.

Donald FarmerFounder and principal, TreeHive Strategy
One of the promises of generative AI and its use of LLMs is their potential to enable business users of all skill levels to work with data.
Historically, data management and analytics required users to write code to interact with data. In recent years, low-code drag-and-drop tools and natural language processing (NLP) have been deployed in an attempt to reduce the need for code and open data use to more people within organizations.
However, NLP and other no-code technologies are limited and still require data literacy training to be used effectively.
Generative AI and LLMs, however, have far more extensive vocabularies than NLP tools developed by data management and analytics vendors, and enable the freeform language interaction that reduces the need for data literacy and potentially can make analytics use more widespread.
As a result, since the release of ChatGPT, vendors have made generative AI a priority.
Snowflake, however, was slower to add generative AI and LLM capabilities than Databricks and Microsoft among data storage vendors and is now addressing the need through its acquisition of Neeva.
"Snowflake certainly needed something like this, so it's good news," Farmer said.
Talent plus tech
Perhaps even more important than the generative AI and LLM technology that Snowflake will inherit with its acquisition of Neeva is the human capital the acquisition brings, according to Farmer.
Neeva's founders, Sridhar Ramaswamy and Vivek Raghunathan, have deep knowledge of generative AI and LLMs. When combined with Snowflake, they will likely have more freedom to advance the generative AI and LLM capabilities they were already building at Neeva.
"In this case, Snowflake is surely acquiring talent," Farmer said. "Ramaswamy and Raghunathan are certainly very smart and know the search space well. So this [acquisition] feels more like a tech tuck-in and an [addition] of some smart people."
Eric Avidon is a senior news writer for TechTarget Editorial and a journalist with more than 25 years of experience. He covers analytics and data management.