Sergey Nivens - Fotolia
Splunk Business Flow evidences company's heightened focus on BI
Long known as a data security and IT monitoring vendor, Splunk is honing its data analytics tools and making the foray into business intelligence.
Known primarily for its data security and information technology services, Splunk is expanding its reach into the business intelligence world with Splunk Business Flow.
Splunk first began offering BI capabilities to its existing customers about four years ago, and as that endeavor gained popularity, the San Francisco-based vendor made a significant investment in improving its BI technology.
On April 30, the company unveiled Splunk Business Flow, evidence that the company is making a serious push to move beyond its traditional products and into the realm of data analytics.
Splunk Business Flow helps customers connect data from multiple data sources to discover insights, creates data visualizations to depict the end-to-end flow of business processes, and investigates the reasons behind the data in order to help improve efficiencies, according to the company.
Also on April 30, Splunk released Splunk Connected Experiences, which the vendor said is aimed at making data accessible to nontechnical users by providing dashboards through its mobile app on Apple products, including the Apple Watch and Apple TV, and through Splunk Augmented Reality, which provides Dashboard access by scanning a barcode or chip with a mobile device.
"This is a great thing for Splunk," said Tim Crawford, CIO strategic advisor at AVOA, a consulting firm based in Rolling Hills Estates, Calif.
It's also a necessary thing for Splunk, according to Crawford, who said that in order to grow its business Splunk needs to shed its reputation as a company focused solely on security and IT monitoring.
If it doesn't, it might stagnate.
"They've tried to change their persona, but have been challenged with it," Crawford said. "Their technology is incredibly valuable should they shed that IT persona. Going into BI is an area they have to go into to be relevant."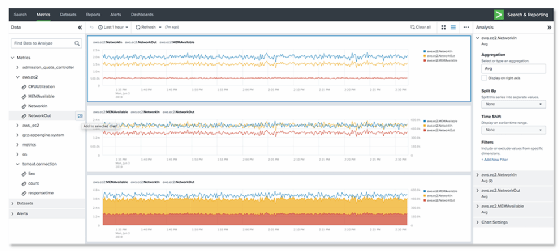 Despite the release of BI products, Splunk is not attempting to compete with Microsoft Power BI, Qlik, Tableau and other established platforms in the growing market for BI customers, the company said.
At least not yet.
Splunk Business Flow grew out of the company's security and IT operations, and is for its security and IT customers.
"Our go-to-market is still in IT and security -- that's our historic stronghold," said Josh Klahr, Splunk's vice president of product management. "We're unlocking the ability to do BI, but going about it by solving IT and then expanding."
The genesis for Splunk Business Flow came from customers' requests for analytics capabilities, Klahr said.
They've tried to change their persona, but have been challenged with it. Their technology is incredibly valuable should they shed that IT persona. Going into BI is an area they have to go into to be relevant.

Tim CrawfordCIO strategic advisor, AVOA
Over time Splunk collected more and more security and IT data -- customers wanted to access the information to find patterns.
The data was unstructured, but by working with its longtime customers to create a means of making sense of the data, Splunk began its foray into BI.
"BI has been a core part of Splunk's capabilities for four years," Klahr said. "It started with the customers wanting to be able to look at trends -- the customers were searching and recording, and then asked why, and we created dashboards, bar charts, etc. It's been evolving over the last three or four years."
Only a few months ago, however, did Splunk Business Flow and Splunk Connected Experiences become available analytics tools for enterprise users. The addition of CTO Tim Tully in 2017, who spent 14 years at Yahoo, has been a big part of why Splunk's BI tools are becoming more focused and advanced.
"It's early times for Splunk in this space, so while they understand they have a little way to go to fully catch up to traditional BI vendors, they have high expectations," said Mike Leone, an analyst at Enterprise Strategy Group.
He added that as Splunk's BI tools are updated over time he expects improved advanced automation capabilities, more advanced visualization, and an improved user interface.
"BI is how we can add to what Splunk does uniquely well, which is solve customers' problems," Klahr said. "We don't compete with other BI vendors head on, but we're adding functionality."
Crawford, however, noted that while Splunk's expansion into BI is a step in the right direction, limiting the products only to existing security and IT customers may not be in Splunk's long-term best interests.
Eventually, Splunk should make Splunk Business Flow and Splunk Connected Experiences -- or some later versions of the products -- available to a broader customer base, Crawford said.
"If they're going to be successful, they have to do that," he said. "They're going to have to go after net new customers and take on a different approach and a different persona."
Most of Splunk Business Flow's users are on premises, but as with customers of all BI tools Splunk is seeing many of its users migrate to the cloud.
Splunk offers Splunk Cloud, and uses Microsoft Azure and Google Cloud.