blobbotronic - stock.adobe.com
New tools add AI power to Teradata Vantage platform
Teradata unveiled Vantage Analyst and Customer Experience, two new tools now part of the vendor's analytics platform, on Tuesday at its user conference in Denver.
Ease-of-use and the expansion of data analysis beyond the exclusive realm of data scientists are at the heart of Vantage Analyst and Vantage Customer Experience, two new tools introduced by Teradata on Tuesday that are now part of the Teradata Vantage BI platform.
Teradata, founded in 1979 and based in San Diego, Calif., unveiled both Vantage Analyst and Customer Experience in Denver at Teradata Universe, its annual user conference.
Vantage Analyst, designed for business analysts and now included in Teradata Vantage 1.1, is made up of six different augmented intelligence and machine learning features, all designed to take data management and data modeling largely out of the hands of experts and help self-service users glean insights from their data.
Customer Experience, meanwhile, is a customer data platform delivered as a service on top of Teradata Vantage 1.1 that culls a person's data from a variety of different sources and merges them to provide retail outlets and marketing departments with a single view of a customer.
The new additions to the Teradata Vantage platform signal a new direction for Teradata, said Donald Farmer, principal at TreeHive Strategy in Woodinville, Wash.
"It's pretty clear that Teradata has had a shift in mindset," he said. "They're not focused on storage and computing anymore, but on business applications and an analytic experience that they can package and make as seamless as possible for people to deploy. It's a new focus on the user's experience. They have thought about this in a sophisticated and modern way. It's promising."
Teradata has had a shift in mindset. They're not focused on storage and computing anymore, but on business applications and an analytic experience that they can package and make as seamless as possible for people to deploy. It's a new focus on the user's experience.

Donald FarmerPrincipal, TreeHive Strategy
Customer Experience is in limited availability as of Tuesday with general availability expected during the first quarter of 2020. Meanwhile, four of the six features that make up Vantage Analyst are now available with the final two expected to be released late in 2019.
The genesis for the development of both new pieces of the Teradata Vantage platform came from customer feedback, according to Imad Birouty, Teradata's director of product marketing.
"There's been growth of machine learning and advanced analytics," Birouty said, referring to Vantage Analyst.
"But the people capable of running it are few and far between," he continued. "Everyone can't have a data scientist, but the customers have a need for analytic capabilities."
With respect to Customer Experience, he added: "Customers all come to us with the same problem – they have data on one hand and marketing applications on the other, but … it's hard to keep track of the same person across different systems. We cleanse the data to know who's who."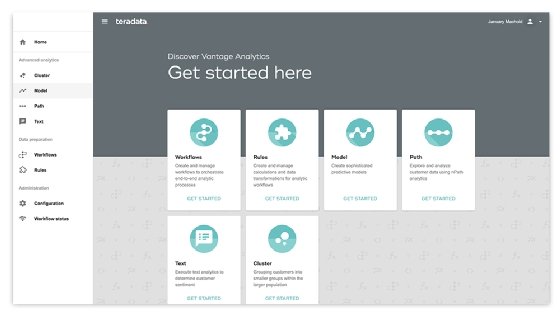 Vantage Analyst includes six key features. Path tracks behaviors and events. Text recognizes patterns and trends in text-based data. Cluster examines segment data such as customers based on characteristics. Lab is a self-service environment designed to foster fast exploration and experimentation with new data, Model is a space to develop and train predictive models and Workflow quickly automates the analytic process to create a repeatable operation.
Path, Model, Workflow and Lab are all now available for Teradata Vantage customers. Text and Cluster are expected shortly before the end of the year.
Vantage Analyst doesn't necessarily contain new capabilities but instead groups them so it's easier for users of the Teradata Vantage platform to consume.
"The Vantage offering previously supported all these forms of analysis before, but the algorithms and methods were implemented through standard SQL or SQL-like code and data-analyst-oriented query tools," said Doug Henschen, analyst at Constellation Research. "Vantage Analyst introduces new point-and-click interfaces aimed at data-savvy business analysts who would be familiar with data sources and business questions, but who aren't necessarily familiar or comfortable with SQL and coding-based approaches."
Similarly, Farmer said that Vantage Analyst repackages existing features of Teradata Vantage in a more usable way.
"One of the problems Teradata has had is that users didn't know what they had," he said. "This pools it together in one package, brings all the pieces into a single place. It's very focused on workflow, and they've done a good job. But they're not bringing in new capabilities – they're providing a new experience."
Customer Experience
Customer Experience is a Teradata Vantage tool aimed at making an organization's marketing efforts more efficient.
One of the main challenges marketing departments face is putting all their information about a single customer together. They may have a person's name and address in one system and their purchase history in another and have no idea these two pieces of information are connected. They may have information on two different people but not realize that they're part of the same family.
Customer Experience is able to find the connections and bring all the data on one customer together. It can also find connections between customers. That information can then be used to gain a better view of a customer and subsequently lead to a smarter marketing approach toward that customer.
"CDPs are a bit of a shiny new object in the market, but I haven't [previously] heard really clear boundaries and co-exist strategies with broader data platform and data management strategies encompassing all data across customer organizations," said Constellation Research analyst Doug Henschen. "Data warehouses and data lakes are in transition these days, so there's a bit of a land grab going on. Teradata is … offering a more conventional mart/warehouse approach to bringing customer experience data together."
The newly updated Vantage Analyst platform and Customer Experience represent progress for Teradata in terms of making the AI and machine learning more accessible in its Vantage platform.
Teradata Vantage had AI and machine learning capabilities previously, but it took a level of data science expertise to make use of them that most business users don't possess.
"It comes down to the usability," said Imad Birouty, Teradata's director of product marketing. "In other versions, it was all wrapped into SQL. It needed to be more usable, and for all the hurdles to be taken away."