Sergey Nivens - Fotolia
Domo BI platform helps Dal-Tile solve data management problems
Overwhelmed by an influx of data, Dal-Tile, a leading manufacturer of ceramic tile products, went to Domo to try to solve its business intelligence problems.
Dal-Tile had a data overload problem a few years ago, and by using the Domo BI platform the company got its influx of information not just under control but working to lower costs and drive revenue.
The difficulty faced by Dal-Tile, a chief subsidiary of Mohawk Industries and one of the nation's leading producers of ceramic tile, is not uncommon.
Dal-Tile was founded in Dallas in 1947 and now employs about 11,500. Its products -- which include the brands Daltile, American Olean, Marazzi and Ragno -- are sold throughout the United States (including Puerto Rico) and Canada in company-owned service centers, home retail stores such as Home Depot and Lowe's, and through independently owned distributors.
Mohawk's net sales for the second quarter of 2019 were just short of $2.6 billion.
As Dal-Tile grew, more and more data was coming in from more and more sources and more and more people wanted access to the data to help the decision-making process. Meanwhile, only a handful of information technology experts were empowered with the data management and data modeling skills to attempt to deal with the explosion of information.
After first trying the analytics suite from another vendor, Dal-Tile turned to the Domo BI platform to harness its data and make it work for the company.
"They had a very familiar story -- not unique in what they were trying to solve," said Jay Heglar, chief business officer of Domo, which was founded in 2010 and is based in American Fork, Utah. "They had more data than ever and it was coming from more systems. IT had empowered a few people, and the whole organization was firing questions at them. It's not possible to deal with all of it if you're part of a large company."
Joshua Stan, Dal-Tile's director of finance for corporate development and reporting, spearheaded the company's move to the Domo BI platform.
Hired in early 2016, Stan soon saw that Dal-Tile's approach to data management wasn't working well. Dal-Tile did it all out of the company's corporate headquarters, and even in the central office it was in the hands of a small number of people.
"Before, we didn't have a plan where people could get access to data -- it was all done by the finance department and the people in the field had no access to live data," he said. "It was very manual. I was shocked when I came to Dal-Tile that they were still doing it this way."
Having the data warehouse integrated into Domo with an easy-to-use interface was the differentiator. Other solutions required us having a data warehouse, and then we would have had to rely on IT.

Joshua StanDirector of finance for corporate development and reporting, Dal-Tile
Dal-Tile was, in fact, using a BI platform at the time Stan arrived at the company, but he said that when the vendor proved unable to deliver on the reporting capabilities it had promised, the tile company needed to make a change.
Dal-Tile looked at 15 different vendors beginning in September of 2016, and decided on the Domo BI platform in January of 2017.
Issues with Dal-Tile's IT department held back deployment for a short time, but by the spring of 2017 Dal-Tile was up and running with the Domo BI platform.
"We looked at Sisense, Qlik, [Salesforce's Einstein], Power BI," said Stan. "We did demos, and it came down to Domo, Power BI and Tableau. Having the data warehouse integrated into Domo with an easy-to-use interface was the differentiator. Other solutions required us having a data warehouse, and then we would have had to rely on IT."
Dal-Tile started with 500 licenses for the Domo BI platform and has since given access to the platform to 700 more employees, including every manager and assistant manager at Dal-Tile's stores.
In addition, according to Stan, Dal-Tile began with 16 use cases and has expanded beyond that.
"They've progressed from a specific problem and permeated it across their business -- marketing, distribution centers, finance," Heglar said. "That's really how Domo adoption progresses -- one department tells the rest of the organization. The sophistication of the problems has increased and … all the data that's sitting there leads to higher levels of advanced analytics."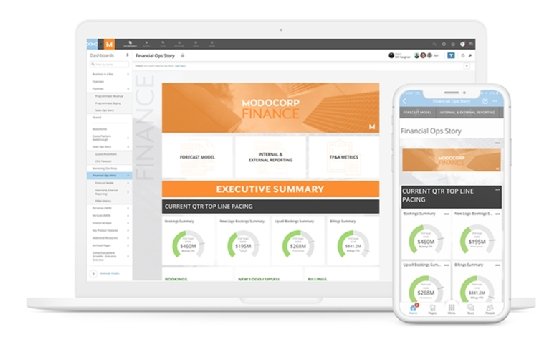 Meanwhile, despite an immense amount of data coming in from across North America, the Domo BI platform has been able to keep pace.
"One of the things Domo can do is handle extremely large data sets -- our largest is 700 million rows and growing, and Domo renders it in seconds," Stan said. "Our sales are all in one data set, going back to 2013. To be able to handle both long and wide data sets in seconds is pretty amazing."
The end result of Dal-Tile's adoption of the Domo BI platform has been a stronger bottom line.
A push notification from Domo about an irregularity saved Dal-Tile hundreds of thousands of dollars, in Stan's estimate, when there was a surge in the cost of power in Texas and Dal-Tile was able to temporarily close its manufacturing plants until the cost of power returned to normal. Overtime pay has been reduced. Even the size of Stan's own finance team is down because of Domo's ability to automate certain tasks.
And with 1,100 employees now armed with analytics, many of whom barely sent emails, much less took advantage of modern technology for business purposes before using the Domo BI platform, their ability to predict what is likely happen next is greatly enhanced.
"We've gotten annual savings of five to six million dollars," Stan said.