Sergey Nivens - Fotolia
'Data for good' movement spurs action in fight for causes
Though often associated with financial analysis, analytics is being used to aid nonprofit organizations in their fight for causes that improve society as well.
Enterprise data analytics tools typically used to make business decisions are being put to use in the "data for good" movement to support humanitarian causes ranging from hurricane relief to fighting COVID-19.
As defined by Gartner, data for good is about employing analytics not for a new sales and marketing initiative or to find efficiencies, for example, but to improve society.
There are organizations dedicated to data for good, including DataKind and Data4Change. But the concept of data for good also includes corporate initiatives; vendors freely donate use of their platforms to aid causes and employees within enterprises donate their time and skill to the nonprofit organizations engaged in the fight for those causes.
Recently, the data for good movement that started in 2018 has been mobilized in the fight against COVID-19. Analytics software vendors responded quickly at the start of the pandemic, with many developing models that could be used by healthcare organizations and government agencies and some even donating the free use of their platforms to organizations directly fighting the spread of COVID-19.
"Nonprofits don't have the luxury of having data and analytics employees, and it doesn't take much to help nonprofits create new insights based on their data so they can do even more good in the world," said Neviana Zhgaba, a senior technical program manager at General Electric and member of the board of directors of Oracle Developer Tools User Group (ODTUG), during Oracle's virtual Analytics Summit on Thursday.
"The data for good movement is about harnessing the power of data visualizations, data analytics and [augmented intelligence] for social change by using data to create new insights and outcomes for a better world," she added.
And visualization -- actually seeing the evidence of something -- is key.
Nonprofit organizations rely heavily on donations to fund their work, but if they aren't able to demonstrate the importance of their work, they struggle to attract donations. Facts alone aren't enough, according to Zhgaba. They're words and numbers, but they lack impact.
The combination of facts and data visualizations joined with images -- photographs, videos -- provide context and inspire people to act.
"Hopefully we can bring people a deeper understanding and a way of connecting … and in the end hopefully impact them to take some sort of action," Zhgaba said.
Zhgaba's own commitment to data for good began in the aftermath of Hurricane Florence in North Carolina, where the ODTUG headquarters are located.
Over the course of three days in September 2018, Hurricane Florence caused record-breaking storm surges of 9 to 13 feet and dropped 20 to 30 inches of rain on coastal towns. One million people had to be evacuated, and when the storm ended and people tried to return to their homes they found hundreds of roads closed. GPS systems and navigation apps were of little help because they didn't have real-time information.
"It's always sad to hear about hurricanes and national disasters, but when that hits closer to home, when they impact people you care about, you find yourself asking, 'How can I help?'" Zhgaba, who does not live in North Carolina but is close to many who do, said. "ODTUG members are located all across the world, not in North Carolina, but we are technologists."
Zhgaba reached out to ODTUG members, and with their help was able to take data from the Department of Transportation -- which updated information about road closures in real time -- and used Oracle technology to overlay it on top of Google Maps to create a new navigation app.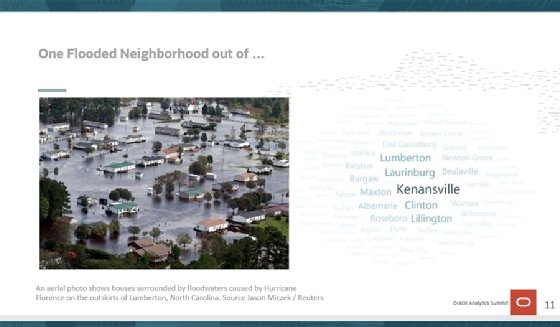 Before developing the navigation app, however, Zhgaba needed to inspire her fellow ODTUG members to take action. She also wanted people to contribute to a GoFundMe account to help the ODTUG employees living in North Carolina whose homes were affected by the hurricane.
She began with facts: one million people were evacuated, hundreds of roads were closed and as much rain fell on some North Carolina communities in a matter of days as falls in Seattle in an entire year. Then she added a data visualization showing all the roads that were impacted. A photograph showing a road completely submerged, however, gave context to the facts and visualizations.
"If you were to imagine all the water and all the damage across all those roads, it becomes a different experience," Zhgaba said. "When all three are combined -- the facts, the visualization and an experience of one of the data points … hopefully an emotional reaction is triggered in you that will propel you to take action."
Technology won't solve the problems, but technology is a strong enabler of the people who will take action.

Neviana ZhgabaSenior technical program manager, General Electric, and member of the board of directors of Oracle Developer Tools User Group
Being an Oracle user and a board member of ODTUG, Oracle Analytics tools were used in the creation of the navigation app, as they have been used in other data for good initiatives supported by Oracle and the ODTUG community. Oracle Spatial Studio, a geospatial data tool that enables users to derive analytical insights from maps, is one such tool, and when combined with Oracle Analytics it enables users to overlay data points on top of maps and then input different parameters.
Additional examples of Oracle's data analytics tools being used for good presented by Zhgaba include tracking the melting of the Arctic ice, showing how simple measures by individuals like stopping the use of plastic straws and eating less red meat can affect the environment, and helping the University of Minnesota monitor the movement of wolves.
"Technology won't solve the problems, but technology is a strong enabler of the people who will take action," Zhgaba said.