Sergej Khackimullin - Fotolia
Power BI platform adds data storytelling capabilities
In its ongoing attempt to extend the reach of analytics to more users, Microsoft, during its virtual user conference, unveiled a new data storytelling feature for Power BI.
The Microsoft Power BI platform now has data storytelling capabilities.
Microsoft unveiled Smart Narratives during Ignite, the tech giant's virtual user conference, and though the tool is in preview it is available for general use. In addition to its new data storytelling capabilities, new features added to the Power BI platform include Anomaly Detection, a tool to see sudden changes and outliers in data, and an enhanced integration with the Teams collaboration platform.
Data storytelling has the potential to do something no previous business intelligence capability has yet done -- enable everyone in an organization to use business intelligence to inform their decision-making. Estimates vary, but only a quarter to a third of employees are currently using analytics in their jobs given the technological knowledge needed to work with BI tools and the expertise to interpret data.
Data storytelling, the automatically generated explanation of data in narrative form, might be the technology that dramatically changes that. Analysts said analytics might finally extend past trained data analysts and into the hands of everyone.
"If you want to tell people what to do, do you give them a table of numbers or do you give them instructions?" said Dave Menninger, research director of data and analytics research at Ventana Research. "You give them instructions, and that's why [data storytelling] is so important. Narratives are those instructions -- sometimes they're just explanations -- but narratives can be constructed so that they're instructions to the reader."
Meanwhile, Donald Farmer, principal at TreeHive Strategy, noted that beyond only technology, narratives are how human beings are wired to understand information, and when applied to analytics narratives help people understand their data.
"It's important because the way people understand information is primarily through stories and narratives," he said. "Either we hear a story from someone else, or if they give us the raw facts we make up stories around that."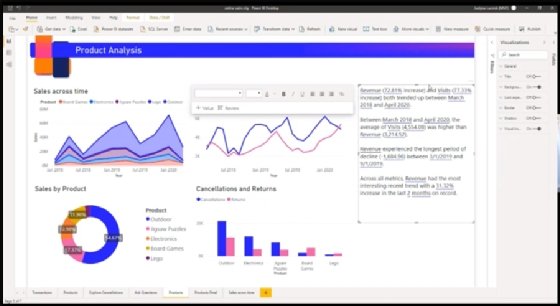 Now, with Smart Narratives, introduced at Ignite Sept. 22, Microsoft is adding a capability to Power BI that has the potential to accomplish one of the main goals Microsoft has for the platform.
"We want to empower every individual," said Arun Ulag, corporate vice president of the business intelligence platform at Microsoft, in a breakout session during Ignite. "We talk about Power BI as PowerPoint for data, but we're also infusing Power BI with a lot of AI capabilities that automatically allow our customers to extract insights."
Smart Narratives, like other data storytelling tools, adds narratives to dashboards.
We want to empower every individual.

Arun UlagCorporate vice president of the business intelligence platform, Microsoft
Beyond the data visualizations that make the numbers easy to digest, now when Power BI users right-click on a visual they get a dialogue box that pops up with an explanation of the data. In addition, Smart Narratives enables users to add narratives about entire report dashboards and each of the visuals within the dashboard, and those narratives change automatically as queries -- using natural language -- are updated and the underlying data itself changes.
Each of the narratives, meanwhile, can be formatted to make them more attractive than merely a black-and-white box on a screen with text.
"We want to ensure that everyone can explore data and find insights with no experience needed," said Kim Manis, group program manager for the Power BI Desktop team.
Beyond Smart Narratives, the Power BI platform now features an enhanced integration with Teams.
Now, Power BI can be embedded into Teams channels so everyone in that channel can explore the same data. By clicking on a link, Power BI will open up right in Teams and users can collaborate on building and using reports and dashboards in Teams rather than having to toggle between Teams and Power BI.
And as the integration between Power BI and Teams evolves, Manis said users will soon be able to copy and paste data into Teams -- or even just type it in -- and Power BI will automatically generate a report. In addition, still in Teams, users will soon be able to discover data sets and reports and spreadsheets from across their organization with just clicks of their mouse.
"A critical part of creating a data culture is ensuring data is available when and where decisions are made," Manis said. "It's going to be great seeing organizations have data one click away."
Microsoft's Anomaly Detection, meanwhile, won't be available for a few months, according to Manis.
Once it's available, with one click, users of the Power BI platform will be able to find outliers in their data. And once discovered, they will then be able to click on the data points and get an automatically generated explanation of what's behind the anomaly.
"We're investing in a comprehensive set of capabilities," Ulag said.
Dig Deeper on Business intelligence technology