Pavel Ignatov - Fotolia
CIOs talk public sector innovation at Pluralsight conference
If you think city and state governments are reluctant to adopt new technology and the innovations that brings with it, there are forward-looking CIOs who want to set you straight.
SALT LAKE CITY -- Budget restraints and bureaucratic battles aside, it would be a mistake to think all city and state governments are slow to adopt new technology and public sector innovation. That's the firm position of three C-level government officials who spoke at the 2019 Pluralsight Live conference on a panel called "Myth-Busted: Five Common Myths About Innovation in the Public Sector."
"Customer expectations [have] changed over time. We are now in an instantaneous culture where you have to catch my attention, like on YouTube, in 15 seconds, or I'm done," said Tanya Hannah, CIO of King County, Wash. Having previously served as a senior manager at Amazon, Hannah knows much about customer expectations.
"Does the public sector lag behind the private sector in innovation?" Hannah asked. "My team is using AI, AR [augmented reality] and VR [virtual reality], and we do machine learning, DevOps and we use skilled Agile frameworks. Do we do it as fast as Amazon? Maybe not, but we do it."
If you look at King County like a private sector entity, it includes 64 different lines of business, from public health and transportation to managing the 911 system.
"One of our coolest innovations is that we are using [AR] and [VR] to map the wastewater system in 3D," Hannah said. "We use an IoT sensor network to track where the water goes, and we get alerts when there are any issues. How many companies in the private sector do that?"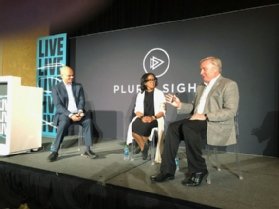 Of course, not all government sectors have access to an extensive range of the most current technologies that bring public sector innovation with it. King County, no doubt, benefits from being in the shadow of tech giants like Amazon and Microsoft, as well as many smaller firms and hundreds of startups eager to get government contracts.
Just as many businesses get by using outdated technology, so too do many government agencies. And, overall, there is a perception that government agencies are slow to change.
Mike Hussey, CIO for the state of Utah, can think of at least one reason for this perception. "Have you ever gone to DMV [Department of Motor Vehicles]?" he asked to a fair bit of laughter and nods of agreement from the audience.
Public sector innovation opportunities
Budget restraints and bureaucratic battles aside, it would be a mistake to think all city and state governments are slow to adopt new technology and public sector innovation.
"But, in Utah, you see plenty of innovation," he added, noting the state is home to conference host Pluralsight, a leading provider of IT skills development and training services. He said Utah is using Pluralsight to help state employees develop new skills.
"We have a mainframe we're trying to get off of in the next couple of years, and we want to give those developers enough runway to advance using Pluralsight," Hussey said. "People are excited to do that."
"The complexity of government sometimes actually helps drive [public sector] innovation," Hussey added. "You look at areas like public safety, commerce, regulating things like alcohol; there are many opportunities to innovate."
Hussey said Utah "punches above its weight" when it comes to technology adoption. Examples include sending alerts to registered Apple Watch users when their property tax and other bills are due. The state is also looking at the potential for self-driving snow plows. "I'm picturing something like a giant Roomba," Hussey said.
His office is also looking at ways it might use blockchain to better secure and manage car registrations.
Public and private partnerships
Public and private partnerships are also important, according to Saad Bashir, CTO of Seattle, who served as moderator of the panel. "We formed an advisory council with the private sector and came up with a multitude of ideas of how we can work together -- nothing large-scale; it's at the edges," he said.
Bashir said he thinks one of the reasons government agencies aren't thought of as cutting-edge or eager to adopt public sector innovation is because a big part of their responsibility is making sure the same services are available every day, as opposed to, say, an e-commerce site that's constantly showing new products for sale.
"We don't disrupt every day. We want the same water coming out of the tap every day. Sometimes, you have to force yourself to think about ways you can be disruptive that makes things better," Bashir said.
But during a Q&A session that followed, an audience member correctly pointed out that there are plenty of times local government has to react quickly, such as when a natural disaster strikes.
Another audience member said his perception was people who work in government are rigid and unlikely to be flexible around things like dressing casually or allowing employees to work at home.
Hannah was quick to dispel those ideas.
"I wear jeans three or four times a week, and my team can telecommute," she said. "We probably have better benefits and work-life balance than many private sector companies. We invest in our people; they go to all the top conferences."