Digital transformation for insurance: Idaho firm opts for HCI
An Idaho-based property and casualty insurance company has swapped out its VMware infrastructure and separate storage systems for hyper-converged hardware from Scale Computing.
Digital transformation for insurance companies can involve a range of technologies, from big data to the internet of things. Even drones are making their way into the claims adjustment process.
An insurer's IT infrastructure undergirds those digital developments. Idaho Farm Bureau Insurance, a property and casualty company based in Pocatello, Idaho, recently completed an infrastructure overhaul, adopting hyper-converged technology in the process.
Adam Waldron, director of information systems at Idaho Farm Bureau Insurance, recently discussed this project with SearchCIO.
The problem
Idaho Farm Bureau Insurance's growing IT demands were outpacing its virtualization infrastructure. One particular issue was having sufficient memory to spin up new virtual machines. The company had been running two VMware software stacks, one of which resided on IBM hardware that was nearly seven years old.
"We needed to move into some new hardware," Waldron said.
The cost of disaster recovery (DR) was another consideration. Idaho Farm Bureau Insurance housed backup data off-site, but didn't have a hot-site recovery capability. To build a DR system with failover capability, however, would involve a huge expense when it came to VMware licensing, Waldron noted.
In the meantime, the insurer was managing sizable data sets including an image database of several terabytes and a very large customer database, he added. And the arrival of digital transformation for insurance companies means data sets -- and infrastructure requirements -- will continue to grow. Drones surveying property damage can generate copious image data, while the internet of things (IoT) will also test an organization's IT resources depending on the volume of data collected.
The technology
Idaho Farm Bureau Insurance has been operating most of its IT infrastructure at its own location, apart from some cloud-based resources such as Microsoft Dynamics 365. But moving more IT assets into the cloud wasn't feasible. Putting large databases into the cloud "gets pretty expensive," Waldron said. "It was more cost-effective to go on-premises."
Data privacy concerns were also an important consideration: "We are risk-averse like most insurance companies," Waldron said. He noted processor-level vulnerabilities that could let a hacker circumvent a cloud-based platform's security mechanisms.
The insurer decided to replace its in-house infrastructure with Scale Computing's HC3 hyper-converged hardware. Idaho Farm Bureau Insurance had been operating its two VMware stacks, a 3PAR storage-area network and a couple of network-attached storage devices. The company also made tape backups, which it stored off-site in a vault.
"We, in essence, got rid of all of that," Waldron explained.
In place of the VMware stacks and storage gear, the insurer installed 22 Scale Computing 5150 hyper-converged hardware appliances. The two-rack unit devices collectively provided 1.5 petabytes of raw storage and 3-plus terabytes of memory, noted Jason Collier, co-founder at Scale Computing.
"They invested to give themselves some headroom for growth," he said.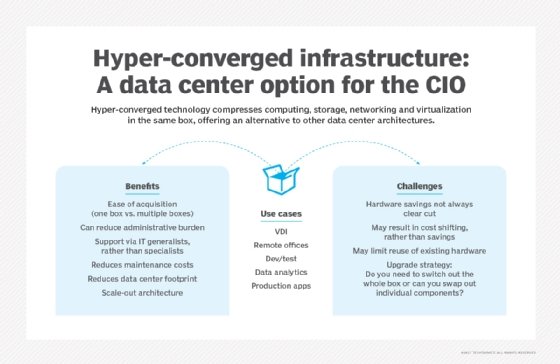 The hyper-converged infrastructure (HCI) appliances combine servers, storage and virtualization in a unified hardware package. The appliances run the insurance firm's core property and casualty system, databases, development and test environment, and business intelligence software among other resources.
In addition, Scale Computing's appliances have built-in DR features, which get the insurance company off the hook for additional licensing fees and the cost of third-party DR products.
The result
The new infrastructure will result in an estimated lifecycle savings of $2 million in over five years, according to Waldron. He said most of that benefit will stem from licensing cost savings. He said he hasn't gone back to crunch the hardware numbers, but expects at least $200,000 in savings, noting the reduction in storage systems such as the 3PAR SAN.
Waldron cited soft savings as well: The elimination of tapes, for example, also eliminates the associated management workload.
The Scale Computing gear also helps with digital transformation; for insurance companies such as Idaho Farm Bureau Insurance, HCI provides the ability to respond more quickly to changing IT needs. "[If] we get overloaded with data, we can just pop in another Scale node easily," Waldron said.
Idaho Farm Bureau Insurance needs to support data- and compute-intensive IT initiatives including geographic information systems, drones and IoT. The company, for example, creates 3D models of buildings using drone imagery -- the rendering process requires thousands of images. The insurer also creates digital elevation maps, a task that also "takes a lot horse power," Waldron said.
The challenge
Waldron said his IT team was steeped in VMware and quite skeptical about the change to Scale Computing's hyper-converged hardware. "It took some convincing of the team," he said of the shift in technology platforms.
Scale Computing, however, put engineers on the phone to make sure the insurer's techs were comfortable with its HCI offerings, Waldron noted. When it was time to install the new gear, the vendor also dispatched two engineers to Idaho to help with the migration.
Dig Deeper on Digital transformation