Hyper-converged infrastructure solutions hit the mainstream
HCI technology is expanding beyond its original niches in virtual desktop infrastructure and video storage, taking an expanded role in the corporate data center.
Hyper-converged infrastructure solutions, once confined to a limited set of use cases, now span two worlds.
HCI technology applications these days reach the corporate data center and create multifaceted relationships with the cloud. They are taking over wide swaths of IT infrastructure, with organizations entrusting HCI with a range of applications from scientific computing to core business systems such as ERP.
This expanding universe of use cases is a far cry from HCI's earlier days, when CIOs and IT managers deployed the technology to support fairly narrow applications such as virtual desktop infrastructure and video storage. Indeed, a spokeswoman for Gartner said the market for hyper-converged integrated systems, the research house's terminology for HCI, will grow 55% to reach nearly $4.4 billion in 2017.
George Weiss, a vice president and analyst at Gartner, said the company would not be able to forecast such a growth rate if the market "were still restricted to silo-based, purpose-built systems."
Jeff Kato, senior storage analyst at market research firm the Taneja Group Inc., remembers it was only a few years back when "you kind of had to explain what HCI is. Most CIOs know about hyper-converged at this point. You don't have to educate too much."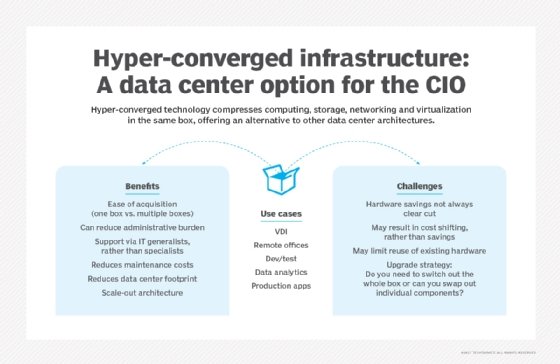 Ease-of-management drives HCI tech appeal
The ability to simplify infrastructure support has been, and continues to be, a key motivator behind HCI's mainstream emergence. Traditional data centers are typically built upon a three-tier architecture of separate compute, storage and networking components. Hyper-converged infrastructure solutions consolidate those layers in a single box.
We can spend more time actually supporting the research than supporting the infrastructure.

Ryan KennedyAcademic Computing team manager, University of Reading
The simplified infrastructure translates into ease of management, and, in turn, lower operating costs, according to the technology's adopters and industry analysts. IT organizations can manage HCI technology with IT generalists instead of specialists in the three-tier architecture disciplines.
England's University of Reading provides a case in point. Ryan Kennedy, Academic Computing team manager at the university, said the switch to HCI technology lets his small IT team focus on serving customers' high-value research related computing needs versus addressing complex back-end infrastructure issues. The University of Reading has migrated about 90% of its academic support workloads from its legacy infrastructure to a cluster of Dell EMC XC Series appliances that run on a Nutanix Enterprise Cloud Platform.
Prior to HCI, Kennedy's team maintained five computing and 10 storage platforms to support the university's researchers, who work in fields ranging from neuroscience to meteorology. But the hyper-converged stack eases the infrastructure management burden for an IT group that lacked expertise in storage, virtualization and networking.
"We can spend more time actually supporting the research than supporting the infrastructure," Kennedy noted.
The University of Reading's experience typifies the current crop of HCI adopters.
"Customers deploying [HCI] are … very happy with what I would call the soft TCO numbers," Kato said, noting the benefit of managing hyper-converged infrastructure solutions with generalists.
While providing the university a management edge over legacy systems, HCI technology also bested cloud computing as a deployment option. The university evaluated the Dell EMC-Nutanix approach against Azure and found HCI to represent a 60% cost savings per virtual machine, per hour compared with Microsoft's cloud offering, Kennedy said.
In the cloud, researchers could spin up a Virtual machine, run a job, go on vacation and leave the virtual machine running to accumulate usage fees. "You're just burning cash at that point -- these are very expensive powerful machines," he explained.
But the issue of unattended cloud costs goes away when the university owns the infrastructure and the virtual machines. Kennedy said he expected the cloud to be more expensive than HCI, but was still somewhat surprised by the comparison.
"I don't think we were expecting to see that much of a cost savings," he said.
Cloud coopetition
While the academic computing example shows how HCI technology can compete against the cloud, the two IT models aren't always at odds. The evolving relationship between HCI and cloud resembles coopetition, in which the technologies can coexist as well as compete.
The town of Cary, N.C., for one, is shedding its legacy client-server systems for a mix of cloud and potentially HCI technologies to boost citizen services and internal business processes. The local government is adopting cloud-based offerings such as Salesforce, Samanage and Microsoft Office 365.
But not every in-house application will move to the cloud -- public safety systems, for example. The town is now considering its infrastructure options for managing its remaining on-premises systems. HCI is poised to play a part.
"Whatever we have left here, we are not going to maintain the way we used to," said Peter Kennedy, CTO of Cary. "The town has installed and is testing a Nutanix cluster in our data center. It does make it easier for staff to manage and maintain the hardware."
Hydradyne, a Fort Worth, Texas, company that manufactures and distributes hydraulic equipment, is taking a different path: The company has been on HCI for several years and is now considering an extension to the cloud.
In 2012, Hydradyne thought about virtualizing its servers via VMware, but ultimately opted for HCI technology, specifically Scale Computing's HC3 platform. Today, the company runs business-critical systems such as ERP and financials on five HC3 production nodes. It plans to soon launch an eight-node disaster recovery (DR) cluster in Atlanta, said Mike O'Neil, director of IT at Hydradyne. The DR setup will permit replication across geographies, an important consideration for a company with operations in Tornado Alley and hurricane country.
The cloud may give Hydradyne additional DR options. Scale Computing in September 2017 said it is collaborating with Google to create a hybrid cloud offering that would move workloads between on-premises systems and the Google Cloud Platform. The tool, HC3 Cloud Unity, is slated for release in Q4 2017.
The cloud addition would "take the DR site to another level," O'Neil said. The Google Cloud-HCI combination "makes it a whole new ballgame for those who need the flexibility to move things around," he added.
The University of Reading, meanwhile, also has plans in the works for cloud use. Ryan Kennedy said his team is working on the ability to burst into the cloud from its HCI platform. Jobs that require a short-term boost of computing power will prove cheaper to run in the cloud than in house, he said.
On-premises hyper-converged infrastructure solutions working in concert with the cloud could become an increasingly common approach to IT. Kato said his research shows that while the "gravitational pull" to the public cloud continues, only 12% of the IT managers his company surveyed feel comfortable in a cloud-only world.
"People still want the hybrid cloud and they want in-house infrastructure," he said.
Next Steps
Learn about the role of appliances in the hyper-converged infrastructure solutions market
Find out how storage and graphics innovations are reducing the cost of HCI technology
Gain insight in how to troubleshoot an HCI technology stack