Cloud Foundry deployments boost customer experience, communication
IT pros from Comcast, American Airlines and Zipcar sound off on benefits of the software development platform at April's Cloud Foundry Summit in Boston.
Cloud Foundry is an open source platform as a service -- internet-delivered tools that help companies design and develop software. But its "ultimate purpose" isn't really software development, said Ron Miller, a reporter for tech news website TechCrunch, at the Cloud Foundry Summit in Boston earlier this month.
"It's to make a better experience for your customers and how do you produce services and products that make a better experience," Miller said. He was moderating a panel of IT leaders from companies old and new -- Comcast, American Airlines and Zipcar among them -- that rely on Cloud Foundry deployments. The speed of software delivery and businesswide collaboration the platform has introduced have brought these businesses to levels of productivity and customer satisfaction they hadn't attained before.
Christopher Tretina, director of software development at Comcast, put it this way: "Cloud Foundry has really enabled us to make what seemed to be impossible in the past suddenly possible."
Tretina discussed how the cloud service helped his company improve the customer experience with a wry acknowledgement of the often unflattering public perception of his industry. He nodded to American Airlines' Susanna Brown, joking, "People are always happy to provide their feedback" about cable companies and airlines.
One of the biggest reasons customers were dissatisfied with Comcast, Tretina said, was the unreliable availability of its applications. With Cloud Foundry, the cable company has improved the availability of its applications by about 60%. That has "dramatically improved the ability of our customers to interface with self-service and our frontline employees to work with our customers."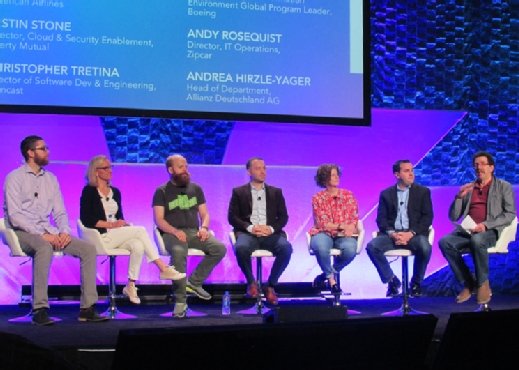 Cloud Foundry deployment customers talk speed
Brown directs the operations technology team at American Airlines -- that is, she manages "the systems that keep our planes up in the air." For her, improving the customer experience is about consistency -- that passengers have the same experience whether at a self-service kiosk at an airport or on a mobile device.
Speed of software delivery is another factor. Using a Cloud Foundry deployment for American's applications has significantly cut down the amount of time it takes to get a major app online -- from up to 12 months to "I know this is still long -- to two months, and for us that's incredible," Brown said.
For Enes Yildirim, digital transformation program director for Boeing -- "We actually help her keep the airplanes going," he said, referring to Brown -- speed of delivery is also a principal Cloud Foundry benefit, along with software design. The aircraft manufacturer has always paid careful attention to the design of dashboards on the planes it builds, but "the software systems we haven't really focused on as much."
Cloud Foundry now fuels the company's "build, measure, learn cycle" and helps teams deliver new software in just a few months, rather than what used to be years, Yildirim said. "And now we're able to iterate on a daily basis on our designs."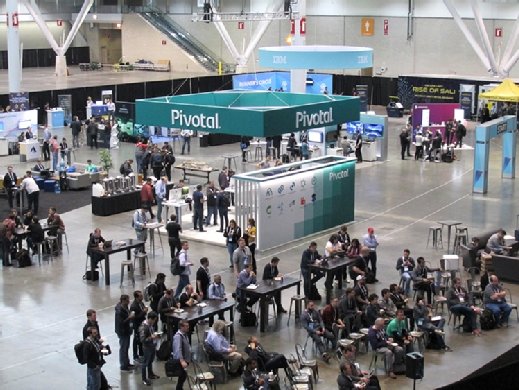 Collaboration matters
The platform as a service, which runs on any cloud provider's infrastructure, brought about internal process improvement, the IT leaders said, because it masks infrastructure complexity and improves collaboration across the business.
"I really don't want to think about infrastructure," Yildirim said. For Boeing, Cloud Foundry "made it so obvious that the infrastructure wasn't the problem; it was all the processes around it." Getting the system up and running fast meant Yildirim's team could focus on more important matters -- "rather than, 'Is the install really going to work?'"
Andrea Hirzle-Yager, IT operations department director at German financial services company Allianz, singled out Cloud Foundry's collaborative nature -- projects are shared and worked on among multiple users -- as a beneficial force in a fast-delivery environment.
"All of a sudden, you have to talk to your security guy; they have to be part of the team -- the architects, everybody," Hirzle-Yager said. "Everybody's around the same table trying to get this stuff out the door as quickly as the technology allows you to do it."
The collaborative aspect of Cloud Foundry deployments has helped improve communication at Zipcar, too, said Andy Rosequist, director of IT operations at the car-sharing company. He gave the example of a business user that runs into problems in a piece of internally developed software.
"When it's fixed an hour later, you have a reason to keep coming back and talking, instead of it being, 'Oh, it's going to take us a year to fix this' -- everyone just lives with the pain, no one engages and there's this cycle of distrust," Rosequist said. "By having that speed of execution, there's an incentive to talk to each other, because you can actually see results of that conversation go live and impact directly."
Internal politics and bureaucracy were a byproduct of moving fast on software development at Boeing, Yildirim said. To overcome that, IT and the development teams work tightly with the business on software projects, so both sides understand "what are we trying to accomplish."
"They work together and they eat breakfast together and they just really talk to each other -- and as a result, they deliver daily," Yildirim said.
'The needs of the users'
Attendees Geri Jennings and John Tuttle, software engineers at information security company CyberArk, based in Newton, Mass., don't have Cloud Foundry deployments themselves -- their customers do -- but they echoed some of the same themes of quickly delivering software and improving the experience of users, both internal and external.
"We have heard from customers that they really love how productive their engineers are using Cloud Foundry," Jennings said. "They're able to release a lot more new code, and I think that's exactly the thing that allows that feedback loop to become smaller so that you hear more rapidly whether what you've done is useful or not."
Jennings and Tuttle are on the team that produces Conjur -- the Massachusetts company was acquired by CyberArk in 2017 -- which helps IT operations and developers secure the software development process. They create integration for Cloud Foundry, allowing users to secure passwords and credentials and access outside applications. The pair visited the Boston convention to learn about new features and capabilities in Cloud Foundry. For example, Jennings was impressed by improved information security in the container management system Diego, which can now install certificates on individual application instances.
Such information security improvements will help the Conjur team "make sure our product is best serving the needs of the users," Tuttle said.