metamorworks - stock.adobe.com
AI in ITSM equals 'service intelligence' -- ITSM's next frontier
AI in ITSM, or 'service intelligence,' is the next logical step in IT's mastery of professional service delivery. ITSM expert Jan-Willem Middelburg lays out four use cases.
Automation, machine learning and AI are the buzzwords of today. Investments in these domains are rising steeply,...
Continue Reading This Article
Enjoy this article as well as all of our content, including E-Guides, news, tips and more.
and the adoption of these practices are increasingly more embraced by enterprise organizations, according to recent research from McKinsey & Company on the business impact of data. In the past few months -- at conferences, media and events -- I have been hearing a new buzzword that is surfacing: service intelligence. In this article, I take a deep dive to explore what this means and what its practical use is in the context of enterprise IT.
What is service intelligence?
Very simply stated, service intelligence is the contraction of the domains of IT service management (ITSM) and artificial intelligence. In this context, AI in ITSM involves applying new AI models and algorithms to the long-established discipline of delivering IT services. By applying statistical or machine learning algorithms to the vast amounts of customer data that is collected by IT service providers, core capabilities of the service delivery process can be enhanced and optimized. Put plainly, service intelligence puts the smart into ITSM.
For years, IT service providers (whether insourced or outsourced) have been collecting a wealth of data about infrastructure, services and customer behavior. ITSM tools, configuration management databases and asset management tools are literally swamped with terabytes of data that can tell a great deal about the organization and the services it provides. Whereas this used to be a cost center, more and more organizations realize that ITSM functions literally sit on a wealth of information. Service intelligence is a structured attempt to unearth the value that is captured into these systems. What if you could predict the malfunction of services or identify future vulnerabilities in your IT infrastructure? Would that not be a great strategic value?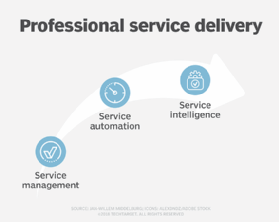 AI in ITSM, or service intelligence, fits into IT's trend toward professional service delivery. It started with IT enterprises needing to have control over their assets and services, for which sound processes and skills were required. The global adoption of ITSM best practices and ITIL find their roots in these requirements. A new trend arrived with service automation and DevOps, whereby organizations focused on automating manual steps in the service delivery process in order to speed up time-to-market and increase the quality. In my opinion, service intelligence is a logical next step; AI in ITSM builds on the trend by analyzing and taking action on the data that is collected through automated systems. It is much more comprehensive to apply algorithms to data that's collected through self-service portals and virtual machines than it is to analyze phone calls about physical IT infrastructure.
Four practical applications of service intelligence
It is much more comprehensive to apply algorithms to data that's collected through self-service portals and virtual machines than it is to analyze phone calls about physical IT infrastructure.
The first and most important aspect to understand about service intelligence is that it applies standardized machine learning and AI algorithms to ITSM data. In order to fully understand (or devise) in which areas service intelligence can help organizations, some basics on AI algorithms are required. Although there are hundreds of potential applications, in this article I will focus on some examples that are specifically used in the context of using AI in ITSM.
1. SLA performance prediction
Using correlation and regression models applied to the assets with which services are delivered, it is possible to build predictive models that indicate the likelihood that an organization will be able to achieve its service-level agreement (SLA) and performance indicators. With these insights, organizations are able to adjust focus in time so that they can allocate resources more efficiently to optimize SLA performance.
2. Preventive CI maintenance
By grouping and analyzing incidents to configurations items (CI), it becomes possible to see which elements (or infrastructure components) are most likely to cause disruptions to service delivery. With this information, organizations can work to make their services more resilient, or replace components that are likely to cause problems toward the future.
3. Text analytics support routing
Using text analytics algorithms and analysis tools, incidents can be categorized into groups and, subsequently, automatically assigned to the person (or team) that is most skilled to deal with the specific request. Especially in larger organizations with different specializations, this can greatly enhance speed. Request and problems are immediately sent to the right people, and it is possible for every support analyst to specialize into different areas.
4. AI-driven phone support
Using sentiment analysis algorithms, which can detect emotions in the words or speech of a customer, systems can learn which services are appreciated by customers and which can be further improved. With these solutions, it is possible to customize the response toward customers based on the emotions they are experiencing. A different answer is given when a person is detected as being angry, instead of when that person is happy.
Buzzword here to stay
The examples above are just some of the use cases that explain the vast amount of possibilities of using service intelligence. And I think the number of use cases for AI in ITSM will grow exponentially.
The quality of a service -- known as the service experience -- is, to a large extent, determined by the way an experience is shaped. How quickly is the service back up and running, and how nicely were we supported? Service intelligence (and its applications) might be a very suitable solution to address this problem in the near feature. So, I think is safe to say that service intelligence is a buzzword that is here to stay.
Dig Deeper on IT applications, infrastructure and operations