How to effectively manage your IT team working from home
For IT staff to be able to work and provide support for other employees in a remote setting, organizations must first ensure they have the proper setup and infrastructure in place.
When the COVID-19 pandemic caused work-from-home orders around the world, IT leaders and their teams acquired mounting responsibility to ensure millions of home workers have the hardware, apps and secure, high-performance connectivity they need to do their jobs.
But in order to do that effectively, CIOs and other IT leaders must make sure their IT team working from home has the right infrastructure to manage all the other new home offices. They must consider the four following key areas: connectivity, security, hardware and applications, and training and management.
Setting up IT for success
Connectivity: IT staff members who are doing remote troubleshooting for employees, diagnostics for remote apps or any specific responsibility that requires reliable connectivity should have business- grade internet access. Those supporting C-suite executives or crucial applications may consider backup internet access from a second provider.
Security: Though all employees require secure VPNs and multi-factor authentication when accessing applications, an IT team working from home may have a different set of challenges. They must have access to protected systems, or these for which access was only previously allowed from within the data center or network hub. It may require an alternative access method other than the main company VPN. If that's not possible, IT may have to manage certain apps on premises.
Key hardware and applications: IT teams require the same basic technology kit as other knowledge workers: laptop, headset, cell phone, video conferencing apps, video camera and team collaboration apps, to name a few. In addition, they typically need at least two computer monitors to effectively troubleshoot an employee's issue through remote access on one screen, while reviewing guidance on how to resolve the problem on the other screen. Though they will communicate via video conferencing, they won't need the special lighting they may be supplying to knowledge workers who are producing video conferencing sessions for public consumption, for example.
Training and management: CIOs and other IT leaders must use video conferencing and team collaboration applications to manage and train their IT team working from home. Brief, daily calls to plan out the day and week are essential -- and given the team is remote, video calls can make teams feel more connected. Team collaboration workspaces help to coordinate management of business units, applications or specific problems. Beyond day-to-day management, IT leaders must train their staff on how to efficiently address worker problems, provide recommendations on home office setups, manage cloud providers and keep IT projects on schedule.
Providing the best work-from-home environment for other employees
When IT teams working from home are appropriately equipped, trained and managed, they can develop, support and empower remote knowledge workers. They are particularly focused on making sure voice and video quality are working well for employees.
According to Nemertes Research, 64.9% of organizations are supplying web cameras and 57.5% are providing headsets. Beyond that, 33.8% are providing speakerphones to enhance sound quality and 14.9% are providing lighting to enhance the video quality. Nearly a quarter of companies are also providing executive desktop video systems for key employees.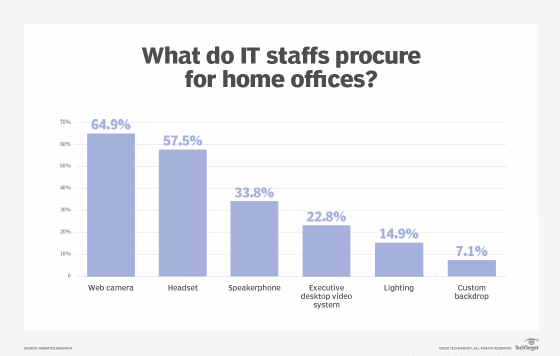 In years past, employees working from home offices did not get much IT support. That has changed. It's become critical for technology to perform exceptionally for remote workers, considering that 73% of organizations said they will keep employees working from home either full- or part-time for the foreseeable future.
Nearly 43% of IT staffs do a remote or on-site assessment of home Wi-Fi to make sure all router settings are optimized and to determine whether the signal is strong enough to reach the employee's home office. About one-third also help employees select the best ISP plan and more than one-third are regularly monitoring voice and video quality by using management tools such as those from Oracle, Unify Square, Voss and Vyopta, among others.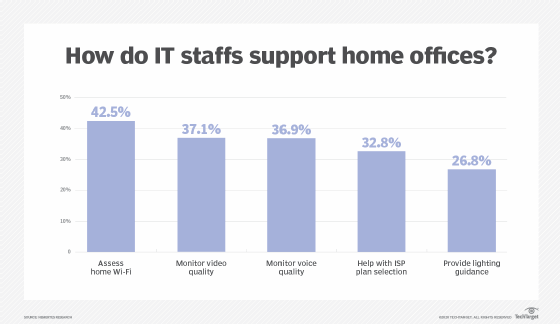 As companies continue with work-from-home strategies, they must ensure the IT team itself is appropriately equipped to keep employees' home offices operating as close to flawlessly as possible. Some may be accustomed to being on site, so they must be trained on remote troubleshooting to ensure a smooth and professional experience. In addition, those IT staff members not involved with end-user support must have the tools and guidance they need to remotely manage systems and applications that they would otherwise be managing locally.