Post COVID-19 strategies for CIOs on leading through crisis
To see their companies through the current crisis, CIOs should consider these five strategies focused around IT budgets, innovation, cybersecurity, trusted data and employee wellness.
Over the past two months, Sapphire Ventures has hosted weekly roundtables with CIOs on the topic of leading through crisis, speaking with more than 50 enterprise CIOs to learn about their experiences navigating the post COVID-19 world. We've been developing a picture of how CIOs are adapting to the pandemic and its impact on the workforce. In addition to understanding how CIOs are adapting to remote work, we've learned that CIOs are writing new playbooks for adapting to remote workforces, reprioritizing IT budgets and planning for workforce reentry.
The reality of new remote work paradigms has surfaced as Facebook announced plans for a permanent shift to remote work and Google CEO Sundar Pichai said employees will likely work from home for the remainder of 2020. As many of us move into month four of quarantine, working from home is looking more indefinite than temporary. As a result, CIOs are developing strategies to support longer term remote work and enable company-wide digital transformation, not in a matter of years but months.
In speaking recently with dozens of CIOs and IT leaders from companies such as Citrix, Sinclair Broadcast Group and DocuSign, we've observed a set of critical strategies (and technologies) that we believe will define the crisis-era CIO in the post COVID world -- the kind of IT leader who will lead through technology to come out of this crisis stronger.
1. Build IT elasticity
IT leaders will continue to face economic uncertainty, shrinking IT budgets and a workforce reentry process that will be unpredictable at best given the prospect of resurgent outbreaks and more abrupt shutdowns. In the face of this ambiguous outlook, we are seeing seasoned CIOs focus on building agility into their operations. Several have indicated that despite a new focus on cash preservation and budgetary discipline at their companies, they are actually accelerating their adoption of cloud, automation and artificial intelligence (AI) technologies. These technologies will allow CIOs to quickly adapt to potentially large shifts in demand for IT services, rapidly scaling up and down their ability to serve dynamic workforce needs without major changes to IT staffing and resources.
Elasticity and agility in IT are now critical across everything from operational back-end processes to data modeling. We saw employee IT tickets at enterprises skyrocket in the weeks following company shutdowns.
In short, companies that are embedding agility via automation, AI and new approaches to work will be better able to survive and thrive during the crisis. As Meerah Rajavel, CIO of Citrix noted during one of our CIO roundtables, the new "agility muscle" being flexed by many IT teams right now will eventually become a permanent asset. IT organizations that are learning to move faster now will sustain greater speed for a long time and across the business.
2. Champion innovation
While keeping the lights on will be a focus for many industries during this crisis, CIOs can (and should) find room for innovation during times of turbulence. This can be in the form of continued startup engagement, investing in greenfield projects unrelated to immediate survival or experimenting with new ways to digitize customer engagement. Many of the CIOs we spoke with are hungry for new solutions in areas such as digital whiteboarding, contact tracing, social distancing technology, remote learning tools, onboarding solutions, e-commerce and employee wellness tracking tools. We expect that startups will heavily contribute in these areas, and enterprises will be able to continue building their innovation muscle by engaging with them. As we learned in our 2019 "CIO Innovation Index" study, a popular way for CIOs to keep the innovation engine running, while also boosting the pace of product delivery, improving customer experiences and more, is to tap the startup community for emerging technologies.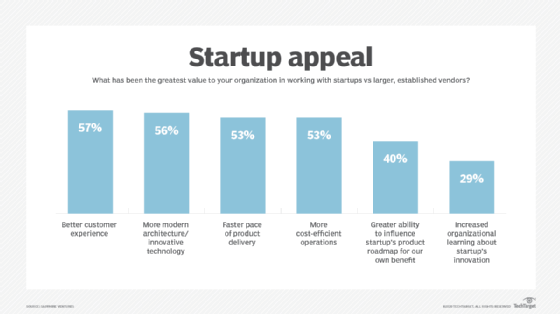 Now more than ever, CIOs have the opportunity to be custodians of innovation within their organizations despite uncertainty and disruption. Companies that quickly adapt to current market changes and find breathing room for innovation will reap rewards over the long term.
3. Double-down on cybersecurity
The attack surface has multiplied for external cyber attacks, as well as the potential for data privacy missteps as companies accelerate work from home and digitization initiatives in response to COVID-19. Spear phishing email attacks increased more than 600% as of March. Many CIOs and CISOs we have spoken with have reported similar spikes in malicious threat activity. Beyond external cyberthreats, many enterprises will end up as reluctant overseers of sensitive employee data as new troves of personal information emanating from daily temperature checks and granular tracking of employee at-home productivity will place a larger responsibility for robust cybersecurity and data privacy.
Next-gen cybersecurity is crucial as companies work to mitigate potential attacks when remote employees are using unsecured internet connections to access corporate cloud data. CIOs and CISOs are adapting to this shift by using endpoint security technologies to monitor all devices, strengthening firewalls and stress test their cybersecurity capabilities. "This transition [to remote work] may have identified some skeletons in the closet -- it's a good opportunity to take stock of your environment and identify gaps, limitations and vulnerabilities," said Brian Bark, CIO at Sinclair Broad Group during one of our roundtables.
4. Ensure a consistent flow of trusted information
An interesting finding coming out of our roundtables was that companies created a single point of truth for information around COVID-19, the business and technology. The IT organization is a natural conduit for data and information, which is even more important during rapidly changing situations. If CIOs can properly enable this flow of trusted information, their team could remain that crucial conduit even once the crisis has lessened.
In times of increased confusion and misinformation, trusted data is a lifeline to the business. IT organizations should ensure that they've invested in the necessary infrastructure to collect, clean and share data.
5. Advocate for employee wellness
Crisis CIOs are demonstrating flexible management, promoting virtual community-building, engaging their teams more regularly, enabling remote collaboration and addressing the mental health toll of the current situation. Personal leadership and empathetic management have been major themes in our discussions. Connecting employee wellness with enabling technology tools is the next step.
A focus on employee wellness is not limited to the impact remote work is having on employees. Understanding employee sentiment and managing employee well-being should inform the pace of workforce reentry. As Gartner's chief of HR Research, Brian Kropp, writes, failing to develop a reentry strategy centered around employee wellness will have negative effects on retention, productivity and company reputation.
CIOs need to act now
Now is the time for IT leaders to adapt to the current reality, and for CIOs to lead the way via technology. Companies that maintain focus on digital transformation by prioritizing automation and AI, engaging with innovative startups, bolstering cybersecurity and actively supporting their employees and customers will be one step ahead of the competition as we continue to see where and how we work evolve.
About the author
Shruti Tournatory is the head of business development and go-to-market (GTM) at Sapphire Ventures. Tournatory leads Sapphire's business development and GTM consulting team globally with a focus on revenue acceleration for Sapphire's portfolio companies. The team is responsible for leveraging and growing Sapphire's enterprise CIO and CXO network, connecting portfolio companies with new customers and partners, and aiding portfolio revenue leaders in developing successful go-to-market strategies. Under Tournatory's leadership, Sapphire has also developed unique forums and assets such as the annual CIO Summit and CIO Innovation Index, which drive value for startups and corporate innovators alike. Previously, Tournatory was a senior director of product management at SAP, driving rapid customer adoption at SAP's top accounts and developing technology and distribution partnerships with startups and tech giants.
Disclaimer: Nothing presented within this article is intended to constitute investment advice, and under no circumstances should any information provided herein be used or considered as an offer to sell or a solicitation of an offer to buy an interest in any investment fund managed by Sapphire Ventures. Information provided reflects Sapphire Ventures' views as of a time, whereby such views are subject to change at any point and Sapphire Ventures shall not be obligated to provide notice of any change. Some content and views contained within this article represent those of the authors presented, which do not necessarily reflect the views of Sapphire Ventures LLC. Such views are subject to change at any point and do not in any way represent official statements by Sapphire Ventures, LLC. While the authors have used reasonable efforts to obtain information from reliable sources, we make no representations or warranties as to the accuracy, reliability, or completeness of third-party information presented herein, which is subject to change. Companies mentioned in this article are a representative sample of portfolio companies in which Sapphire Ventures has invested in which the author believes such companies fit the objective criteria stated in commentary, which do not reflect all investments made by Sapphire. A complete alphabetical list of Sapphire's investments made by its direct growth and sports investing strategies is available here. No assumptions should be made that investments listed above were or will be profitable. Due to various risks and uncertainties, actual events, results or the actual experience may differ materially from those reflected or contemplated in these statements. Nothing contained in this article may be relied upon as a guarantee or assurance as to the future success of any particular company. Past performance is not indicative of future results.