Fotolia
Salesforce adds contact tracing, employee wellness to Work.com
The hub uses a number of tools like response management, employee wellness assessment and shift management to help companies reopen and bring employees back to their offices.
Salesforce's upcoming Work.com technologies will provide resources for businesses reopening their doors amid the COVID-19 pandemic.
Work.com Command Center acts as a single hub that allows users to explore tools for requirements such as contact tracing to smooth the transition from home offices to corporate offices. Not only this, but Salesforce has partnered with software vendors such as Traction Guest for visitor management, Fusion Risk Management and ComplianceQuest's quality and compliance management tool.
"Work.com is about getting everybody to the office, getting business conducted again, allowing people to be able to meet with confidence and return to this new normal," said Keith Metcalfe, CEO of Traction Guest.
Salesforce is also working alongside companies like Accenture, Deloitte and PwC to give guidance to companies that are beginning to reopen and provide them with the necessary software and information to do so safely.
Many businesses reopening their doors in the coming months need a way to track who is coming and going from their locations, and also need to implement safety processes and procedures to communicate with visitors before they arrive. Those functions and more are provided through Work.com and Salesforce's software partners, Metcalfe explained.
Additional features provided in Work.com include:
Contract Tracing. Allows public and private sectors to collect data from those infected or exposed to a disease and create a virtual map of these interactions.
Emergency Response Management. Includes products built in partnership with Accenture to help health organizations and government agencies manage various emergencies, help those affected and allocate resources and services.
Employee Wellness. Helps companies gather data on employees through employee health surveys, monitor wellness trends and use this information to determine when employees should come back to work.
Shift Management. Prepares companies for the transition back to offices and help manage office density.
MyTrailhead for Employees. Brings new training and content to Trailhead for employees to help them prepare to return to the office.
Volunteer and Grants Management. Coordinates and automates grant lifecycles and matches volunteers to the right events.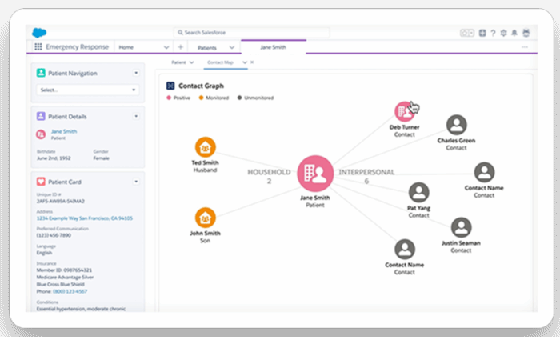 There could be challenges in the way companies go about safely and ethically dealing with a situation involving an employee or visitor that poses a COVID-19 risk after the software has detected them, said Lee Odess, CEO of Group337, a tech consultancy.
"It's one thing for you to get an alert from your system that says that somebody just showed up in your lobby with COVID. So then, what do you do? Not only that, but how do you do it properly and ethically?" Odess said.
Although Work.com has not launched yet, New York City officials recently said they will partner with Salesforce to build a contact tracing program in response to COVID-19.
Emergency Response Management with contact tracing is expected to be available this month as part of a suite that includes Health Cloud, Service Cloud, Lightning Scheduler and Salesforce Maps, and a new add-on product called Emergency Program Management. Work.com Command Center and Shift Management are expected to be available some time in June at an introductory price of $5 per user, per month. New MyTrailhead employee learning and content will be available in June as well and is priced at $25 per user, per month.