Salesforce Safety Cloud debuts for event vaccination proof
Salesforce launches new cloud to aggregate COVID-19 testing and vaccine information for users hosting customer and employee events, with more to follow later in 2022.
Salesforce Safety Cloud, introduced last week, manages COVID-19 testing, proof of vaccination and health status data for users hosting conferences and marketing events. Later this year, Salesforce plans to add workplace tools that could help Salesforce users enforce vaccine mandates for in-person employees returning to work.
At the center of Safety Cloud is Dreampass, a vaccine passport that digitally marries identification and proof of vaccination with multifactor security. Users can also fold in health self-reports and manage contact tracing through Safety Cloud as well as automate building entry with Dreampass.
Salesforce Safety Cloud augments previous workplace tools released on Work.com that enable users to socialize while still following their companies' safety protocols and policies. Dreampass is integrated with CommonPass, a digital standard developed by the nonprofit Commons Project that has been adopted by governments of Hawaii, Germany and Aruba, among others, to validate health status of travelers.
Governments move slowly adopting standards for things like vaccine passes, said Rebecca Wettemann, CEO of analyst firm Valoir. Companies that want to move quickly and bring employees back to offices as well as host customer events but be compliant with local health protocols may have to rely on technology from companies like Salesforce instead of waiting for the public sector to agree on digital vaccine passport standards.
"One of the goals of Salesforce is to be on every desktop," Wetteman said. "What they're doing with Work.com and Slack is part of expanding to more users and more desktops within companies. So obviously, this is certainly one way to get there."
Salesforce designed Safety Cloud to be adaptable to new rules and regulations, as well as employer needs that might be additional to local mandates, said Geeta Nayyar, MD, Salesforce senior vice president and chief medical officer.
"It really offers a solution to evolving testing protocols involving vaccination and public health guidelines as they evolve," Nayyar said. "We've essentially found a way to automate that entire process in a way that's scalable, secure and that provides privacy for everyone involved."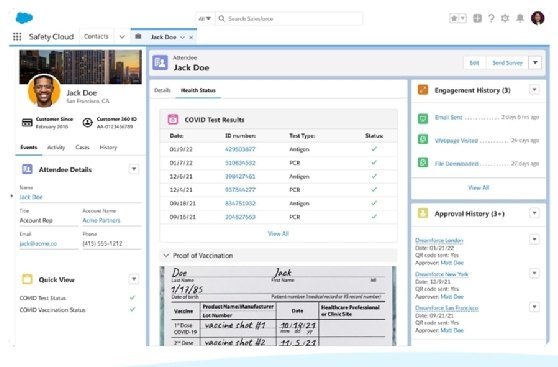 The case for vaccine passports in the workplace
Vaccine passports -- the digital kind -- might be a new concept, but paper versions aren't new to travelers. Long before COVID-19, many countries began to prohibit entry without proof of vaccination for certain diseases.
Employer vaccination policies must be created with equity and privacy in mind in order to comply with U.S. Equal Employment Opportunity Commission principles, according to Mercer, a workforce consultancy.
If vaccine passport technology isn't rolled out thoughtfully, employers can risk raising concerns about employee surveillance or creating punitive outcomes -- even though the intent is to get employees back together or traveling to meet clients, said Ben Hoster, director of transformative technologies at Mercer sister company Marsh McLennan.
That puts employers in a tough spot.
"The expectation really is that corporate and private companies manage this in a way that's compliant with their local regulations, CDC guidelines and whatnot," Hoster said. "It's a case-by-case decision that each corporate leader needs to make."
Hoster offered advice for companies considering vaccine passports and related technologies: First, determine what work can and should be done remotely versus what must be done in person. Second, roll out the program in a way that fosters employee trust -- or adoption will fail. Then comes the evaluation of vendor features, capabilities, cost and the other aspects that typically factor into a technology purchase.
COVID-19 protocols and mandates may be winding down in many states. In the future, however, new health-surveillance use cases may emerge in which employers find utility for vaccine passport technologies to help keep employees safe, Hoster said.
Don Fluckinger covers enterprise content management, CRM, marketing automation, e-commerce, customer service and enabling technologies for TechTarget.