carloscastilla - Fotolia
Cloud conferences to watch out for in 2020
Cloud professionals need to keep up with the latest strategies. If you're looking to attend a few cloud conferences in 2020, these are the ones worth packing your bags for.
Editor's note: Due to concerns over the spread of the COVID-19 virus, many conferences have now been postponed, canceled or switched to virtual-only. For the latest information on cloud and tech conference cancelations, please refer to this news story.
Cloud conferences offer the chance to collaborate with other professionals, consult experts and demo the latest tools. However, few professionals have the time or travel budget to make it to every show.
IT professionals must choose the specific cloud conferences that meet their personal and company objectives -- be it to kick-start their path to certification or simply network with other cloud business leaders.
Cloud-related conferences come in all shapes and sizes, from smaller shows like the Gartner Catalyst Conference and OpenDev to the larger vendor conferences that can take over a portion of a city for a few days. In 2020, cloud conferences will be hosted in cities across the U.S., including Chicago, Houston, Las Vegas, New Orleans, New York and San Francisco.
Keep an eye out for some of the traveling shows and summits, such as Microsoft's Ignite The Tour and the AWS Summits. Even if you don't have the time or money to attend a 2020 cloud conference, most keynotes and sessions will be on YouTube after the show. And while this rundown focuses on North American cloud conferences, a lot of shows, Cloud Security Expo and OpenDev + PTG for example, put on a global equivalent as well. The AWS Summits program and Microsoft Ignite The Tour also span most of the globe.
To get a better sense of the 2020 cloud conferences to attend, check out this rundown.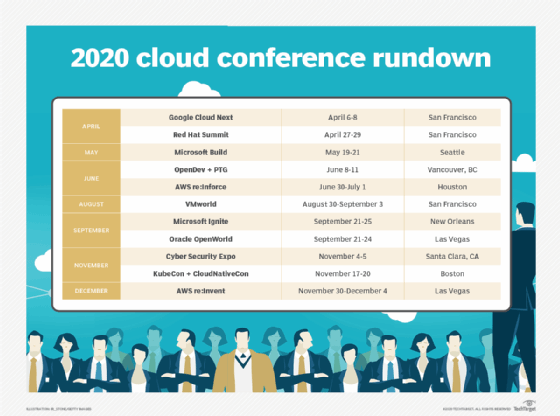 IDC Directions
March 10
Boston
IDC's 55th annual Directions conference is devoted to analyzing a digital, agile operating model. The conference includes six keynotes and enterprise-focused breakout sessions run by IDC analysts. IDC analysts are also available for 30-minute, one-on-one meetings. IDC also hosts this show in Santa Clara, Calif on March 4.
Microsoft Ignite The Tour
April 15-16
Chicago
Microsoft Ignite The Tour is a free, consolidated version of Microsoft Ignite 2019, with a focus on certifications and training. It's already run through Toronto and Washington D.C., and will make its way to Chicago in April, as well locations throughout Asia Pacific and Europe in May 2020. If you're based in the U.S., your best chance is to catch the show this spring.
Google Cloud Next
April 6-8
Virtual
Due to concern over the COVID-19, Google Cloud has decided to cancel the physical conference and make this show digital. Originally slated for San Francisco, the conference will only be available online. However, it is now free.
This show will outline Google Cloud's latest technologies and strategies. Google Cloud Next focuses on learning and networking through collaboration, with tracks that cover platforms by topic -- application development, security and serverless, for example. There are also industry tracks for retail, healthcare and financial services.
AWS North American Summits
San Francisco -- April 14
Ottawa -- May 6
Washington, D.C. -- June 2-3
Toronto -- June 25
New York -- July 9
Anaheim, Calif. -- Aug. 6
Chicago -- Aug. 27
Atlanta -- Oct. 1
AWS Summits bring AWS experts and information sessions to nearly every technology hub around the globe. These are free events that attract local technologists to follow breakout sessions, demonstrations and workshops on AWS tools and practices.
Red Hat Summit
April 27-29
San Francisco
Red Hat Summit is an open source technology event that drew just under 9,000 attendees in 2019. It focuses on practices regarding cloud, Linux, automation and container technologies. It also offers on-site Red Hat training and certification opportunities. This will be the first Red Hat Summit since the vendor was officially acquired by IBM.
Microsoft Build
May 19-21
Seattle
Microsoft Azure has earned a strong reputation with developers, and this conference is a key part of that. Microsoft Build attracts developers and architects across industries from around the globe. Microsoft Build is a chance to learn new techniques and tools to use in your cloud environment.
OpenDev + PTG
June 8-11
Vancouver, B.C.
This OpenStack Foundation event is a hub for developers, system architects and admins to discuss common open source infrastructure challenges and come up with productive answers to these problems. This year's event will assess four main topics -- hardware automation, large-scale use of open source infrastructure software, containers in production and key challenges for open source in 2020. The OpenDev portion will take up the morning discussions, then teams will codify the morning discussions in the Project Teams Gathering session.
AWS re:Inforce
June 30 - July 1
Houston
AWS will host its second security conference dedicated to educating its users on cloud security and compliance. The first re:Inforce, held in Boston in 2019, featured a keynote from AWS CISO Steve Schmidt, along with hundreds of security-focused breakouts and learning sessions. AWS re:Inforce 2020 should follow a similar pattern and will offer attendees a chance to learn AWS security best practices.
Gartner Catalyst Conference
Aug. 24-27
San Diego
In this show, Gartner's team of independent experts and researchers offer a deep dive into and answer questions on the most challenging IT topics. In 2019, Gartner presented over 150 sessions based on its latest research. Gartner experts highlighted the changing roles and skills in the era of cloud and DevOps.
VMworld
Aug. 30 - Sept. 3
San Francisco
Hosted by VMware, this is one of the largest digital infrastructure shows in the world. VMworld typically attracts a wide mix of IT professionals and executives. While VMworld isn't exclusively dedicated to the cloud, it has included discussion and session tracks on hybrid and multi-cloud in recent years.
Microsoft Ignite
Sept. 21-25
New Orleans
While Microsoft Ignite focuses on the whole of Microsoft's business, attendees should expect Azure announcements and improvements. Some of the most popular 2019 sessions explored Azure capabilities, such as "Azure Active Directory: New feature and roadmap" and "Top ten best security practices for Azure today." This is a chance to meet with Microsoft experts within the cloud community and learn new techniques and tools.
Oracle OpenWorld
Sept. 21-24
Las Vegas
In 2020, the database giant will move its annual convention from San Francisco, where OpenWorld has been based since 1997, to Las Vegas. OpenWorld is one of the biggest IT shows in the world, attracting over 60,000 attendees. In 2019, OpenWorld featured more than 1,600 sessions across a range of cloud and database topics as well as experience levels. As in years past, Oracle Chairman and CTO Larry Ellison will set the agenda and spar with competitors in his keynote. OpenWorld is a chance for the database heavyweight to remind users and C-level executives of its history in the space, but also a chance for it to differentiate itself from the other big cloud vendors.
Hosting & Cloud Transformation Summit
Oct. 5-7
Las Vegas
This summit, hosted by 451 Research, attracts executes in the SaaS and IaaS space. It focuses on the business value of cloud and DevOps strategies, as well as the technologies your business should invest in. In addition, 451 Research highlights the summit's networking opportunities.
Cyber Security Expo
Nov. 4-5
Santa Clara, Calif.
Over 12,000 attendees working in a range of roles from C-level executives to IT admins and security specialists are expected to attend this security expo. The show covers security issues around IoT, cloud, big data, healthcare and more. It's a chance to look at real case studies and listen in on panels and presentations from enterprise industry experts, such as security directors from Adobe, Ford, eBay and more.
KubeCon + CloudNativeCon
Nov. 17-20
Boston
Run by the Cloud Native Computing Foundation, this is one of the year's most important open source cloud events. This cloud conference attracts developers and technologists interested in learning about and discussing the future of open source cloud native technologies, such as Kubernetes, Prometheus and Envoy, among others.
Gartner IT Infrastructure, Operations & Cloud Strategies Conference
Dec. 7-10
Las Vegas
This Gartner conference is a chance for its team of independent analysts to outline emerging cloud infrastructure trends and strategies. In 2019, the conference prioritized automation, hybrid IT, disaster recovery, as well as scaling DevOps and the impact of IoT. Attendees can tackle the show based on tracks, topics or by related industry.