McCarony - Fotolia
BackupAssist software offers cloud-to-local backup
BackupAssist 365 can be set to automatically download files and email mailboxes from the cloud to an on-premises device, creating local backups as a cloud-to-cloud alternative.
SMB backup software specialist BackupAssist this week added protection for email mailboxes and files stored in the cloud.
The newest BackupAssist software, called BackupAssist 365, lets customers copy email mailboxes and files from the cloud to an on-premises server. The on-premises, off-cloud backup can protect businesses against accidental or malicious data deletion and ransomware.
Unlike cloud-to-cloud backup products that allow organizations to move data from SaaS applications to another public cloud, the new BackupAssist software only backs up to local storage.
Troy Vertigan, vice president of channel sales and marketing at BackupAssist, based in Australia, said the cloud-to-local backup costs up to 75% less than a cloud-to-cloud subscription.
Despite what the BackupAssist software's 365 name suggests, the product works with more than just Microsoft Office 365. BackupAssist 365 lets users back up mailboxes from Rackspace, Microsoft Exchange, Gmail, Outlook and Internet Message Access Protocol servers, as well as files from Google Drive, Dropbox, OneDrive, Secure File Transfer Protocol and WebDAV. BackupAssist CEO Linus Chang said a future update will enable support for the entire G Suite.
George Crump, president and founder of analyst firm Storage Switzerland, said BackupAssist 365 is a good option for protecting data born in the cloud, but he's not sure the vendor's customers are convinced they need that.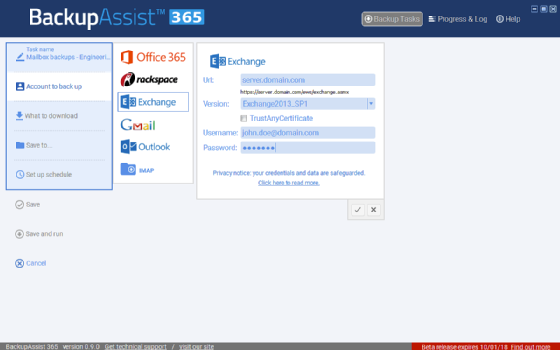 "The big challenge is convincing the entire market that you actually do need to back up Office 365. There's still this misbelief that the cloud is this magical place where data never gets deleted," Crump said.
Although cloud users don't have to worry about hardware failure or disaster recovery, Crump said that merely shifts the risk elsewhere.
There's still this misbelief that the cloud is this magical place where data never gets deleted.

George Crumppresident and founder, Storage Switzerland
"Once you're cloud-based, your concern really isn't disaster recovery anymore. What you're really protecting against is data corruption and account hijack," Crump said.
BackupAssist's Chang agreed his SMB target market needs convincing of the value of cloud backup. "The majority of SMB customers and the vast majority of consumers are not doing any sort of backup whatsoever," Chang said.
Chang said BackupAssist's customers also include managed service providers who are in charge of their clients' data, and BackupAssist 365 can help them stay compliant.
The new BackupAssist software is generally available. Its annual subscription fee is $1 per user, per month, for the first 24 users, and it drops to 95 cents for 25 to 49 users and 90 cents if there are 50 or more users. A user is defined as a single account identity, allowing for one user to back up multiple clouds.