agsandrew - Fotolia
Catalogic launches KubeDR to protect etcd data
Catalogic's new KubeDR tool protects cluster configurations, metadata and certificates, which is data often overlooked by Kubernetes protection tools.
Administrators commonly back up the applications and data inside Kubernetes persistent volumes, but now there's an argument not to leave the cluster configuration, certificates and metadata behind.
Catalogic Software's new KubeDR open source software utility protects the Kubernetes cluster data in etcd, an interface where Kubernetes stores configuration data. The etcd data holds information on the state of the cluster, making it useful for rebuilding the cluster. KubeDR also protects certificates and metadata. KubeDR has many features commonly found in backup software, such as data encryption and deduplication, snapshot retention policies and the ability to write to any S3 compatible storage.

Kubernetes clusters save configuration data in etcd, a key value store for distributed systems. It is a master file of a cluster's settings and essentially tracks the "state" of a stateful volume.
Catalogic's chief operating officer Sathya Sankaran claimed it developed KubeDR because many backup products available on the market don't protect the data in etcd. Data protection for Kubernetes usually refers to the data and applications within the volumes, but not any of the data related to the clusters.

"That's the gap we wanted to cover," Sankaran said. "Everyone's worried about the volumes, but the config data lets you rebuild the cluster."
KubeDR is the first release out of Catalogic's new cLabs initiative, which introduces products to the open source community. Sankaran said KubeDR is Catalogic's contribution to the open source community and there is currently no plan to release a Catalogic-supported version of it.

"Right now, it's about getting people to protect this data set and get feedback," Sankaran said.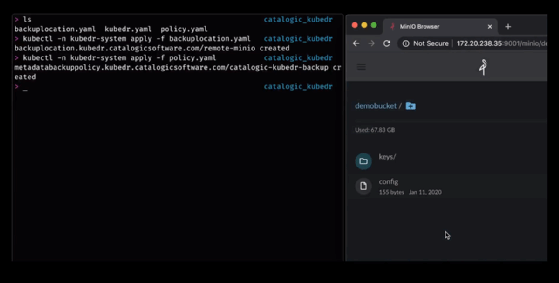 Steven Hill, a 451 Research senior analyst, compared etcd to Windows registry for Kubernetes, and described it as a constantly changing database. He said restoring a Kubernetes cluster without its metadata is possible, but it's a manual process.

"You're building out a relatively complex system, but you don't have a model for protecting the configuration of that system," Hill said.

Hill agreed that there are no backup products specifically targeting etcd. However, he said the market demand for it might not be there yet, and he believes it's smart of Catalogic to release KubeDR as an open source project first and gauge its adoption and interest.

Hill said part of the reason why the gap Sankaran described exists is because there is no way to protect etcd data at scale. He said to gain enterprise interest, a product or capability must have management, control and scalability.
Sankaran added that the Kubernetes protection market is moving fast, with vendors working on protecting the most important data -- what's in the volumes -- first. The cluster configuration data is less important to businesses, but Sankaran said the time has come to protect it.
Hill said KubeDR is a little ahead of the game. The Kubernetes data protection market is still maturing, and customers are working out what exactly they need. KubeDR opens up the possibility of programmatically orchestrating the cluster recovery and rebuilding process, which Hill said strengthens the argument for protecting etcd data.

"It goes back to the question of how important it is to protect etcd. The answer is: more and more," Hill said, adding that persistent volumes in containers went through a similar adoption period.
Data protection vendor Catalogic Software spun off from data management software company Syncsort in 2013. Catalogic ECX copy data management software is its flagship product, but it owns a stake in Poland-based backup vendor Storware, which sells agentless backup for open VMs such as Nutanix AHV, Red Hat and KVM. Catalogic is headquartered in Woodcliff Lake, New Jersey.

Sankaran said Catalogic collaborates with Storware on open source projects, but KubeDR came solely from Catalogic's core team.
Dig Deeper on Data backup and recovery software