Greg Blomberg - Fotolia
Assureon archive is fast, but shouldn't replace backup
Nexsan Assureon 8.3 ramped up retrieval speeds, making it suitable for backup and DR. However, relying on the archive appliance for multiple use cases carries its own risks.
Assureon's archive appliance offers fast enough restores that some customers are using it as backup. But should they?
Version 8.3 of Nexsan's Assureon immutable archive appliance introduced RDMA over Converged Ethernet (RoCE) support. This enables direct data movement between devices and bypasses the networking stack, leading to faster data transfer. Nexsan claims speeds of up to 40 Gb/s over ethernet. The outcome of this is faster data restore.
Assureon is object-based storage with file fingerprinting and serialization. The fingerprinting and serialization features, along with the authentication and consensus algorithms surrounding them, are what Nexsan is now calling Assureon Private Blockchain. It is not new to version 8.3.
"We've been doing it for a while, we're just pulling the covers back a little," said Rod Harrison, vice president of engineering at StorCentric, Nexsan's parent company.
Data stored within objects are immutable by design, and the device makes two copies of files and their corresponding fingerprints by default. Nexsan claims these security features make Assureon ideal for compliance and ransomware defense when it comes to large unstructured data sets.

Cloudian and Quantum are among vendors that offer object-based appliances suitable for archiving. Archiving can also be achieved through public cloud offerings such as Amazon S3 and Azure Blob.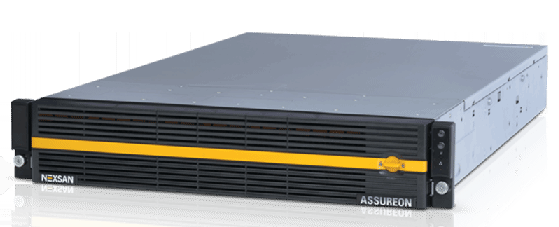 No need for speed
Although Assureon is designed to be an immutable archive device, Harrison said some customers use it for backup. These customers use Assureon Private Blockchain to provide chain of evidence for their backups. Harrison said many of Assureon's customers are in the healthcare and payment card industries, so compliance is especially important to them. The backup use case demands faster restore speeds compared to archiving, and the newly introduced RoCE support caters to that.
Steven Hill, 451 Research senior analyst, said 40 GB per second is a lot of speed for an archive appliance. Archived data isn't meant to be accessed frequently, so such a high level of performance is generally unnecessary.

"It's weird to devote this kind of speed to an archive," Hill said.
If you're going to put all your eggs in one basket, it better be a damn good basket.

Steven HillSenior analyst, 451 Research
Hill said customers can meet their backup RTOs with this speed, but he cautioned against using Assureon as primary backup. If a single product is responsible for both backup and archiving, then it becomes a single point of failure for both use cases.
Hill suspects customers are conflating backup and business continuity/disaster recovery, both of which are use cases Assureon can handle. Assureon can be a repository for long-term storage of data that is rarely accessed, while also offloading that data from primary storage. It could also be a place to hold an extra copy of production data that constantly updates so that it can be quickly restored if the primary copy is lost. Hill said customers should decide which of these roles Assureon should play, but it should not be both at the same time.
Given Assureon's restore speeds, Hill could see why it would be tempting to use the archive as backup, but he warned that customers should know what they're getting into.
"If you're going to put all your eggs in one basket, it better be a damn good basket," Hill said.
Hill found it ironic that Assureon customers are using the device for backup to better fulfill compliance obligations when immutability and archiving run counter to GDPR's and CCPA's right to be forgotten. He said specifically deleting individual files and data from backups to prevent accidentally restoring them is already a challenge, and introducing immutability just makes it harder.