ra2 studio - Fotolia
Backblaze cloud offers free S3 migration service
Backblaze provides a point-and-click migration service out of Amazon S3. In related news, the Backblaze S3-compatible APIs became generally available.
Cloud storage and backup provider Backblaze is helping customers make the jump from S3 to B2.
Backblaze on Tuesday launched its Cloud to Cloud Migration Program. The vendor will pay Amazon's data transfer fees to the Backblaze cloud for users who migrate at least 50 TB and store it for at least one year. For customers who don't migrate 50 TB or don't want to commit to storing data in Backblaze B2 Cloud Storage for the year, the migration service costs 4 cents per gigabyte.
"This program is incredibly aggressive," said Scott Sinclair, senior analyst at Enterprise Strategy Group (ESG).
In addition, Backblaze S3-compatible APIs are generally available today. During the beta period that started May 4, more than 3,000 customers used about 1,000 tools to test the APIs.
Backblaze cloud takes on 'world of giants'
Backblaze CEO Gleb Budman said the two major issues in migrating data from S3 to the Backblaze cloud were the physical one of getting to B2 and the cost.
Previously, users would transfer data from S3 to local storage and then move it over to Backblaze. However, a large amount of data could take weeks or months to transfer in that way. In addition, customers would have to pay the 9 cents per gigabyte in egress fees that Amazon charges and would need enough empty local storage.
Budman said Backblaze touts its simplicity and lower cost, so it was frustrating that the vendor didn't have a better service for that type of transfer.
Backblaze, based in San Mateo, Calif., formed a partnership with Flexify.IO to provide the Cloud to Cloud Migration service. Customers enter their credentials for both Amazon and Backblaze into the Flexify.IO console and can securely manage the transfer, according to Ahin Thomas, vice president of marketing at Backblaze.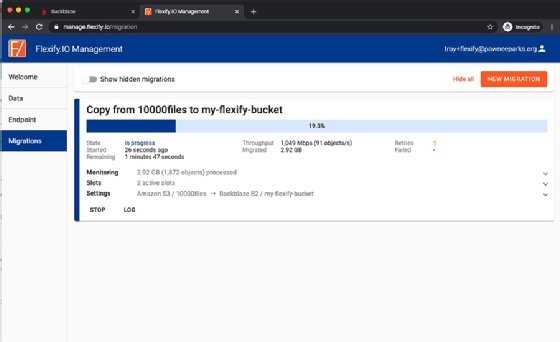 One customer migrated 700 TB in less than a week, Budman said.
Businesses tend to be risk-averse and there is some risk in switching cloud storage providers. However, a business could be more apt to take the risk if it's paid for, according to ESG's Sinclair.
"If you're Backblaze, you're trying to make a name for your capability in a world of giants," Sinclair said.
The vendor is positioning itself as a cheaper alternative to Amazon. Cost is especially important at a time of economic uncertainty as a result of the coronavirus pandemic, Sinclair said.
If you're Backblaze, you're trying to make a name for your capability in a world of giants.

Scott SinclairSenior analyst, Enterprise Strategy Group
Amazon S3 pricing starts at 2.1 cents per gigabyte, per month in its frequent access tier. Backblaze B2 storage costs a half-penny per gigabyte, per month. Budman said Backblaze makes enough from its storage cost to take care of the Amazon transfer fees.
Amazon's 9-cent egress cost is for downloads over the open internet, according to Thomas.
"Backblaze is able to get it down to 4 cents because of a direct connection that is made at the data center level," Thomas wrote in an email. Backblaze picks up that migration tab for users that meet the qualifications of moving at least 50 TB for one year.
Those qualifications are "not very onerous," Sinclair said. In addition, he said that figure is a good-sized workload to try out Backblaze and if it works well, an organization could move more data over.
Sinclair recommended evaluating performance, availability and data security when trying out Backblaze or any new cloud service.
With the Backblaze Cloud to Cloud Migration Program in private beta for a few months, customers have transferred more than 2 PB.
The point-and-click migration program works with many other cloud services including Microsoft Azure and Google Cloud but the pay offer is for Amazon only, Budman said.
Backblaze finishes S3-compatability beta
Through the newly launched Backblaze S3-compatible APIs, customers, resellers and developers who use anything that supports S3 can now point that data to Backblaze's B2 Cloud Storage.
During the beta period, customers used a variety of S3-compatible tools, including ones that hadn't supported B2, such as Commvault, Cohesity and Veeam. Users uploaded petabytes of data.
Budman said Backblaze didn't make major changes to the APIs as a result of the beta.
"While our API wasn't directly compatible with Amazon [previously], we had learned a tremendous amount about cloud storage over the past half-decade," Budman said.
Backblaze started in 2007 as a consumer cloud backup company. It built B2 in 2015 to support customers' other storage needs. Its current backup-specific offerings are tailored to laptops and desktops. B2 is for more intensive backup needs, such as server and NAS backups, and storage services including hosting files and building applications.
Uses for B2 -- including backup, archiving and syncing -- are going to look similar with the Backblaze S3-compatible APIs, according to Budman. Backblaze B2 has one tier and doesn't support Amazon Glacier, he said.
The Backblaze cloud stores more than an exabyte of customer data.