Nomad_Soul - Fotolia
5 reasons why hyper-converged infrastructure could be right for you
The reasons for going hyper-converged vary. Often, however, organizations deploy HCI technology to effectively address one or more of the five issues outlined in this article.
There are a number of different use cases for hyper-converged infrastructure systems, but it is sometimes difficult to separate the marketing hype from real-world best practices. While there may not be one single indicator that definitively affirms your need for hyper-convergence, there are several symptoms that point to why hyper-converged infrastructure may be just what the doctor ordered for your organization.
Remote office/branch office: Hyper-converged infrastructure (HCI) may be a good fit if you have a number of branch offices or employees working remotely. That's because hyper-converged systems work well for organizations that need edge computing capabilities or have to make file resources locally available to employees in branch offices.
Virtual desktop infrastructure (VDI): HCI might also be a good fit if your organization is considering replacing traditional desktops with virtual desktops. While it is true you can host virtual desktops on non-HCI platforms, or even in the cloud, there are two important reasons why hyper-converged infrastructure benefits VDI environments. First, HCI offers predictable scalability. Whenever an organization needs to host additional virtual desktops, it can simply add the required number of nodes. Second, there are vendors who offer HCI systems that have been optimized for VDI.
Staffing resources: A third indication that hyper-converged infrastructure may be a good fit is if your organization has very limited IT staffing resources. Although HCI systems are often cost-prohibitive for SMBs, they can be a great option for somewhat larger businesses that need to host IT resources on premises but have modestly sized IT staffs. Because hyper-converged vendors optimize hardware and software to work together, HCI systems may run more smoothly than competing alternatives.
DevOps testing: A fourth sign your organization may need an HCI deployment is the need for a capable DevOps test lab, but on a budget. Building a lab environment that perfectly mimics production environments is usually cost-prohibitive. HCI provides a compelling alternative that enables businesses to create a very capable lab environment at a fraction of the cost of mirroring production environments.
Data protection: One more sign your organization might benefit from hyper-converged infrastructure is it wants to perform on-premises, disk-based backups. There are a number of vendors that now base their backup and DR products around the use of HCI.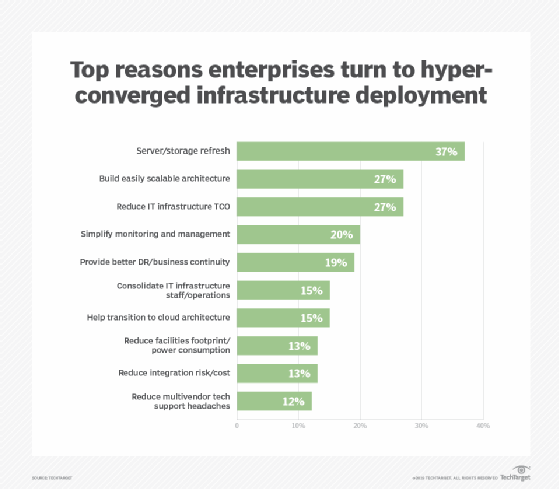 Hyper-converged infrastructure could be right for your organization. As outlined here, your company may need a way to better support remote office/branch office environments, a method for more effectively deploying and managing a VDI or, perhaps, find a way to make the most of out of the limited bandwidth IT staff. Or it may need a more cost-effective and simpler way to cordon off its production environment from DevOps testing, or decide to use a backup or disaster recovery product that has hyper-convergence at its core. However, whatever the initial impetus to go hyper-converged, the infrastructure paradigm's simplicity, modularity and high scalability may have your organization considering HCI to cure or vaccinate itself against other data center and business ills and problems.
Dig Deeper on Converged infrastructure management
While Google Cloud Storage has several limitations, these three are among the most prevalent -- but users have straightforward ways to get around ... Continue Reading
Unpredictable user behavior and boot storms can cause VDI resource usage fluctuations throughout the day. IT can take steps to identify and curtail ... Continue Reading
Determining how to host and manage desktops for an entire organization is a major task, so business leaders need to understand the modern VDI market ... Continue Reading