Fotolia
Data center monitoring best practices simplify software choice
Metrics are essential to keep any data center operating smoothly. With monitoring software and best practices, admins can simplify their workflows and get usable data.
Monitoring capabilities are a key part of data center management, especially with the number of components that IT administrators are responsible for on a daily basis. Monitoring software provides tools that streamline tasks and provide the latest data on everything from the end-user experience to security anomalies.
Because each type of software monitors different key performance indicators, administrators must know data center monitoring best practices to select the right tool.
Additionally, it's unlikely that there will be a program that covers all the parts of the data center, so admins must consider how in-depth the analytics should be. The main types of monitoring software cover servers, applications, connected devices and the overall network.
How does network monitoring software work?
At the base level, network monitoring software uses the simple network management protocol (SNMP) to collect data, discover devices on the network and create a topology map. This foundation provides a combination of push-pull communication between connected devices and the management system.
SNMP relies on the management information base (MIB) to organize these communications. Although the MIB is standard, most vendors add proprietary extensions to their MIB implementations to account for the unique characteristics of their individual products.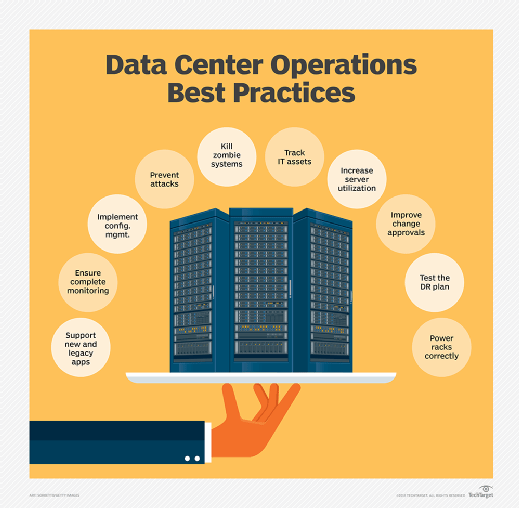 SNMP setups help admins aggregate network data and diagnose the network's overall health. It is also useful to set alerts for specific concerns, such as increased network bandwidth utilization or other performance anomalies.
Organizations can find network monitoring products available for on-premises, cloud or virtualized deployments. There are also a variety of options from system vendors, third parties and open source projects that offer different capabilities.
How should IT professionals evaluate network monitoring software?
Depending on the organization, IT professionals will have different needs for network monitoring software. However, there are functions that are important regardless of the use case for data center monitoring best practices. At the very least, administrators must know which notifications are available in the products they have shortlisted, as well as whether the tools offer a visual- or ticketing-based alert system.
Network monitoring software must efficiently gather information about total consumed bandwidth, the number of packets being transmitted and the incidence of packet errors. Deployments must also account for extensibility, which enables IT teams to search logs for error conditions and add alerts to the system.
When selecting software, it's also essential to consider extensibility. Not only will this enable administrators to search for error conditions, but it also makes it easier to add new functions and devices as the network expands.
What about server monitoring?
Some products go beyond delivering CPU, memory and I/O metrics, so it can be tough to pick the right software for server monitoring. Overall, administrators should consider the environment they support and how the product will scale to adapt to new technologies, such as virtualization.
Beyond the initial functions of CPU utilization, memory, local disk space and I/O, examine the data collection mechanisms and available software agents. In both of these areas, administrators can customize server monitoring capabilities to comply with business expectations and security regulations and to establish data center monitoring best practices
For long-term planning, admins should establish exactly how their raw metrics and logs are stored. Usually, this is done through a supporting database such as SQL. To make sure the database is properly processed, have workflows in place that visualize, retain and protect data with current regulatory policies. This requires proper disk capacity and storage subsystem performance knowledge.
Integrate application management
It's also important to evaluate application performance because it is essential to employee productivity. IT professionals implement these tools to ensure a positive user experience, track business transactions, analyze data, map dependencies and monitor infrastructure.
Administrators should perform a test run, evaluate their reporting options and decide if the tool will run through the cloud or on premises
The evaluation process for application monitoring tools remains the same as other monitoring programs regardless of business needs. Administrators should perform a test run, evaluate their reporting options and decide if the tool will run through the cloud or on premises.
An application monitoring product will also change depending on the data center's infrastructure, including its network and connected components. For admins who want increased capabilities, application monitoring tools can report on traffic behaviors in the context of hardware, which makes optimization easier and helps form data center monitoring best practices
Beyond core monitoring functions
To build on these capabilities, some admins may choose to implement availability monitoring, which reports on baseline behavior and network device status. But that's just the start of what is possible with data center monitoring.
Some programs can extend capabilities with aggregated/segregated performance displays, consolidated logging, configurable dashboards, application programming interfaces and in-memory metric storage.
Furthermore, time series analytics help admins pinpoint trends and automate DevOps. This enables preventative maintenance for performance bottlenecks and the upkeep of data center monitoring best practices.
Dig Deeper on Data center ops, monitoring and management