apops - Fotolia
Essential VxRail appliance hyper-converged questions answered
Find out what you need to know as you investigate if Dell EMC VxRail HCI with vSAN hyper-converged software meets the needs of your organization's workloads and use cases.
The VxRail appliance combines Dell EMC PowerEdge servers with VMware's vSAN storage virtualization software to deliver a turnkey, rackscale appliance that aims to ease hyper-converged infrastructure deployment. Dell EMC and its VMware subsidiary are market leaders in the hyper-convergence market.
A software-defined infrastructure, hyper-convergence consolidates compute, storage and network resources and hypervisors into highly scalable appliances called nodes that form a cluster with a minimum of three nodes. If additional storage or compute power is needed, admins can just attach an additional node to the cluster.
According to the latest numbers from IDC, Dell and VMware hold the largest share of the hyper-converged branded and software market categories, respectively. IDC reported in its September 2019 Worldwide Quarterly Converged Systems Tracker that Dell Technologies led the hyper-converged infrastructure (HCI) market in branded revenue, with $533.2 million in revenue, accounting for 29.2% of the market. VMware landed on top in the hyper-converged software category with $694.1 million in revenue, making up 38% market share.
The overall success of vSAN, with more than 20,000 customers, and the tight integration of Dell and VMware since the former acquired EMC in 2016 are the main reasons for this HCI dominance. The most visible example of this success is the co-engineering of the VxRail appliance.
In this article, we explore some of the basics of VxRail and this partnership for organizations considering using an HCI deployment and cluster based on the VxRail appliance for their data center. We examine what VxRail is, how it works and the versions of the appliance that have been optimized for different use cases and workloads. We also learn about VxRail management, security, backup and business continuity, as well as how the VMware Cloud Foundation (VCF) on VxRail extends the VMware-Dell EMC partnership to simplify the deployment of hybrid private clouds.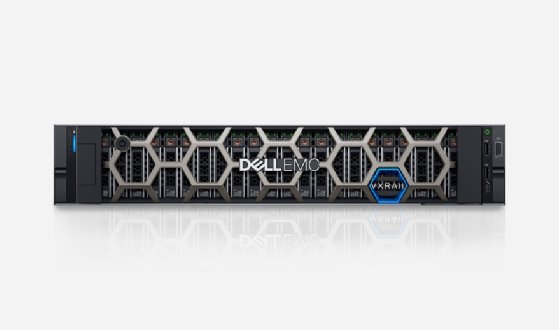 What is Dell EMC's VxRail appliance?
VxRail is one of several hyper-converged infrastructure options available from Dell EMC, most of which are powered by VMware's vSAN HCI software. It is the company's main hyper-convergence offering. Unlike Ready Node products from Dell EMC and others, VxRail isn't just a server appliance validated to run vSAN; it is a preconfigured, pretested and fully integrated hyper-converged appliance running VMware vSphere with vSAN on the 14th generation Dell EMC PowerEdge servers.
How many VxRail appliance versions are there and what are their basic use cases?
Dell EMC sells five different versions of VxRail: the G Series, E Series, V Series, P Series and S Series. The G Series, built using a general-purpose form factor, is targeted at mass market use cases and VDI. E Series, for lower-cost remote office/branch office deployments, sports an entry-level form factor that supports three-node and stretched hyper-converged clusters. The virtual desktop-optimized V Series is also graphics-ready for high-end use cases such as 2D and 3D visualization. While the P Series is performance-optimized for business-critical heavy workloads and databases, and the capacity dense S Series offers expanded storage for collaboration, data and analytics.
What are the technical specifications of the various versions of VxRail?
The overall success of vSAN, with more than 20,000 customers, and the tight integration of Dell and VMware since the former acquired EMC in 2016 are the main reasons for this HCI dominance.
The technical specifications vary among the VxRail editions. All support up to 56 Intel Xeon processer cores per node. The G Series, however, comes in a 2U four-node form factor for a total of as many as 192 cores supported per G Series VxRail appliance. The E Series is 1U with support for a single node per chassis. The rest come in a 2U form factor with one node per chassis. And while each G Series node can have as much as 2 TB of RAM per node, the others bump that number up to 3 TB each.
As far as storage capacity, each G Series node holds as much as 12 TB of hybrid or 19.2 of all-flash storage for as much as 48 TB of hybrid or 76 TB of all-flash storage capacity per four-node G Series VxRail appliance. For the E Series, the maximum hybrid capacity is 19.2 TB and all-flash is 30.7 TB. The remaining versions (V Series, P Series and S Series) all support as much as 48 TB of hybrid storage per node, per appliance, but while the V Series and P Series can handle as much as 76.8 TB of all-flash capacity, the S Series only comes with hybrid storage.
How do you manage, secure and backup up VxRail hyper-converged environments?
Users manage VxRail VMs through vCenter Server and can integrate the HCI into their IT infrastructure and data center through vRealize Operations and vRealize Automation. Security feature include using Advanced Encryption Standard-256 cipher encryption at the vSAN cluster level and two-factor authentication (Common Access Card and SecurID).
VxRail also comes with vSphere Data Protection (VDP), an agentless backup and recovery, replication and deduplication product that is a Linux-based virtual appliance with as much as 8 TB of storage capacity. Each VDP appliance can back up as many as 400 VMs, and users can set up as many as 20 of these virtual appliances in the same environment to protect as many as 8,000 virtual machines. Admins manage VDP through the vCenter web client.
There's also Dell EMC RecoverPoint for Virtual Machines for disaster recovery and business continuity, and the optional Dell EMC Data Protection Suite for VMware. The latter extends continuous data protection, backup and recovery monitoring and analysis, search and other capabilities for VxRail. It also provides 24x7 support for VxRail software and hardware.
What is VMware Cloud Foundation on VxRail?
VCF on VxRail is a turnkey product that combines Dell EMC's hyper-converged appliance with the software and tools necessary for more easily standing up or migrating from a traditional IT infrastructure to a hybrid private cloud. This can be done on premises in the data center or within the public cloud as a service. For VCF on VxRail, VCF is the underlying software-defined engine that tightly integrates compute, storage and network provisioning to knock down the traditional administrative silos between them.
VCF uses an SDDC (software-defined data center) Manager to automate lifecycle management. It also bundles vSphere for compute, vSAN for storage, via VxRail in this instance, and NSX for networking. VCF also has NSX-T for vSphere and vRealize Suite, which adds vRealize Automation, vRealize Operations Manager and vRealize Log Insight to the package as well.
Dig Deeper on Converged infrastructure management