michelangelus - Fotolia
What enterprises look for with converged data center projects
Learn about the state of the convergence market and what enterprises require for CI and HCI projects, the workloads they intend to run and which vendors are highest on their buying lists.
The modern converged data center appeared mostly to help mitigate the high cost of deploying, maintaining and upgrading the traditional three-tier data center. It all started with the development of converged infrastructure about a decade ago and has evolved ever since.
Today, the converged data center comes in three basic varieties: converged infrastructure (CI), hyper-converged infrastructure (HCI) and up-and-comer composable infrastructure. CI reduces compatibility and management issues by bundling data center components into homogenous prequalified turnkey appliances and reference architectures. HCI goes a step further by tightly integrating and consolidating compute, storage and network resources and hypervisors using software-defined techniques in highly scalable appliances called nodes. The composable approach combines characteristics of converged and hyper-converged but, by contrast, collects disaggregated server resources and pools them so users can dynamically meet the needs of specific workloads, uses and applications.
Project requirements
Enterprises have different requirements when it comes to planning, implementing and maintaining a data center convergence project.
A quarter of IT professionals surveyed by TechTarget Research selected reduce IT infrastructure and operations cost as a converged infrastructure project requirement, followed by improve capacity and/or performance scalability, 20%; gain higher reliability and resiliency, 19%; provide better disaster recovery/business continuity and simplify infrastructure, 18% each; help transition data center to a cloud-like architecture, 16%; simplify systems monitoring and management, 13%; optimize for specific application scenarios, 11%; and container support, 10%. DevOps deployment and reduce infrastructure silo integration effort and risk, 9% apiece, also proved somewhat important to organizations planning on deploying CI.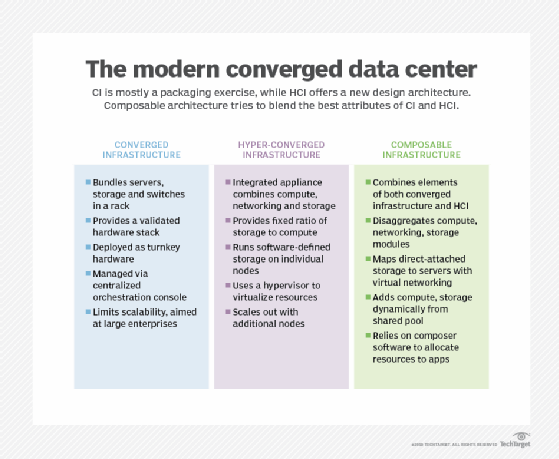 Understandably, requirements varied a bit when zeroing in on hyper-convergence. With HCI, for example, server and storage refresh led the HCI project prerequisites at 37%, when it wasn't even a factor in CI decision-making.
Server and storage refresh was also 12 percentage points higher than CI's leading project requirement (reduce IT infrastructure and operations cost, at 25%). And whereas the differential between CI's No. 1 and 2 project perquisites was 5 percentage points, hyper-convergence's next most important requirements (build easily scalable architecture and reduce infrastructure silo integration effort and risk tied for second with 27% ) was 10 percentage points, twice the variance. The relative dominance of server and storage refresh as a project requirement emphasizes just how intertwined hyper-convergence has become with updating IT infrastructure technology.
Simplify data center monitoring and management, 20%, and provide better DR and business continuity, 19%, rounded out the hyper-converged top five project requirements. These were followed by consolidate IT infrastructure staff and operations and help transition to cloud architecture, 15% apiece; reduce facilities footprint and power consumption, and reduce integration risk and cost by purchasing storage, servers and networking together, 13% each; and reduce tech support headaches from multivendor finger pointing, 12%.
Other important HCI project requirements factors were workload-related. These included accelerate targeted application deployment, 11%, and accelerate DevOps and container support, both 10%.
Converged data center capabilities also came into play when it came to organizations looking to deploy more specific IT infrastructure technologies. For example, 33% of those surveyed taking on a storage and networking switches project said moving toward converged data center networking is a project requirement, while 14% with network virtualization and software-defined networking on the agenda have converged storage and data center networking as a prerequisite. Interestingly, only about 3% and 5% of those with storage-area network or network-attached storage projects, respectively, and 4% of organizations implementing flash arrays, had convergence as a project requirement.
Workloads
Organizations intend to support a number of different kinds of workloads with their upcoming converged data center purchase. According to TechTarget Research survey results, the top three workloads for CI and HCI were identical, with virtualization at the top of the list, followed by databases and business applications (ERP, financial software, HR software, etc.).
As one of the first major use cases for hyper-convergence, it makes sense that virtual desktop infrastructure support landed higher for HCI -- in fourth place -- than for CI -- in sixth. Test and development tied for fourth with web applications and e-commerce for CI and came in fifth for HCI, while the latter dropped to seventh for hyper-converged buyers. Business analytics placed seventh for converged, sixth for hyper-converged, while big data analytics, cloud-native applications and collaboration apps (unified communications and collaboration, email, etc.) rounded out the top 10 for both, in that order.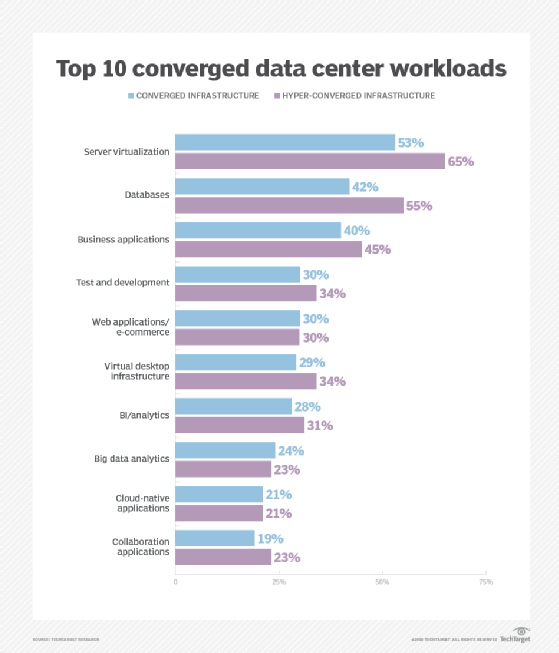 Although this article focused on the more-established converged and hyper-converged data center systems approaches, the line between different kinds of convergence has blurred in recent years. So that today, for example, specific products may not meet the strict definition of, say, an HCI, but can nonetheless meet the needs of a hyper-converged customer.